The Reinvention of Study Abroad
Image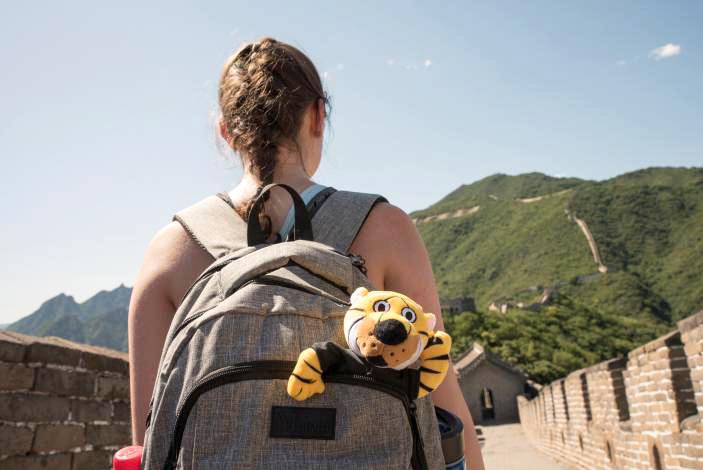 Take a look at how the Trulaske study abroad program pivoted during the pandemic as well as upcoming opportunities for students to get exposure to international business practices and new cultures.
By Kelsey Allen
In a typical semester, the Trulaske College of Business Study Abroad program would send hundreds of students to more than nine programs in 12 countries across the globe. But 2020 wasn't a normal year.
Although the college canceled all of its international trips in 2020 due to COVID-19, it hosted the most well-attended International Week to date, offering over 450 students opportunities to interact with globally focused faculty, gain a better understanding of the world economy and expand their business mindset.
"If you're looking at the economic impact of COVID, we, now more than ever, need to enhance students' international business knowledge," says Shannon Breske, assistant teaching professor in the Management Department and director of study abroad for the college. "We have to expose them to diverse cultures and viewpoints. Through our study abroad programming, we're helping our next generation of leaders become a more diverse group of individuals working in businesses, shaping policies and thinking about how we conduct business. Understanding those dynamics of international trade and business cultures — that's what's going to set our students apart."
Here's a look at how the Trulaske College of Business continued to offer international programming during the pandemic, what the study abroad office is offering this year, and how students benefit from exposure to international business practices and new cultures.
International Week Goes Virtual
In fall 2020, the college hosted its first virtual International Week. Throughout the week, Trulaske faculty presented on a variety of topics: Assistant Finance Professor Fred Bereskin, who earned a bachelor's in mathematics from the University of Waterloo in Ontario and previously worked in risk management at two Canadian banks, spoke to work opportunities in Canada. International Trade Specialist Jackie Rasmussen of the MU International Trade Center talked about the impacts of COVID on global trade. Annette Kendall, director of the Center for Entrepreneurship and Innovation, presented a case study on economic growth within rural communities in New Zealand. Vice Provost for International Programs Mary Stegmaier offered an in-depth look at the democratic uprising in Belarus.
"We really capitalized on the experts that we have right here in Cornell Hall," Breske says.
During the spring 2021 semester, students heard from, among others, Management Department Chair Anthony Ross, who spoke about global trade and the roles of government; Associate Dean for Academic Programs Gay Albright, who discussed managing across cultures; and Aldis Jakubovskis, an assistant teaching professor in the Management Department who offered a look at the European Union's history, culture and business practices.
More than 70% of the students who participated in International Week that semester hadn't attended International Week before. "Our whole goal with I Week is to provide experiences for students where they don't have to leave campus to gain a global mindset and expand their views of the world," says junior accounting major Kelli Rinkenberger. Rinkenberger is a marketing operations student worker in the study abroad office who helped plan International Week.
The study abroad office also hosted four virtual info sessions for students to learn more about the college's international opportunities. Over 120 students attended — and over 50 of them have expressed interest in a study abroad program scheduled to take place Dec. 27, 2021, to Jan. 6, 2022, in Lisbon, Portugal.
"They are ready to go," Breske says. "And we're ready for them to go."
Study Abroad in Portugal
If all goes according to plan, Breske will take a group of 35 students to Lisbon over the winter intersession. Students will not only learn about the economies and business practices of Portugal through company visits but also about cultural differences. "We're going to be looking at cultural differences and how we work with those international companies," Breske says. "How do we engage with those individuals? It's also about the global mindset that our students are going to gain from having this international exposure. And it's definitely an immersive opportunity."
In addition to visiting the largest bank in Portugal, students will visit Unbabel, an artificial-intelligence-powered translation platform with headquarters in Lisbon and San Francisco. "They look at human language and how to use machine learning and AI to communicate, even if you don't have the knowledge of that language," Breske says. "It's completely eliminating language barriers. If you think about that from a business sense — wow, to have the opportunity to have a conversation with someone using AI and technology — think about the doors that's going to open for our students. And they're going to get hands-on experience with that technology."
The deadline to apply to the Portugal program is Oct. 1, and college officials will determine by Oct. 25 whether, given the state of the pandemic, the Portugal trip will happen. International Week will be held both in person and virtually Oct. 11–14. In summer 2022, Breske hopes the college will return to Bergamo, Italy, where, for the 20th year, 60 MU students will study with 60 University of Bergamo students. Trulaske is also looking at launching study abroad programs in South Korea and Sweden and an internship program in Ireland.
"It's one of our college's priorities to continue creating opportunities for our students to learn and grow and think more outside our domestic business and economy and look at that global perspective," Breske says.
Adds Rinkenberger: "I want to do auditing, which is traveling to businesses and clients and hearing their perspectives, talking to them, learning how their businesses operate. Study abroad is just an extension of that — just doing it farther outside the U.S. The farther you get, the broader your horizons expand."