The Center for Entrepreneurship and Innovation is advancing entrepreneurship at Mizzou by promoting experiential learning and academic scholarship. The Center, housed in the Department of Management in the Trulaske College of Business, provides an academic home for entrepreneurial offerings and engages students, faculty, and staff in cross-campus initiatives to drives increases in knowledge, discovery, creation, and ultimately, new student-owned ventures.
Center activities provide hands-on opportunities to develop skills in: integrative thinking and action; ownership and accountability; vision and discovery; and collaboration and teamwork.
One of our unique focuses is on creating programming and research focusing on Entrepreneurship and Neurodiversity. This includes establishing pathways to college graduation for more neurodiverse students. From an outreach perspective, we work to build awareness of the value that students with ADHD, autism spectrum, dyslexia, and other neurodiverse conditions can bring to interdisciplinary teams working on innovative projects. 
Watch our I-CAN webinar on Innovation, College, and Neurodiversity in which speakers share their experiences in creating pathways to college, innovation, and entrepreneurship for neurodiverse students.
Read about our Entrepreneurship Alliance program, a 10-week program in which students are provided with the guidance and support they may need to start a small business while in college. Students who successfully complete the program are invited to apply for funding to support the development and growth of their entrepreneurial venture.
We are always looking for mentors, guest speakers, and collaborators. Please contact Dr. Anthony Ross, Management Department Chairperson, for further assistance or with any questions and inquiries.
Image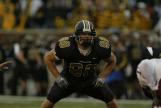 Previous Events
A few of our highlights from Spring 2021 events: