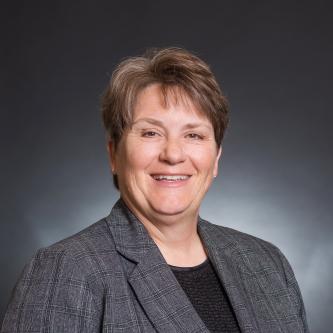 International Relations, International Trade Center, Management, Trulaske Dean's Advisory Board, Undergraduate Dean's Office
Gay Albright
Associate Dean of Academic Programs & Associate Teaching Professor
Gay Albright serves as the Associate Dean of Academic Programs for the Robert J. Trulaske, Sr. College of Business, overseeing recruitment, advising, undergraduate and graduate academic programs, and global initiatives. Her responsibilities for global initiatives include leadership for study abroad programs, the MU International Trade Center, and academic programs in collaboration with international universities. As a co-founder of the MU International Trade Center, Albright represented the MU International Trade Center when it received the US Presidential E-Award in 2016 for Excellence in Exporting Services.
Albright is a member of the Trulaske Management Department Faculty and has been teaching undergraduate and masters courses at the University of Missouri full-time since 2006, routinely teaching Managing across Cultures, Organizational Behavior, and an experiential learning course in Human Resource Management Consulting.
Albright's research interests are in curriculum design for the professional development of undergraduate business students and human resources recruiting and selection systems (specifically, how recruiters perceive employment candidates). With this expertise, Albright provided five years of academic oversight for the College's Professional Development Program (Edge), the nation's first required professional development program for undergraduate business students, and served as the Director of Business Development for the Missouri Training Institute at the University of Missouri from 2006-2012. Recently Albright has begun studying how active learning classroom designs affect student outcomes.
Prior to joining the Missouri Training Institute at the University of Missouri, Albright worked in industry for 15 years and obtained Human Resources Management experience working for companies such as Colgate-Palmolive, The Dial Corp, and Arch Coal. In that capacity, she managed all functional areas of HR while implementing organizational redesign and continuous improvement strategies. She continues to work with employers by consulting on strategic development processes, human resources systems, employee training and development programs, and executive coaching.
Albright holds a Doctorate in Educational Leadership and Policy Analysis, a master's degree in Business Administration, and a bachelor's degree in Business Education. In her free time, she enjoys spending time with family and friends, cycling, and playing music.
Education
EdD, Educational Leadership and Policy Analysis, University of Missouri, 2019; MBA, Saint Louis University, 1992; BS, Business Education, Missouri State University, 1984