Directors of Trulaske centers excited to collaborate, create more student opportunities
Image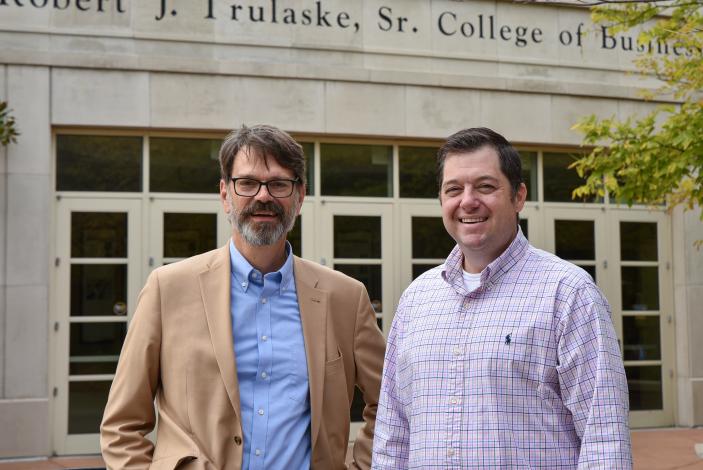 Scott Christianson (left) and Anthony Vatterott 
By Stephen Schmidt
With the start of the fall semester, two faculty members at the Trulaske College of Business are adjusting to new leadership roles — as directors of the Center for Sales and Customer Development (CSCD) and the Center for Entrepreneurship and Innovation (CEI) — in addition to their teaching duties.
We recently spoke with both new directors to learn more about them and their visions for the continued growth of the centers they represent.
Anthony Vatterott, Center for Sales and Customer Development
To Anthony Vatterott, experiential learning is more than a talking point in a class lecture. Over the years, it has become his way of life, as evidenced by his circuitous career path.
With one of the more diverse LinkedIn profiles around, Vatterott has done everything from producing a monthly publication for the Jewish Federation of Metropolitan Chicago, to writing scripts and filming commercials, to working construction, to overseeing an international supply chain for a medical supply company. And that's just scratching the surface.
"I've worked a lot. I've tried a lot of different things with the overarching goal that I want to understand what this human experience means," Vatterott said. "I've had many different career trajectories where I've had to reconsider and change where I wanted to work and what I wanted to do to fit that longer-term objective."
And so it is with that mindset that Vatterott has assumed the central leadership role as the executive director of the CSCD and its Inside Sales Lab — a venue that provides students that same dose of real-world experience that has always fueled his own academic journey.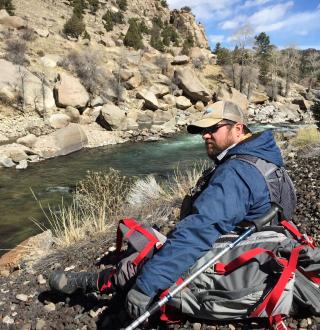 "My students get a laugh out of the fact that I tell them up front that I dropped out several times in college because I wanted to work or make money or get ahead at the time, or I didn't have the patience for school," said Vatterott, who is teaching four of the popular personal selling classes this semester.
"But then I went back and ended up earning my doctorate. So, there's a lot of hope for people who are not sure about college. My story shows that going to school is worth it in the long run if you commit yourself to finishing it."
Vatterott's desire to delve fully into the human experience is also evidenced by his traveling preferences. He has spent many vacations climbing some of the country's tallest peaks in Colorado and Wyoming and scuba diving in the depths off the coast of the Florida Keys and the Caribbean.
"I love adventure anywhere where you can completely immerse yourself in a different dynamic," he said.
Although Vatterott does not hold a degree from Mizzou, he does have several fond memories while growing up in the St. Louis metro area of visiting campus to help family members move in and out of the dorms. In fact, he has three uncles who were Evans Scholars and lived in the scholarship house down the street from Cornell Hall.
"I remember it as just an exciting place to go to," said Vatterott, the second oldest of five siblings.
He started working as an adjunct at Trulaske in the summer of 2018 when he was finishing his dissertation for his PhD in business administration in logistics and supply chain management from the University of Missouri-St. Louis. He began by teaching one in-person class, which turned into two the following semester.
"I got along with the Marketing faculty, and they gave me a shot," Vatterott said. "I was very appreciative."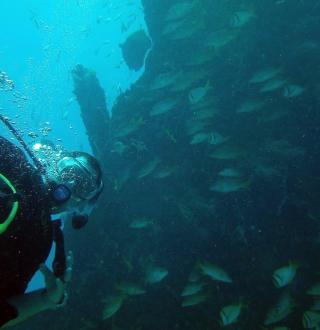 Never afraid of a long drive in the car, Vatterott taught courses as an adjunct at one point at both the University of Missouri-Kansas City, where he was based, and Southern Illinois University-Edwardsville, located northeast of St. Louis.
"When those propositions come up to invest in the Department of Transportation, I'm always like, 'Yes,'" he said with a laugh.
Although it is physically housed inside Cornell Hall, the Inside Sales Lab has picked up interest — and students — from other schools and colleges on the Mizzou campus due largely to the interdisciplinary nature of sales success.
"The benefit of sales is that it doesn't take a lot to get started, except for a bunch of failures," Vatterott said. "So, if you're willing to put in the time to be good at it, anybody can be an exceptional salesperson. And with these other programs, the students see that as well."
Going forward, he hopes to continue strengthening the CSCD's partnerships inside and outside of Trulaske. In particular, he looks forward to collaborating with the college's Center for Innovation and Entrepreneurship to give students two well-defined paths: Work in Inside Sales Lab and possibly start a traditional career with its company partners, or go down a less-traditional route in the realm of burgeoning business platforms, such as internet and digital commerce, in which entrepreneurial behaviors and actions are essential.
"We are unified in wanting to see students have long-term career success," Vatterott said.
Scott Christianson, Center for Innovation and Entrepreneurship
Although he has owned several computers over the years, Scott Christianson, BS '91, will always have a soft spot in his heart for the Apple IIe. What it lacked in modern aesthetics, it made up for in simplicity of use.
"That was really the first computer that I ever saw," said Christianson, a self-proclaimed "free-range technologist" who in July was named the new director of the Center for Innovation and Entrepreneurship.
"I still have this nostalgia for the Apple IIe. Especially when something happens on my computer or with the information systems we use at the university, and I don't understand why it's doing that. Because with that computer, while it was very, very basic, you could actually understand everything that went on."
With the assistance of an influential high school biology teacher in Green Lake, Wisconsin, he would check out an Apple IIe on the weekends in the mid-'80s, loading it into the back of his mother's car and then spending hours teaching himself how to program it and "make it do things."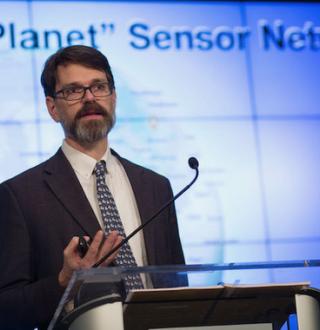 With the Internet not yet common, those "things" included an attempt to contact the outside world by building a homemade modem, which consisted of attaching a microphone with suction cups onto the speaker of a rotary telephone to dial up another computer. With a little bit of practice, it eventually worked.
"The problem was that it was all long distance, and there were horrible long-distance fees at the time," Christianson said. "So, after getting the first $100 long-distance bill, that kind of faded away."
But his interest in technology and computers never did.
As a "boomerang," Christianson was born in Columbia and spent most of his childhood in Wisconsin before his family moved back to town when he was 17.
"When we moved here, I remember flipping burgers so that I could save up to buy an actual real modem," he said of the Burger King that used to sit at the corner of Broadway and Stadium Boulevard.
Eventually, Christianson took his fascination with technology and education and turned it into several business opportunities, founding, owning and operating Kaleidoscope Videoconferencing for 21 years with his wife, Ava Fajen, MS '90 PhD '06.
Having taught at Trulaske in different capacities at the undergraduate and graduate levels, Christianson has always enjoyed the energy he gets from his students in the classroom.
"I enjoy learning from the students. They teach me, both intentionally and unintentionally," said Christianson, who started teaching at Trulaske as an adjunct in 2007 before becoming an associate teaching professor in 2014. "Sometimes it's because they mess something up in a new way I've never seen before. But it's a lot of fun."
It's that energy that is at the core of his latest move to direct the CEI, given how much "the barriers to entry have been lowered so dramatically" in the tech space when it comes to taking a seed of a business idea and allowing it to grow.
"I think there's a tremendous opportunity, especially in the Midwest, to work on some hard problems. I get energized by the students and their ideas, and by helping them navigate the entrepreneurship ecosystem and the steps they have to do to put together their business," Christianson said.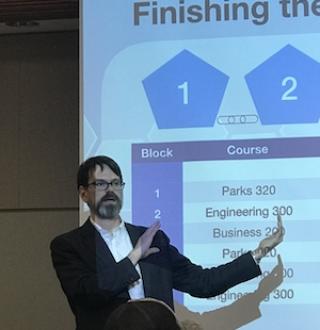 Although he admitted it can be tempting to get back into the space as an entrepreneur himself, he realizes that he can have more of an impact at this stage in his career by giving guidance, support and resources to students. 
"They can work the hours that are required to start a startup — and those days may have passed for me," Christianson said.
Christianson is particularly passionate about providing Trulaske students from non-technical backgrounds the knowledge and skills they need to leverage emerging technologies in their newly founded businesses.
Like Vatterott, he also would love to use his center as a platform to join forces with other schools and colleges across the MU campus — and the three other universities in the University of Missouri System.
"The future is collaborative," he said. "We want to make sure we're collaborating with all those other institutions because there's no reason to compete. There's more than enough work to go around."
His plans include reimagining the possibilities of the Entrepreneurship Alliance Accelerator, a free program open to any Mizzou student interested in starting a business. It will begin on Feb. 13 and run for eight weeks. To date, out of the 49 businesses started through the alliance, 33 remain active.
Christianson's vision of partnerships also extends overseas by building off the relationships Mizzou has built through both the International Trade Center and the numerous study abroad programs and internships offered. This fall, the CEI will oversee a series of entrepreneurial skills building workshops with international partners.
The first one will take place on Oct. 1 with the University of Western Cape's Women in Tech group in South Africa. Mizzou students will collaborate with UWC by connecting to each other's computer labs via Zoom. The first series will focus on creating a basic website and obtaining a domain name. Future topics may include setting up a store on Shopify, selling on Etsy and preparing a design for 3D printing, Christianson said.
"Our small planet has some big problems," he said. "And I think that we have to learn to work internationally. There's a lot of need for solutions all over the world. So, I want our students to think big from the get-go."