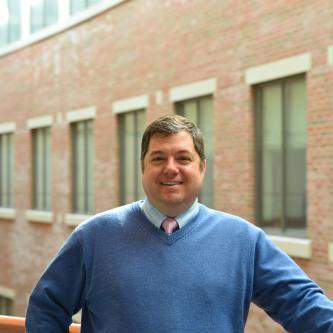 Center for Sales and Customer Development, Marketing
Anthony Vatterott
Assistant Teaching Professor and Director of the Center for Sales and Customer Development
Anthony (Tony) Vatterott earned his PhD in Business Administration in Logistics and Supply Chain Management from UMSL and received his MA in Procurement & Acquisitions Management, MBA, and master's Certificate in Government Contracting from Webster University.
Dr. Vatterott has extensive experience in Sales and Marketing with added expertise in trade shows and interactive marketing involving well-known brands such as AT&T, Bayer, Wells Fargo and DuPont. He has spent several years at a screenwriting agency and has worked with a wide range of media (news-publications, magazines, commercial video and film) for brands like AB and BASF. 
Dr. Vatterott has special expertise in sales environments where executive and corporate stakeholder assurance are critical to sales and performance success, as in the construction, industrial, commercial and healthcare sectors. He has managed construction and capital equipment projects at over 20 VA hospitals nationwide and several large healthcare organizations. He has helped roll-out robotic technologies for Rehab and PT centers nationwide, helped establish Service-Disabled Veteran Owned Small Businesses and integrated Minority and Women Business Enterprises into government contracts to exceed diversity goals at the Federal and State levels. 
His research investigates the extent to which competing supply chains are truly firm-spanning and the prevalence of performance measures at various levels of supply chain integration. He also studies the implications of disruption on global supply chain innovation, sustainability in airport operations, employee skill development and the human interface with advanced analytics.