Student Agri-Marketing Club Takes Fourth in Nation at Competition
Image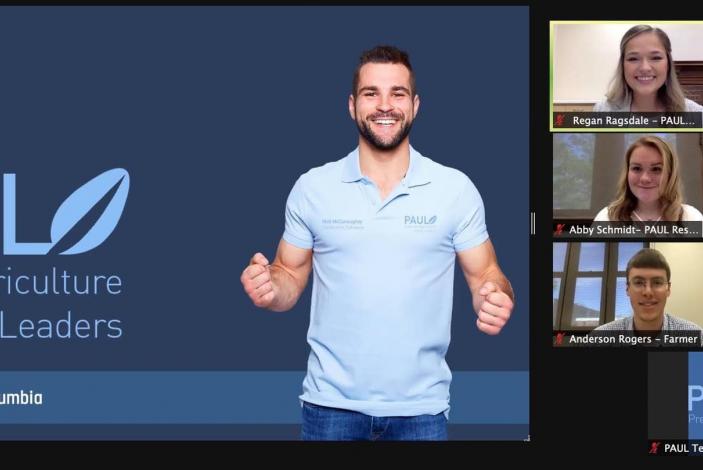 The Mizzou National Agri-Marketing Association (NAMA) chapter made it to the final round of the 2021 Student NAMA Virtual Marketing Competition for the first time in more than 10 years.
By Kelsey Allen
When Regan Ragsdale was meeting with farmers in southwest Minnesota as a sales intern for Bayer Crop Science, she learned that many of them struggle to adopt technology designed to make their jobs easier.
"Agriculture is completely turning into a technology-facing industry, yet the average age of the American farmer is 57 years old," says Ragsdale, a senior agribusiness management major at MU. "A lot of farmers had access to this awesome application that they were paying for, but not everyone knew how to use it — and there's only one representative in the whole southern region of Minnesota whose job was to  train people on Climate FieldView."
After the summer internship ended and Ragsdale came back to Columbia for school, she brought this pain point to the Mizzou National Agri-Marketing Association (NAMA). A student club, Mizzou NAMA's co-advisers are Annette Kendall, director for the Center for Entrepreneurship and Innovation and assistant teaching professor of entrepreneurship in the Department of Management, and Katie Essing, assistant teaching professor in the Department of Marketing, both of whom are in the Trulaske College of Business.
Tomorrow's Agri-marketing Leaders
Each year, Mizzou NAMA participates in the NAMA Marketing Competition, in which student teams from around the country develop a business proposition, conduct a market analysis, and put together a competitive analysis and action plan for an agricultural product, commodity or service.
"We have folks who are running family farms, multimillion-dollar businesses, but don't use the iPad technology that will make their tractors and their farming operation more efficient," says Ragsdale, who grew up in Holliday, Missouri, on a row crop and cattle farm and is president of Mizzou NAMA. "So we decided to create PAUL, or Precision Agriculture Utility Leaders, which is basically a training program that helps train farmers on Climate FieldView, one of the most popular data software applications out there that farmers use."
During the fall 2020 semester, Mizzou NAMA members met each week to flesh out the idea. Unlike most other university NAMA teams, in which the students participate as part of marketing coursework, Mizzou has a student-run club. "So for our students, this is volunteer work on top of their coursework," Kendall says. "The work that is involved is as much as a course. It is a ton of work."
Because it's a club, students from any major and any college can join Mizzou NAMA. This past year, there were students from plant science, agribusiness management, biochemistry and animal sciences. "That's what's so cool about Mizzou NAMA — we're just a bunch of students who enjoy ag marketing."
As advisers, Kendall and Essing help the students with the technical aspects of conceptualizing a new product or service and assembling an effective marketing campaign. "I really step in with the strategic planning process, which is something we do in all our marketing classes: Who is my customer? What are we trying to solve? What value do we offer? Then you build your marketing plan and determine your tactics," Essing says. "Sometimes students go immediately to tactics. But it really starts much higher than that. And this competition is very detailed. Say they want to do a digital marketing promotion campaign. They have to plan the dates, the pricing, the channels. So we start big and then work down to the actual details. But really, we just are there as kind of a guide for the students. The students do all the work."
In the spring semester, the students work on creating an executive summary and a presentation. During that stage, the advisers act as competition judges, asking tough questions to clarify points in their presentation. "They're facing judges that ask very real and difficult questions, so we serve as a resource and a sounding board as they refine their work," Essing says. "We ask questions and help prepare them for the competition: Where would you find employees? How would you train them? How would you integrate with some of the big players in the agricultural space? If you're going to use a print publication for marketing, which specific publications do you think would reach your target market?"
Ragsdale says Kendall's entrepreneurial expertise and Essing's marketing mastery are the perfect pairing. "They're fantastic," she says. "Annette doesn't hold our hand, which I love. She was definitely like, 'This is your guys' deal.' She gave us help when we needed it but really pushed us to take control of the project and the team. Katie is great because she brings a lot of awesome technical knowledge that we need from someone who has been in the industry. They both really bring two completely different aspects to our team."
Big Risks Pay Off
In April 2021, via Zoom, the 24 teams from across the United States and Canada gave presentations of their marketing plans — and for the first time in 10 years, Mizzou NAMA made it to the final round of the competition.
"Their concept was just so marketable," Essing says. "My dad is a farmer. Any of us that know a farmer — they don't always embrace or even have an iPhone. This is a pain point. The technology is there, but it's not being used because they don't know how to use it. They don't trust it. So how can we bridge that gap? That's what really set them apart."
Another thing that set the team apart was the tone of their presentation. "They hadn't made it out of the first round for a long time," Kendall says. "So I said, 'Do you want to win, or do you want to be remembered? Let's do things differently.'" Instead of wearing matching outfits like most other student teams, the Mizzou NAMA team took a different approach. "Color coordination looks very professional, but that doesn't reflect marketing agencies today," Kendall says. "If you go to a marketing agency, these people are cool. They don't always dress in the same suits, so the Mizzou team wore clothing that reflected their role and told a story with their pitch. It's not about winning; it's about making them all go: 'Wow, that was cool.'"
Yet Ragsdale and her fellow teammates were excited about winning: "Why we were so excited with a fourth-place finish is because we were the ones that did it. We took ownership. A bunch of college kids created this fantastic product, a fantastic executive summary, practiced for hours. What I'll take most from it is just the idea of knowing that if you put your mind to it and if you surround yourself with a really good team, there's really nothing you can't accomplish."
Kendall says that employers take note of the students' efforts: "Employers like to see that you've been involved or been in charge of a project, so this is really good for them to be able to show that they've gone through the whole product development cycle — basically by themselves."