Keeping a tradition: Business Career Services helps Trulaske alumni to recruit more Tigers
Image
By Stephen Schmidt
Having worked in Business Career Services (BCS) at the Trulaske College of Business since 2005, Matt Reiske cannot provide a complete directory of all the alumni he regularly keeps up with — but you can believe it is a fairly lengthy list.
"It's fun for me to watch their successes," said Reiske, who has served as the executive director of BCS since he joined the college 17 years ago.
BCS works with Trulaske undergraduate students to ensure successful outcomes after graduation, whether that be accepting a full-time job, enrolling in graduate school or pursuing a military or service career. In the 2020-2021 academic year, 96.2% of students accomplished one of these objectives within six months after graduation.
Gay Albright, associate dean of academic programs at Trulaske, credits those increasing numbers in large part to BCS and the Trulaske Edge office, which began in 2008 for students to gain a variety of professional competencies.
"Our BCS staff partner with our Edge faculty and staff to ensure that our students obtain the most recent information on what employers look for in new employees," Albright said. "Many of our alumni return year after year knowing that Trulaske graduates are career ready."
Through the years, several Trulaske graduates have built upon their long-standing relationship with Reiske and assistant director Lindsay Hing through concerted efforts to recruit students from Trulaske to their respective companies. Here are the stories of two of those alumni.
Andy Kiehl, BS Acc '11, M Acc '11
These days, Andy Kiehl can usually be found with a coffee cup by his side. Such is typically the case of a father of an infant. Still, you will not find Kiehl or his wife, Sarah (Ely) Kiehl, BS BA '12, complaining after they welcomed their daughter, Esther, into the world in May.
"It's a big lifestyle adjustment, but it's all positive," Kiehl said.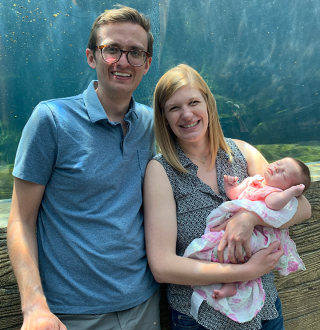 The Kiehls live in the Webster Groves area of St. Louis, not too far from where Andy grew up. The natives of the St. Louis area met each other as students at Trulaske — meeting initially in 2009 through the Trulaske Student Council and the Cornell Leadership Program. Sarah currently works as a brand manager for Nestlé Purina North America.
Andy has worked at Ernst and Young since he graduated from Trulaske in 2011, beginning his career as a staff associate in 2012 in the firm's auditing sector. In 2015, he became a senior consultant in the wealth management business consulting department — in what he called "ground zero" in terms of clientele. At the time, most of his counterparts were stationed on the East Coast and West Coast.
Wanting to start a team in the middle of the country, Andy and one other colleague started a recruiting campaign in St. Louis at nearby colleges — and he, in particular, made sure to seek out graduates from his alma mater.
His team now consists of approximately 20 members collectively located in the firm's St. Louis and Chicago offices, serving about 15 key clients — financial service businesses based out of either St. Louis, Chicago or Milwaukee. Almost half of Andy's team has degrees from Trulaske.
"Starting from nothing and getting to be as big as we are is pretty exciting," Andy said.
Furthermore, the collection of Trulaske alumni on his team proves the caliber of graduates the school produces.
"The people we're recruiting into this program are joining teams with graduates from top-level business schools across the country," Andy said. "So I think just getting that exposure and showing that Mizzou is competitive is a big part of what we're building."
On average, Andy tries to make it to Columbia for various events about four to six times a semester. Every time he comes to Cornell Hall, his foremost mission is to educate students about his profession itself — one that he admits he did not know about when he was starting as a student at Trulaske.
"Consulting does not really have an obvious career path," he said. "I think one of the big things we like to do is just build awareness of what consulting is and what opportunities in that area are."
When Andy returns to Trulaske, he makes a point of visiting with Reiske. After all, it is Reiske whom he credits for always being willing to help suggest particular groups or students that would make for good connections. Case in point: On Andy's most recent visit in April, at the recommendation of Reiske, he met with Cade Koehly, a sophomore from Chillicothe, Missouri, who is in the process of forming a consulting club at Trulaske.
"He's accommodating and collaborative," Andy said of Reiske, who sent the new parents a Mizzou onesie for Esther after hearing the big news. "Besides that, Matt's just a very good person. He's always very friendly and wants to catch up on a personal level, so I highly value the relationship."
Leah Rothberg, BS BA '17
Like Kiehl, Leah Rothberg did not have a firm grasp on the profession that would become her career when she was a student at Trulaske. When she spoke with companies' representatives, many had titles other than professional recruiters. 
"I always knew I loved recruiting, but it wasn't until towards the end of my college career that I knew this is what I wanted to do with my career," Rothberg said.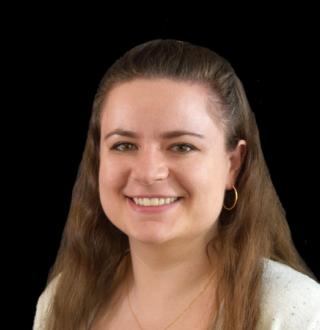 That initial love has ripened into success. In September, Rothberg joined Mastercard to become the senior specialist of talent acquisition for campus recruitment supporting the company's data and services business unit — for all of North America.
Based out of the company's Technology Hub in the St. Louis suburb of O'Fallon, Missouri, Rothberg oversees the overall recruitment strategy for internships and the company's Launch program, which provides entry-level jobs for college graduates.
Given her vast coverage area, she may not be able to make it back to the Mizzou campus as much as she could earlier in her career — but she still plans on keeping up with the BCS team and visiting campus when she can.
Before starting her journey at Mastercard, Rothberg worked as a collegiate and early career talent specialist based out of St. Louis for Lockton Companies, a privately held insurance brokerage firm.
Her coverage area extended across an eight-office area, running from Pittsburgh to the east, Nashville to the south, Green Bay, Wisconsin, to the north and Kansas City — the site of the company's global headquarters — to the west.
As expected, many Trulaske students accepted offers in Kansas City and St. Louis offices. She also helped get them placed in several of the 32 other offices that Lockton has nationwide.
At Lockton, Rothberg would travel to five or six schools per semester of a group of 15 universities that make prime recruiting grounds for the company. Of those schools, Trulaske was one of her most frequent stops, as she would try to make it to Columbia three or four times during a school year.
Rothberg said that aside from being her alma mater, Trulaske stands out among its peers thanks to the level of involvement of Reiske, Lindsay Hing and the rest of the Business Career Services team in terms of creating networking events that extend beyond traditional career fairs, such as employer panels and mini TED talk sessions.
"Mizzou has been a fantastic target school to work with," Rothberg said of her time at Lockton. "Business Career Services is very dedicated to employer relationships and is fantastic at being a true resource."
"Not every university does things outside of maybe resume reviews and career fairs — where employers can actually get involved — and so it is great being connected with a career services center that I feel is going that extra step in terms of making sure that students have the opportunity to have a variety of touch points to get connected to employers."
Although she appreciates all of the in-person opportunities that the BCS offers companies, she is equally thankful for other remote engagement options that it facilitates.
"With everything that happened with COVID, we've come to learn that our world can change over an afternoon," she said. "So, I focus on making sure that we're able to meet with students in any setting and be flexible for what's going on in their lives."