Back on the Road: Trulaske finance students resume corporate trips
Image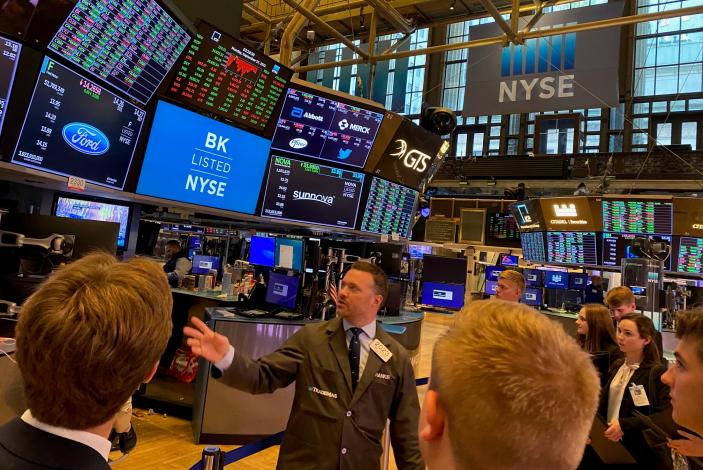 By Stephen Schmidt
After having to restrict school-related travel opportunities last year due to the COVID-19 pandemic, students at the Trulaske College of Business are beginning to travel again to build their networks in the finance world, as they look to the next chapter in their lives.
Two programs, in particular, have been able to get off the ground once more this semester — with a new appreciation for these opportunities.
Tigers on Wall Street / Cornell Leadership Program
A few days before the latest Tigers on Wall Street trip, Mary Beth Marrs, BS IE '87, MBA '95, PhD '99 — the coordinator of the annual trip and director of the Cornell Leadership Program (CLP) — found herself with several last-minute items on her to-do lists that were all COVID-related.
Still, you would never find her complaining, when compared to the severe lack of networking options in 2020 for her students.
"It's such a gift. It makes me so much more appreciative as well to be able to provide these opportunities for students and to see their reactions. They just light up," Marrs said. "We tried last year to bring people in the class remotely. It was better than nothing, but it's not the same as traveling together, visiting companies on-site, and building a sense of community while learning together."
Marrs said that she feels most excited for the sophomores in CLP, who arrived on campus without the ability to have traditional college experience — let alone be able to attend career exploration trips. Earlier this fall, a group of freshmen and sophomores in the program took a trip to Kansas City where they met with business executives such as Dave Cummings, the founder of Tradebot; Dave Johnson, BS BA '78, founder of Chicken N Pickle; and Jake Reid, president and CEO of Sporting Kansas City.
"It was a very isolating experience for them," Marrs said of their freshman year in 2020. "And now, we can put them on a bus and they are just bright-eyed and so excited to be able to go on these trips, and so appreciative of the opportunities as well. It's a different way to engage their learning, and to help heighten their interest in certain aspects of business."
Although CLP students have attended a variety of alumni-supported events across the country in the past, and even participated in service trips to Central America over winter break, the biggest event has always been the original one: the Tigers on Wall Street trip.
Traditionally held in the fall semester since 2008, the program affords CLP students the opportunity to experience a glimpse of life in the Big Apple for an entire week by job shadowing at financial firms where Trulaske graduates hold prominent roles. The week also includes a reception, which 30 to 50 Trulaske alumni attend, many of whom are former CLP students.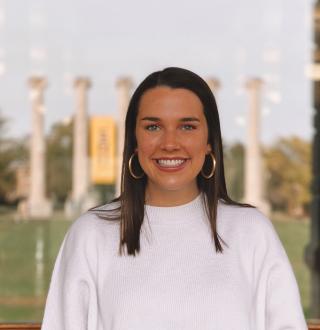 After a one-year hiatus, the most recent trip was held from Sept. 26 to Oct. 1, as 13 juniors in CLP made the trip along with student assistant Morgan Knuckey, Marrs and Stacy Rohr, program coordinator for the CLP and the Heartland Scholars Academy.
Knuckey, a fifth-year accounting graduate student from Bloomington, Illinois, went on the previous trip in 2019 as a junior. She said that one of the biggest highlights this time around was being able to be near the closing bell on the Monday of their trip, thanks to the efforts of Frank Masiello, president and CEO of TradeMas Inc. In addition, Knuckey enjoyed being able to spend time with Meredith Aslin Imber, BS BA '02, senior vice president at Brookfield Asset Management, and her father Mick Aslin, BS Ed '69, MBA '72, who first dreamt up the Tigers on Wall Street program 14 years ago.
"It was just really awesome to get to speak with them and talk about their vision for the program, and what we can take away as students and to hear their career experiences and advice," said Knuckey, who has accepted a position with KPMG's tax practice team at its Kansas City, Missouri, office, effective the fall of 2022.
Knuckey worked with the CLP juniors to develop close to 300 company- and/or industry-specific questions over a five-week "boot camp" period in which they met remotely with Greg Stringfellow, BS BA '17, a former CLP student who now works as an associate in J.P. Morgan's Private Bank, and offices out of the firm's Dallas location.
When Marrs asked Stringfellow to serve as the program prep coach, he did not have to think too long about his response.
"I said, 'Yes,' of course, because I love being able to give back to the students," said Stringfellow, who decided to head to Mizzou after growing up in the Dallas metroplex, specifically to take part in CLP.
Stringfellow noted that he knew several CLP alumni who could attribute their time job shadowing and/or networking on the Tigers on Wall Street trip to helping them land an internship or their first job after graduating from Trulaske — himself included.
"I wouldn't be where I was, if I didn't have people take a chance and volunteer their time to help me," he said. "I can say with certainty that I would not have gotten the job that I'm in without this trip."
Although he has no aspirations of being a professor, Stringfellow enjoyed the fresh energy and perspectives that the students provided during the training sessions.
"I live this every day, and it was fun to have students ask questions and dig deep, and to show up with a passion to learn about this," he said. "The students worked their tails off to get everything done and prepared for this trip with COVID uncertainty looming over them at all times."
Stringfellow added that the people he traveled with as an undergraduate are now largely the ones who hosted the students on the recent trip — as the cycle of Tigers helping Tigers continues.
"It's people who understand what the prep means and understand what goes into it," he said. "They know the students were selected to come on this trip and know that they're going to represent themselves and the Trulaske College of Business really well. It makes us eager to help out however we can."
University of Missouri Investment Group
When he arrived at Mizzou in the fall of 2017, Truman Webb planned to go into mechanical engineering. Then he rushed a fraternity and met an older member who introduced him to the University of Missouri Investment Group (UMIG) — and the realm of high finance, investment banking, asset management and private equity.
"As a freshman, I was instantly captivated by these careers in high finance that I didn't even know existed," said Webb, a senior from Overland Park, Kansas. "I really fell in love with the fast-paced, team-oriented environment of these careers.
These days, Webb serves as the president of UMIG, which is sponsored by the Jeffrey E. Smith Institute of Real Estate and Capital Markets at Trulaske.
The group meets weekly on Tuesday evenings in Cornell Hall. The sessions are taught by members of the Associate's Program, who go through an eight-week bootcamp to be accepted into the program — and in turn, the green light to attend the corporate trips.
Going into the Fall 2021 semester, UMIG had approximately 100 general members, and 31 members in the Associate's Program.
"The Associate's Program is a small group of people that you can really confide in and go through this really rigorous progress with," Webb said.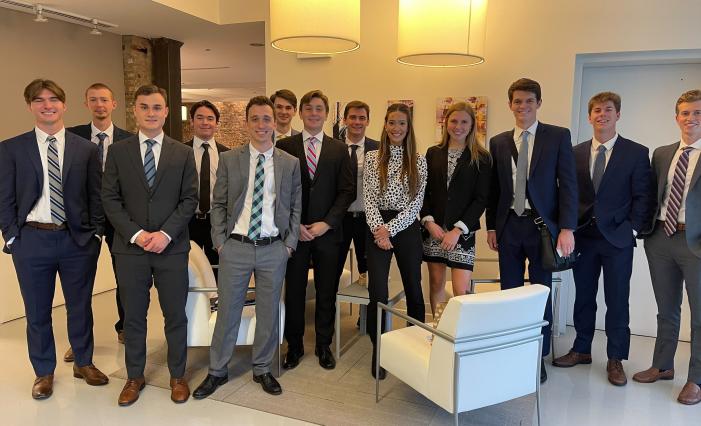 UMIG takes trips each year to meet with Trulaske alumni who live in New York City, Chicago, Los Angeles, Kansas City and St. Louis. When it comes to the geographic placement of internships and job placements for UMIG members in 2020 and 2021, 86 percent of them were either in New York (the largest, at 43%), Chicago or St. Louis — and 50% of those opportunities were with investment banking.
Most recently, Webb and a group of students visited Chicago in October. In addition to asking alumni about their careers and their firms in a more formal setting with a Q&A session afterwards, associates were also able to schedule "coffee chats" converse in a more informal setting.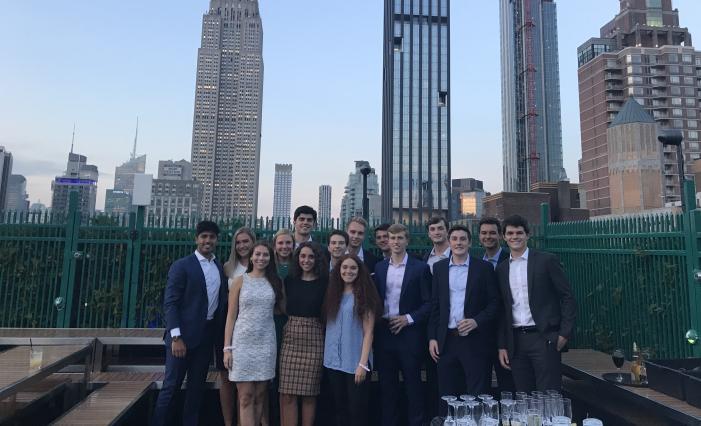 "Each associate had time to make the most of the opportunity, ask the questions they wanted answered, and meet with the people that can ultimately help them through the recruiting process," said Webb, who has accepted a position with the St. Louis-based investment firm Stifel, within its real estate team, effective the fall of 2022.
"As a result, everyone who attended the trip became closer with one another. Whether we were having dinner as a group, traveling to the next corporate headquarters, or picking each other's brain about what we liked or disliked about a certain meeting or coffee chat, these sort of trips build a sense of comradery that we missed over the pandemic. We are ecstatic to travel again as a group."
Related Materials:
https://business.missouri.edu/about/news/tigers-wall-street-connects-students-new-york