Tigers on Wall Street connects students to New York
Image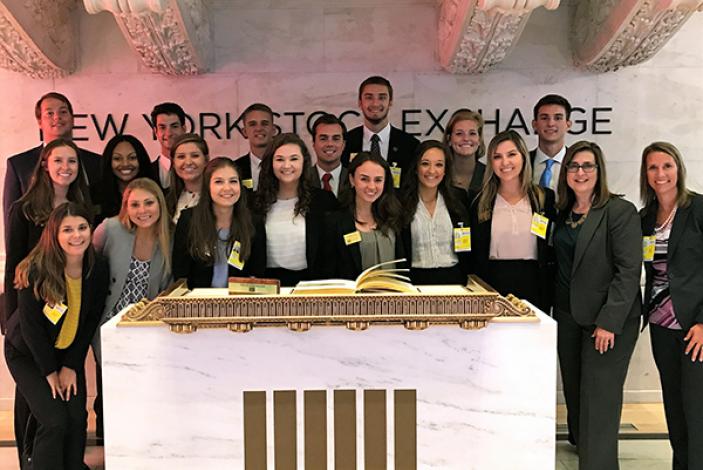 On September 24, 17 business students stepped off a plane at LaGuardia Airport. For six weeks they had prepped for the trip. Every Friday, they studied financial markets and searched for current information on the top firms they'd soon visit. They sifted through news articles and studied the Dow S&P. Some students were so focused on this opportunity, they chose Mizzou because of this trip. These select students were in New York for Tigers on Wall Street. 
The experience was launched ten years ago when Meredith Aslin Imber, Trulaske College of Business alumnae, was working in finance on Wall Street. She noticed Mizzou had little presence there. "I wanted to change that," Meredith recalled.
She knew other professionals who had visited New York as undergraduates. Their experiences opened their eyes to the opportunities available in the financial sector in New York. If Mizzou was going to grow its presence there, she decided, it needed to build a bridge from Columbia to New York. "I told my dad, who serves on the college's Strategic Development Board (SDB), that we needed Mizzou students to visit Wall Street firms if they were ever going to be competitive in this market. They needed to be able to see themselves here. He was on board from the start."
Her dad, Mick Aslin, Owner of Aslin Capital, knew who could get the idea off the ground. "I challenged Mary Beth Marrs, who was Associate Dean and head of the Cornell Leadership Program, to get her students ready for Wall Street. We would find a way to send them and to fund the trip."
Mick tapped into Harvey Eisen, Chairman and CEO of Wright Investors' Service Holdings, and a well-connected Trulaske alumnus and SDB member. Harvey agreed to help fund the trip and would also connect students with influential meetings in New York. "The students needed to experience the City to really understand it," said Harvey.
Tigers on Wall Street was born.
Mary Beth selected students from the Cornell Leadership Program who applied for the trip by expressing a strong draw to the bustling atmosphere of Wall Street and investment banking. She created an intense system for preparing students by establishing a bootcamp that would last six weeks and eventually bring in Andy Kern, Assistant Teaching Professor of Finance, for his expertise in the field. Andy also leads students in Chicago and New York for the University of Missouri Investment Group, another unique opportunity for Trulaske students.
"Andy taught us how to think on our feet," said Michaela Reinagel, senior in accountancy. "We would research a topic and he would ask us what we thought – was this a good move or was that the right decision. In New York, executives would give us an hour of their time and they would often start the conversation by asking what we want to know. Mary Beth and Andy taught us how to get the conversation going through a meaningful dialogue."
"It was the most rewarding and intense class that I never received credit for," joked junior Connor Cross, who attended this year's trip. "I learned more in six weeks than I ever thought possible about the financial sector."
During the early years of the program, Harvey introduced students to Jamie Dimon of JP Morgan; Ken Langone, founder of Home Depot; and Sandy Weill of Citigroup, among others.
Others joined the effort to support the program financially. Harry Cornell, who founded the Cornell Leadership Program for high achieving students, pledged his support. Today, he continues to send students and provides integral program funding. Jeffrey Smith, president of JES Holdings, helped send students to New York and outfit them in suits and professional attire. Additionally, Rob Ehrhart, Managing Director of Investor Relations at Bain Capital, and the late Ace Greenberg, previously Chairman of Bear Stearns, met with students and contributed to the program.
Other notable alumni, including David Herzog, who is currently Director of Ambac Financial Group and serves on four public company boards, would step up over the years to host students at their firms or open doors to important meetings. When David was CFO of AIG, he folded students into the difficulties in the market during the downturn. Now that the market is on an upswing, Wall Street has expansive opportunities for students.
"Tigers on Wall Street shows students the 'Art of the Possible,'" said David, who has remained committed by hosting students every year since its founding.
"During my first year as Dean, I vowed to join the students in New York. I wanted to see this stellar program for myself," said Ajay Vinzé, Dean of the Trulaske College of Business. "I was so impressed by our students, our hosts, and the alumni network in New York who are creating pathways to the next generation of Mizzou investors and bankers on Wall Street. I am incredibly proud of this program and the network of individuals who make it happen."
Today, a contingent of Mizzou alumni – growing in number each year – is working on Wall Street and mentoring current students. The connections not only bridge the space between Mizzou and the east coast, but they provide a unique identifier for each student. In interviews, Tigers can speak to the intense preparation, the important lessons learned in those board rooms, and an eyes-wide-open enthusiasm for the financial sector that only an experience like Tigers on Wall Street can provide.
"I secured my internship with JP Morgan in Dallas because I could talk about New York, everything I learned, and how it changed me. The experience helped me stand out," said Austin Killough, a junior in finance.
The continuous exposure of Mizzou's top talent in New York is also strengthening partnerships between Trulaske and the nation's top firms. Just this year, Goldman Sachs pledged to recruit at Trulaske. "The students who come through this program are proactive, well-spoken and knowledgeable about our business. They've made such an impression at our firm that we're increasing our recruiting activities at Mizzou. Tigers on Wall Street opened the door to Goldman Sachs," said Dan Howard, Vice President at Goldman Sachs and Mizzou alumnus.
Ten years into the program, Meredith is buoyed by the program's success. "I see Mizzou alumni getting really competitive jobs and doing amazing work. I'm proud of Mizzou and I'm so glad to see the network growing here."
"Because of the visionary supporters, we launched this important opportunity for our students," said Mary Beth. "Our visits to New York are now a balance of executive leaders who meet with our students, take on job shadows and connect them to internships and opportunities, right alongside our recent alumni who are up-and-coming in their firms and making a name for Mizzou. Our students can see themselves and what their lives could look like in New York two years out – and two decades out – of school. "
  "I am a different person because of Tigers on Wall Street. The experience helped me see that this is exactly where I want to go after graduation," said Connor.