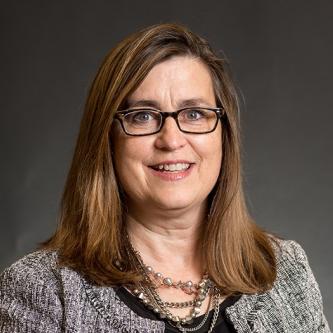 Trulaske Dean's Advisory Board, Vasey Academy Advisory Board, Dean's Office, Management
Mary Beth Marrs
Associate Teaching Professor, Director of Enrichment Programs & Strategic Initiatives, and Harry M. Cornell, Jr. Director of the Cornell Leadership Program
Address
700 Tiger Avenue
Columbia, MO 65211
Mary Beth Marrs is an Associate Teaching Professor in the Management Department and oversees enrichment programs at the Robert J. Trulaske Sr. College of Business, University of Missouri - Columbia. She also serves as Director of the Cornell Leadership Program and the Heartland Scholars Academy. Mary Beth was on the business faculty at Idaho State University prior to returning to the MU College of Business in 2000 as a visiting professor. In July 2003, she was appointed assistant dean for undergraduate programs. At the beginning of 2007, her responsibilities were expanded to also include the college's strategic initiatives.
At MU, Mary Beth serves as the faculty advisor to Alpha Kappa Psi, the professional business fraternity, and provides leadership for the College of Business undergraduate enrichment programs, including the Cornell Leadership Program, Vasey Academy, and Heartland Scholars Academy. As Director of the Cornell Leadership Program, Mary Beth provides leadership development for high ability business students. In this role, she coordinates corporate trips to Wall Street, Chicago, Dallas, Denver, Nicaragua, Cuba, and Santiago, Chile. Currently, Mary Beth is focused on developing the Heartland Scholars Academy, which supports the unique needs of first generation college students, and refining the Vasey Academy, opening doors for underrepresented minorities through networking with alumni and partnering with corporations. Her primary teaching interests are operations management and organizational behavior.
Mary Beth was named Faculty Member of the Year by the college's students in 2002, 2003, 2004, and 2005, and is a recipient of an MU Excellence in Education Award (2002), the Kansas City College of Business Alumni Association's Teacher of the Year Award (2004), the college's O'Brien Excellence in Teaching Award (2007), the Kemper Teaching Fellowship (2009), and in 2010 was honored with the Faculty Alumni Award. She was also inducted into Mystical Seven, a campus honorary society in 2007. In 2012, Mary Beth was inducted into MU's IMSE Hall of Fame. With research interests related to the effects of aggressive and deviant workplace behavior, Mary Beth's work has been quoted in such publications as Workwise magazine and USA Today and has published in Organizational Behavior and Human Decision Processes. Prior to graduate school, she was a director of operations support in the U.S. Postal Service.
Mary Beth is a three time Mizzou alum (BS IE '87, MBA '95, PhD '99), and says the best part of her job is working with students and watching them experience all that Mizzou has to offer. She and her husband Alan (BA Computer Science '84) and their two children, Justin and Brooklyn reside in Ashland, Missouri. Mary Beth enjoys coaching her kids' teams, playing volleyball, and attending Mizzou athletic events with family and friends.
Education
PhD, University of Missouri, 1999; MBA, University of Missouri, 1995; BS, Industrial Engineering, University of Missouri, 1987;