A classroom response system is a combination of subject-agnostic hardware and software leveraged by the instructor to poll students across a range of question types. Students submit their answers through a computer, mobile device, or "clicker" and responses are aggregated and shown on the shared classroom display.
TopHat
Tophat is a modern software-based classroom response system that leverages BYOD to engage students and gamify the learning experience. To use Tophat, no classroom infrastructure beyond a computer and student devices is necessary. The user interface is intuitive and question prompts can be integrated with PowerPoint. Question types include multiple choice, word answer, numeric, matching, click on target (picture), and sorting. Used correctly, Tophat is a powerful engagement tool that helps instructors assess student understanding of material. 
Reef and i>clicker
Reef is a combination software and hardware classroom response system. The software portion, Reef, is similar to Tophat in functionality, though slightly simplified. The hardware portion, i>clicker, uses student handheld devices called "clickers" to collect responses. This hybrid approach is useful for instructors that are hesitant to allow student computing devices during class.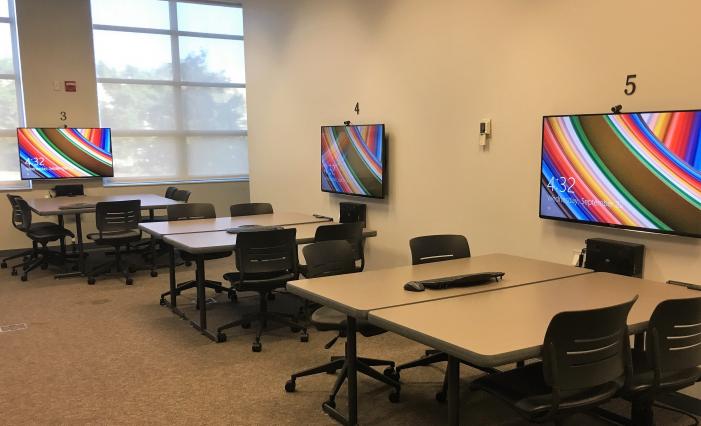 The Collaborative Technology Classroom in Cornell Hall is an experimental space where faculty step off the stage and empower students to explore topics and learn with their peers. The techniques used in Cornell 204 coincide with the strategies suggested by other active learning models such as a flipped classroom, Technology Enhanced Active Learning (TEAL), and Scale-up.
Cornell 204 contains seven pods each configured with:
Conference table seating 5 students
48" high-resolution, ultra-thin display TV
Powerhouse, wall-mounted desktop computer
Full office productivity software and other specialty software requested by instructors
Keyboard, mouse, webcam
Space and power for students to bring their own devices (BYOD)
These pods are interconnected to allow content from each to be pushed and pulled throughout the room. For example, content from the instructor's station can be delivered to all pods to setup a class session, exemplar content from a student workgroup can be pulled from their pod and distributed to all other groups, or each pod can be separated for students to work through content.
204 Cornell can be used for any Trulaske class or event where small group work is desirable. It is an excellent context for keeping the class together while turning the students loose to work through a tricky problem together, brainstorm ideas, draft a project/paper or evaluate peer work. Pulling example student work from a pod is an excellent way to step the class through a team's progress or give each team a few minutes to relay their progress.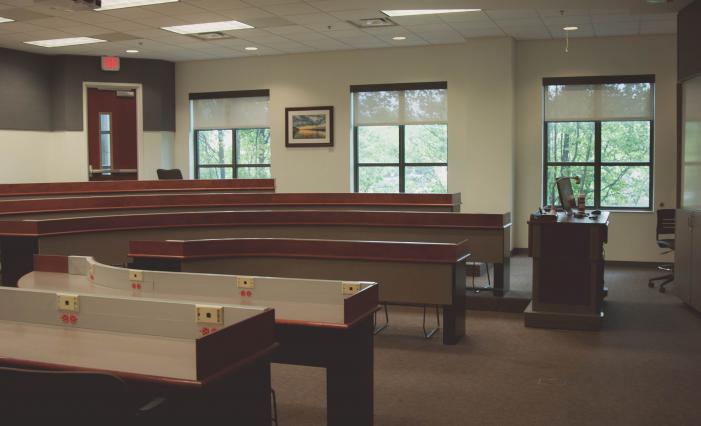 The foundation of learning at the Trulaske College of Business is its state-of-the-art learning spaces. These learning spaces are among the most technologically advanced on campus featuring multiple, student-centric designs to meet the diverse learning styles found in our student population. These designs are integrated with the classic aesthetics of Cornell Hall and yield an authenticity that aligns with the modern business world. Technology innovations found in our classrooms work to maximize student engagement, facilitate student learning, and empower our world-class faculty to connect with students.
Standard Classroom (Tiered and Flex)
The standard classrooms of Cornell Hall span three floors and are a mixture of 17 tiered and flexible spaces ranging in occupancy from 32 to 500. Tiered spaces are semi-circular, stepped spaces that maximize whole classroom interactions and student participation. Flex classrooms are flat spaces that are designed for increased adaptability to fit different learning styles.
In summer 2016, these learning spaces were updated to reflect an enhanced standard that includes:
An integrated and robust computer with wired data connection and touchscreen monitor
Lecture capture compatibility including HD camera (pan, tilt, zoom) and choir microphone for instructor voice capture
Large "confidence displays" at the back of the classroom and AppleTVs for wireless presentation, to help ensure the instructor stays engaged with their students.
Bush Auditorium
For high-profile occasions and very large classes, Bush Auditorium offers 500 seats in a tiered configuration to maximize student sight lines to the instructor. A 20-foot, ultra-bright projection screen ensures content visibility from any seat in the auditorium. 
Every year, Bush Auditorium hosts prominent business and government speakers, forums, symposiums, Shark Tanks, and case competitions. 
Functionally, Bush Auditorium is similar to the standard classrooms of Cornell Hall with some slight adjustments. Voice amplification (microphones) and dynamic lighting controls are available for presenters. A CatchBox (thrown microphone) is installed for student participation and engagement.
Computing Sites
Cornell Hall contains three computing sites comprised of 115 high-end computer workstations with dual widescreen monitors and loaded with business and productivity software, including an Eikon lab for Finance research. These computing sites are used to provide a hands-on environment for student learning wherein students work though authentic, industry specific problems using the best software tools the industry has to offer.
Laptops cart
Cornell Hall offers two mobile computing carts containing 10 laptops each that can be used in any Cornell Hall class. These laptops are optimized for fast classroom access and have specialty software installed for specific classes at the instructor's request. These laptop carts are used to bolster the broader, bring your own device (BYOD) strategy employed in Cornell classes. 
Laptops carts, checkout laptops, video recording devices and other devices are available for checkout at the Instructional Support Services (ISS) office located in 221 Cornell.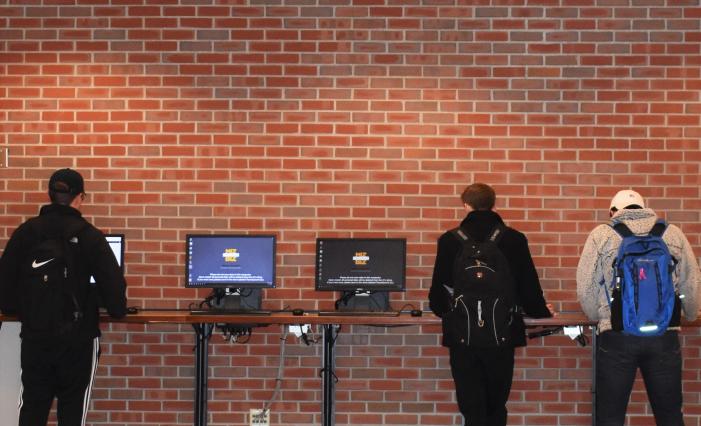 Public Workstations
Scattered throughout the lower floors of Cornell Hall are public computers and printers for student use. These workstations are configured for quick student access in both standing and seated arrangements. They feature a full installation of office productivity applications.
Conference rooms
On the upper floors of Cornell Hall, conference rooms are a keystone of productivity. These technology-enhanced spaces are configured for small group collaboration and feature large screen displays, full-use computers with office productivity software, videoconferencing technology, and whiteboards. 
Breakout rooms
On the first and second floors of Cornell Hall, students can find seven technology-enhanced small group collaboration spaces. These rooms can be reserved using the walk-up scheduling device located outside of each space. Inside these breakout rooms, students are empowered to wirelessly share content to a large display using Mersive Solstice.
These spaces are versatile and are also used for interview opportunities with employers, group projects and case competitions.
Lecture capture is a hybrid hardware and software solution that allows instructors to digitally record their class sessions and share the recordings with students via the Learning Management System (LMS, currently Canvas). Recordings can include audio of the instructor, video of the classroom and a capture of the computer desktop that can show PowerPoint, a software demo, document camera image or any other computer-based activity.
Tegrity
The University of Missouri campus has integrated the Tegrity lecture capture tool with our Canvas LMS. This allows instructors to record their class sessions and automatically upload the recordings to the virtual classroom for later viewing by students.
The Cornell classrooms are configured for lecture capture using the infrastructure desktop computer, pan/tilt/zoom (PTZ) camera, and choir microphones. 
While attendance of live class sessions is still largely a requirement, recordings of class time remain an excellent resource when students are sick or otherwise unable to attend class, for exam preparation or for material review.
A system designed to share content from computing devices to a large, collaborative display using wireless technology. Popular examples include home-use devices (AppleTV, Chromecast), software solutions (Mirroring360, Reflector), and infrastructure hardware devices (Mersive Solstice, Crestron Airmedia).
Mersive Solstice
Cornell Hall leverages Solstice in small meeting spaces to encourage the collaborative sharing of content. Solstice allows multiple participants to share content from their devices to a display simultaneously with their peers. This simultaneous sharing feature sets Solstice apart from other home-use devices as it allows multiple clients to connect and share at the same time, rather than just a single sharing device.
Participants can connect to Solstice using Windows and Mac laptops, iOS devices (iPhone, iPad), and Android devices. Once connected, users can mirror their device displays, send pictures and video, tile content side-by-side, change the content focus of the screen and more.
Solstice is installed in all Cornell breakout rooms and any Cornell Hall classroom at the instructor's request.
Apple TV
AppleTVs can be found in all Cornell Hall classrooms and are used for a targeted use case of wireless presentation. Specifically, these AppleTVs are installed to encourage faculty mobility using the iPad. AppleTV allows instructors to mirror their iPad, showcase iOS mobile apps, and integrate with the class in a seamless fashion. AppleTV can also be used to mirror iPhones, MacOS devices, and Windows/Android devices with third-party applications.