Trulaske Kaldi's Sim: Gamification brings a new meaning to hands-on learning
Image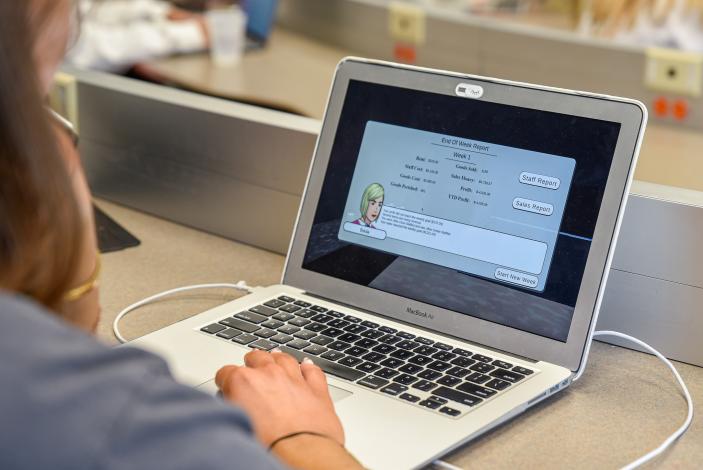 For retail marketing students at Trulaske, gamification is more than a buzzword they hear about from their professors. A new partnership with Adroit Studios Gaming Lab, a game development lab in the MU School of Information Sciences & Learning Technologies, has allowed students to put this innovative concept into practice and bring a new meaning to hands-on learning.
The game, Trulaske Kaldi's Sim, puts students in managerial roles in their own unique Kaldi's Coffee shop, either on a college campus, in a hospital or in a city. Students order inventory, design a menu, set pricing, staffing levels, schedule employees and then let the simulation take over. A week goes by with the click of a button, and students are presented with their financial results. Adjustments can be made to pricing, staffing levels and hours of operation, and students can begin to see the parallels between theoretical concepts and real-life applications
The game was developed by Adroit Studios' Founding Director Joe Griffin and his team in collaboration with Trulaske Marketing professors Katie Essing, Courtney Cothren and Anthony Vatterott. The faculty members worked with Adroit Studios to create a game that would be entertaining and teach students important marketing concepts that can be difficult to internalize in the classroom.
"We want students to come away from this game with a better understanding of how to run a retail business," said Essing. "It's a great opportunity for them to get hands-on experience with some of the concepts they're learning in class."
Evan Shasserre, a senior studying economics, participated in the Trulaske Kaldi's Sim and said the experience was unlike anything he's done in a class before.
"It is so much fun to run a business in a game and see sales data generate right in front of you," he said. The simulation has been "something new and enjoyable and geared towards the way my generation likes to learn. We can do trial runs, watch potential problems play out, and then discuss what solutions would be effective."
This isn't the first time Trulaske students have had a chance to work with Kaldi's Coffee to enhance their learning experience. In 2019, the national coffee chain opened a store in Cornell Hall that gives students a chance to learn about business operations, including global supply chain, human resources management and accounting. Kaldi's Coffee is co-owned by Tricia Zimmer Ferguson, BS BA '03, and her husband, Josh Ferguson, BS '03.
"We are fortunate to have such strong relationships with companies in our community that are willing to work with us to create programs that benefit our students and our college," said Essing.
Trulaske faculty are also working with Adroit Studios to develop future games, with one specific to management education slated to be used in courses next fall.
Learn more about earning a BS BA with an emphasis in marketing.