Remote Teaching and Learning During a Time of Crisis
Image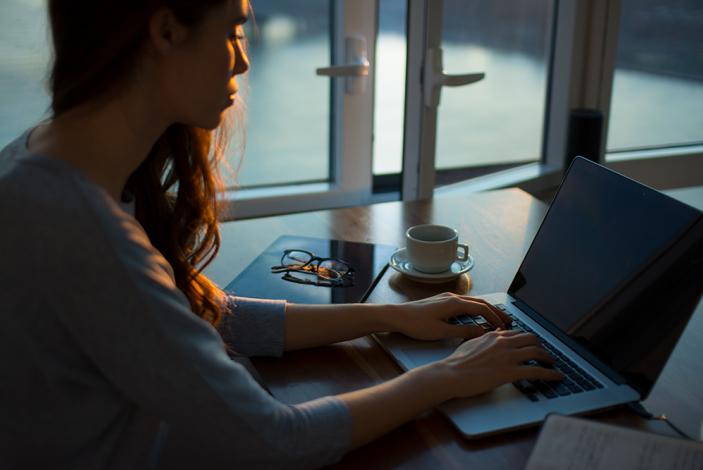 As a global pandemic shifted Trulaske classes to remote delivery, new challenges and opportunities presented themselves for both remote teaching and learning.
There is no one-size-fits-all model or format for success as faculty have transitioned their classes to accommodate social distancing mandates; teaching methods and styles are as varied as the subjects being taught. Despite these differences, a common theme of support has emerged and is translated into the remote learning experience in a variety of creative and thoughtful ways.
Here are just a few highlights from the Spring 2020 semester.
Professor Ann Peng
Professors and students faced many challenges as courses moved to remote delivery mid-semester, ranging from technical difficulties to adaptation of curricula. Ann C. Peng, an associate professor of management at Trulaske, is no exception. Though she had never taught a class remotely prior to this semester, her research interests (leadership, emotions and stress in the workplace) and her resourcefulness shone through to her students.
"The two major challenges for me are: one, to adapt the experiential learning materials to the online format, and two, to engage all students in the case discussions," says Peng, who taught an MBA Organizational Behavior (OB) class and a PhD research seminar during the spring semester. "I will continue to experiment with different ways to overcome these challenges."
Peng used a variety of different Zoom features when delivering her classes this semester, such as breakout rooms for team assignments, white boards for student presentations and idea sharing, and chat functions to enhance class discussions, as well as Panopto videos for delivering some of her lectures.
"What made the transition easy for me is the dedication, maturity and intellectual curiosity of our students," says Peng. "Also, kudos to the Trulaske tech support group; they have made the technologies immediately available and easy to use!"
According to Ravinda Mohan, second-year Crosby MBA student, Peng's efforts were worthwhile.
"She used more features and tools on Zoom than any other class I took this semester. Her in-class assignments were a lot of fun and really illustrated and elaborated upon the material well."
One of Peng's in-class assignments was a "Survival on the Moon" exercise she had her OB students do during an "Intro to Teams" Zoom lecture. Students were asked to rank in order of importance 15 objects they would need to survive when trekking across the moon such as water, a magnetic compass, matches and dehydrated food. They did so individually and then in groups via Zoom breakout rooms, before presenting their answers and rationale to the class and scoring their individual performance to that of their groups.
The exercise sparked a larger discussion of team processes and created a sense of comradery and understanding among team members, despite the physical distance between students.
"The assignment helped us get to know our teammates better than we did before and on different levels," says Mohan. "We got a real sense of each other's strengths and team roles. It was fun to see what the exercise revealed about my teammates' thought processes, as well as my own."
Peng's teaching approach for the semester, and in general for business education, is to focus on developing thought leaders who are critical thinkers, passionate inventors and good citizens – an approach that resonates with her students. However, it wasn't just her use of technology and creative assignments this semester that they appreciate. It was also her ability to connect, empathize and personally support them as they navigated remote learning together.
"During this lock down I was struggling with a lot of anxiety and depression, and Ann offered to let me reach out to her over the phone," says Drew Weinstein, a second-year MBA student and native of Wisconsin. "I really appreciated it because I didn't have a lot of people to connect with here in Columbia and it was helpful to know that she understood I was struggling and was willing to listen. It helped quell a lot of my anxiety."
Assistant Teaching Professor Courtney Cothren
Though the sudden transition to remote learning was not ideal, many faculty took advantage of the time to virtually connect their classes with alumni and thought leaders from all over the world. For example, J. Scott Christianson, Trulaske assistant teaching professor, invited comedian Michael Oldroyd, BS BA '09, to open his class with a ten-minute comedic set.
Additionally, Courtney Cothren, assistant teaching professor in marketing, recently invited Brooke Menchaca, BJ '14, senior human resource manager for Dollar General, to speak to her Retail Marketing students using Zoom.
Menchaca works in logistics at Dollar General, which is one of the subject areas covered in Cothren's Retail Marketing class. Her presentation gave real world insight and depth to students in the wake of COVID-19.
"Dollar General is the fastest growing retailer in the U.S. They were named one of the 20 key businesses for operations during COVID-19 by the government," says Cothren. "This was an especially exciting time to have Brooke speak, given the radical transformation of the retail industry due to the pandemic."
During the presentation, Menchaca discussed changes that Dollar General made to its product allocation process, ensuring goods were in stock in stores; the record-level sales the company has sustained due to the pandemic; and internship opportunities with the company.
"I think [students] really enjoyed the presentation," says Cothren. "I had a student email right after the presentation to get contact information for the internship."
Assistant Teaching Professor Daryl Smith
From missed commencements to remote learning adaptation, quarantine has been a challenge for many members of the Trulaske community. To provide students with a sense of continuity during the transition, Assistant Teaching Professor of Management Daryl Smith made sure that his virtual classes maintained the same level of support, discussion and student engagement as his in-seat classes held. His approach and leadership both inspired and touched his students, as they braved the COVID-19 storm together.
"[Daryl Smith's] diversity and inclusion class is one of my favorite classes," says Mackenzie Ursey, a marketing major who graduated this spring. "He's been very flexible, which helped ease the stress of the online transition."
Smith's approach to teaching remotely has been to do whatever it takes to keep students engaged while staying flexible and cognizant of the fact that one never really knows what others are facing.
"When operating remotely, you have to communicate even more and make sure that students know you are present and available," says Smith, whose approach incorporates a variety of tactics that simulate face-to-face interactions. Things such as checking in with students by email, asking lots of questions (including poll questions in Zoom), calling on students unexpectedly during online collaborations, giving individual and group assignments, and following up on those assignments are commonplace in his class.
"He is very prepared," says Sarah Allen, who graduated in May with a degree in hospitality management and a minor in business. "During Zoom meetings he takes the awkwardness out of it and teaches like he normally would. His professionalism shines through."
Leading by example and enthusiasm are also strong hallmarks in Smith's classes.
"I make sure I am fully engaged so they will be engaged," says Smith. "They know I am passionate about whatever we are talking about. When an instructor is passionate, students pick up on it and they will engage even more."
Being flexible and compassionate are important to Smith. He recognizes the diverse backgrounds of students and, while no one experience is the same during this pandemic, he has made it a point to honor and celebrate them all this semester.
"We often don't know what other people are going through. We have a lot of students who, when they left Columbia, went to an environment where learning – and life – are unique challenges. We had a Mizzou student who was shot during this time, hit by a stray bullet. At this time, I asked my students for a moment of silence, a moment to re-engage, to learn, to be active in their response to this virus, and to take care of themselves and those around them."
Graduating seniors did not have a traditional commencement this spring because of the pandemic. (University officials plan to reschedule the in-person ceremony for a later date.) Disappointment that Trulaske's spring graduates have experienced at missing this rite of passage is understandable. However, Smith says that moment doesn't have to define the students.
During his last meeting of the semester with his Diversity and Inclusion class, he took the last few minutes to recognize all the seniors that were graduating this May and August.
"I did a graduating senior starting lineup to the Chicago Bulls intro music," says Smith. "I used my public announcer voice and went through my index cards that I collected from students at the beginning of the semester. I read through all the particulars of each student: name, hometown, major, minor, certificates, etc. It was fun and students really seemed to enjoy it – it made them feel special."
Senior Sarah Allen sums it up:
"He truly recognized that this is a hard and weird time for graduating seniors and did something. Even though it was on a smaller level, he took the time to celebrate us," says Allen, who comes from a long line of Mizzou alumni. "Coming out of high school and choosing Mizzou as my college, I knew I was choosing to have really large lecture classes and I would encounter some professors who would never know my name, rather than professors who would greet me and know a little bit about me. But I have resources like Daryl. He made all those large lectures worth it, and I know I would do it all over again 10,000 more times."
Story by Seabrook Omura, Trulaske MBA student