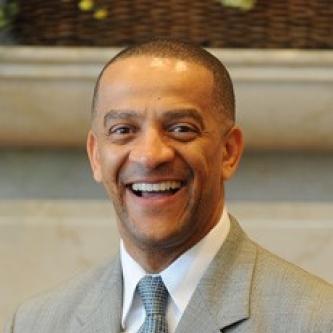 Management, Vasey Academy Advisory Board
Daryl Smith
Associate Teaching Professor
Address
700 Tiger Avenue
Columbia, MO 65211
Daryl Smith is an Associate Teaching Professor of Management at the Trulaske College of Business at Mizzou. He teaches upper-level courses in Management, including Management Principles, Business & Society, Human Resources Management, Diversity & Inclusion, Labor Relations, and Compensation & Benefits. 
He earned his bachelor's degree from the Trulaske College of Business and his Master's in Business Administration from Washington University in St. Louis. Smith has also completed executive education certificates from Stanford University and Cornell University.
In 2020, he received the Kemper Fellowship for Teaching Excellence.  In 2022, he was nominated for the Governor's Award for Teaching Excellence.
In 2019, he was selected by Kappa Alpha Theta Sorority (Mizzou chapter) as their Most Outstanding Faculty at Mizzou.  Later that same year, Kappa Alpha Theta, Inc. named him to their Top 10 Faculty in the U.S. and Canada list.
He is also a 2-time recipient (2016 and 2023) of the Bruce & Pam Walker Outstanding Faculty Service Award and the MU NAACP Faculty Advisor Award. He is also a former Trulaske College of Business Convocation Speaker.
He serves on several campus committees including the MU Faculty Satisfaction committee and the Mizzou Intercollegiate Athletics Advisory Committee.
Smith serves on the college's Vasey Academy Advisory Board, and he has a named scholarship within the academy.
He also serves on the Special Olympics Unified Champion School's National Education Leaders Network (NELN); a think-tank made up of nearly two dozen leaders in special education, research, social equity, and education leadership.
He is frequently sought after as a speaker and consultant, and he serves on several community and corporate boards.
Before joining the Trulaske College of Business in 2012, he held several executive positions with notable Fortune 500 companies including ESPN / ABC Sports, Cox Communications, Motorola, and ARAMARK.
He is native of Columbia Missouri, and he proudly identifies as a True Son of Mizzou.
Education
MBA, Washington University; BS BA, University of Missouri