MU International Trade Center interns begin global market research projects
Image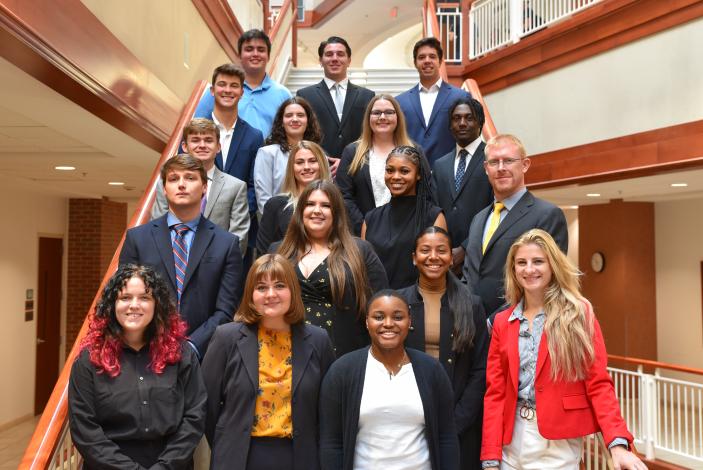 From left to right, front to back: Fall 2022 MU International Trade Center interns Grace Chafee, Shayna Crosby, Rayniece Barbee, Tess Losacker (Grad Assistant), Evan Pinkston, Reagan Mountain, Mirieli Santos, Michael Hatley (Grad Assistant), Austin Bolin, Sydney Labruyere, Arionna McMiller, Mark Riley, Sophia Henry, Shelbie Spinner, Dejan Collier, Jacob Rigor, Tucker Tandy and Ben Schieber.
Global Market Research in Action
Sixteen University of Missouri and Trulaske College of Business undergraduate students will be directing their time, attention and talents this semester to help four small-to-medium sized companies based in Missouri and Kansas grow their sales internationally.  As interns with the MU International Trade Center, the students will conduct global market research to assist the companies with new market identification and evaluation.  All projects are tailored to the individual company's product and industry sectors of interest. Interns gain valuable hands-on data analysis, project management and presentation experience, as well as real-world insights into global trade.  The participating companies likewise gain in-depth county and industry sector analysis that can be used to support and guide future decision-making. Companies working with the MU International Trade Center this semester include:
Healium (Columbia, MO) – developer of an immersive meditation tool with supporting neurofeedback used to train the user's body to stress less and sleep more,
MK Machining (Hallsville, MO) – a 3D-printing company with specialized additive manufacturing capabilities that can be used as an alternative to injection molding,
Rebundle (St. Louis, MO) – developer of a first-of-its-kind sustainable and non-toxic plant-based braiding hair extensions, and
SEVO IFP (Lenexa, KS) – designer, developer, installer and servicer of environmentally friendly fire suppression systems used to protect high-value assets inside mission-critical applications, i.e. data centers, aircraft hangars, power generation facilities, etc.
The MU International Trade Center utilizes the time and talent of student interns and MU faculty and leading market research databases to conduct customized research to meet your business needs. The research helps participating companies effectively evaluate global market opportunities in a timely, meaningful and affordable way. The MU International Trade Center aims to promote economic development and aid in the international decision-making of Missouri businesses while providing MU students, tomorrow's business leaders, opportunities for experiential learning.