Guiding the way: Eight Trulaske advisors nominated for Excellence in Advising Awards
Image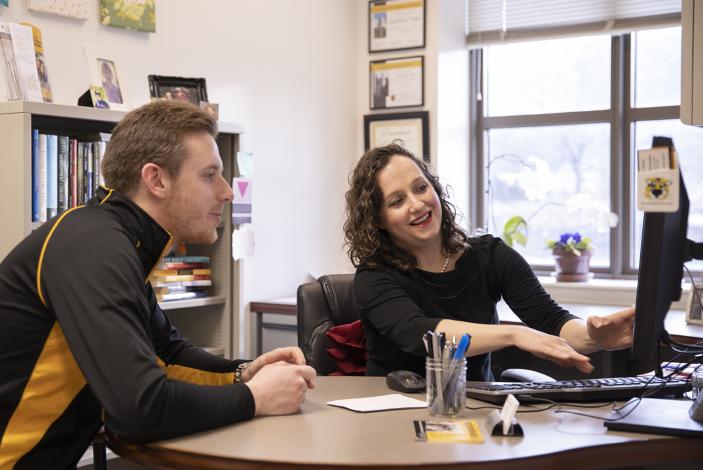 Any photos and videos that do not depict current safety practices were taken prior to COVID-19 public health orders and guidelines.
By Stephen Schmidt
Every year, students, faculty and staff at the University of Missouri take time to recognize the work put in by the academic advisors of their respective colleges and schools by nominating them for the Excellence in Advising Awards.
Given the unprecedented circumstances that surrounded this past school year with the COVID-19 pandemic, the advisors at the Trulaske College of Business would not have been surprised with a lower amount of nominations than in years past.
That, though, was not the case as eight Trulaske advisors received nominations this spring, the most in recent memory. All were nominated in the professional advising category, the other being faculty advising.
"Hearing her genuine opinion and guidance means so much to me," reads one nomination letter.
"She sees me as the most capable scholar, even when I sometimes don't see it in myself," reads another.
Allie Teagarden, Trulaske's director of undergraduate advising and herself one of the nominees, said it was incredibly moving to hear how she and her team have helped transform the lives of the students they serve.
"Our advisors make a positive impact on our students by supporting their academic success, certainly, but also investing in students in a personal way that goes beyond degree progress," she said. "They are tremendously dedicated to the work they do, and have worked harder than ever this year to support our students throughout less-than-ideal circumstances."
Along with Teagarden, the other nominees from Trulaske were Sijie Yao, Shoshana Bereskin, Karen Lowry, Megan Gioielli, Stephanie Toigo, Kate Dunlap and Emily Severeid-Geiss. In addition, Kibby Smith — an advisor at the College of Arts and Science (A&S)who advises international business students on A&S degree requirements in conjunction with her counterparts at Trulaske — was also nominated.
"Our Truaske academic advisors work tirelessly to provide support for the continued success of our students. I'm thrilled that we had so many of our advisors nominated for the Excellence in Advising Awards," said Gay Albright, EdD '19, associate dean of undergraduate programs and director of global initiatives.
Albright said that in addition to holding one-on-one advising sessions with students to select the best courses to reach graduation day, advisors also serve in a variety of other functions, such as providing information on emphasis area selections and possible careers; connecting students with campus resources and organizations; coordinating programs such as the Trulaske Scholars, the Walton Scholars and Business Week; and identifying at-risk students and developing plans for success.