Empowering career lessons from Making Me Marketable
Image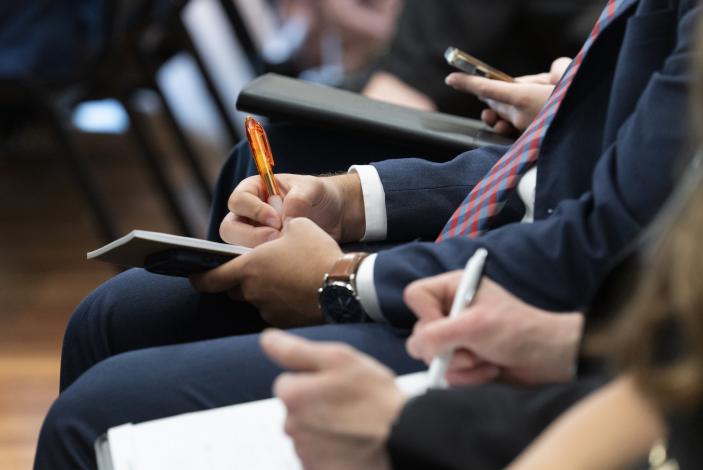 By: Kylie Groh
This year's Making Me Marketable was a dynamic choose-your-own-adventure. This annual conference, hosted by the college's marketing department and the Marketing Club with the help of marketing faculty Katie Essing, has been teaching students how to market themselves for 24 years.
As an attendee, I learned importance of knowing my personal brand and communicating it in interviews, when entering the workforce and when transitioning into a new position. The event rallied together students, alumni panelists and other business professionals. It felt like university spirit was at the heart of the event between the countless "M-I-Z" chants, the jaw-dropping "MMMZOU" light display and an appearance from Truman the Tiger himself.
Students curated their schedules for the day by choosing from four different panel options for each of the three sessions. My favorite panel was "Dare to Fail." The panelists shared humbling career moments and encouraged us to fail fast, own our failures and grow in resilience. 
I also loved hearing from panelists in "Career Fair 101." With the Business Career Fair only two weeks away, everyone in the room was eager to drill the panelists with questions. We often have the opportunity to interact with recruiters on campus, but it was an enormous privilege to be advised by the actual decision-makers of successful businesses. 
The keynote speaker was Eric Willis, chief marketing officer of Nestlé Purina. Willis's path to success was unconventional yet inspiring. When he first began at Nestlé Purina, he was not in the marketing sector but instead worked as an order and revenue management associate. Perseverance and promotions took him all the way to the top. He encouraged us to be patient but also maintain a bias for action. As an aspiring marketer, I enjoyed his story and his insights into Purina's marketing triumphs.
Making Me Marketable taught me how to stand out, how to fail well and how to bet on myself. I cannot wait to see what next year has in store!