#BuyBlackMizzou: Center Partners with Alumnus to Showcase Black Entrepreneurs
Image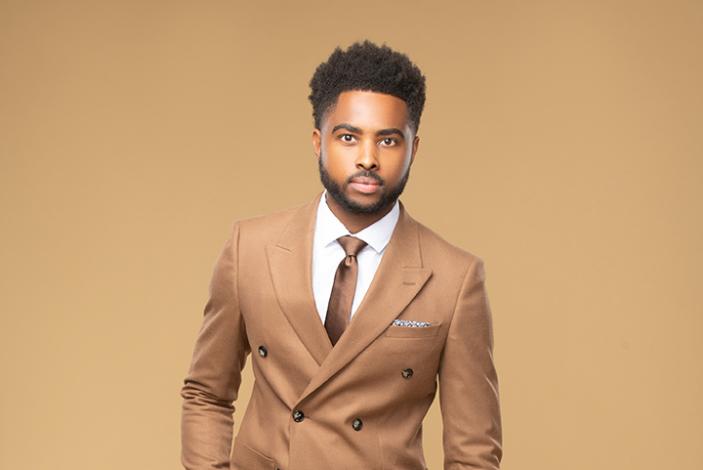 After alumnus Derrick Christian created a list of businesses founded by Black Mizzou alumni, the Trulaske Center for Entrepreneurship & Innovation collaborated with him to create a three-part virtual series to further showcase Mizzou Black alumni entrepreneurs and the businesses they've created.
By Kelsey Allen
As a senior marketing manager at the United Center in Chicago, Derrick Christian, BJ '10, spends a lot of time on social media. In summer 2020, he started noticing lists of Black-owned businesses and restaurants circulating on his news feeds: People around the country were looking for ways to support racial justice. In addition to protesting the killing of George Floyd at rallies and vigils, many were shopping Black-owned businesses.
As the founder of MR. SUITABLE, a motivational accessories line of ties, tie bars, pocket squares, cufflinks and socks, and NOIR: A SUITABLE AFFAIR, a Homecoming celebration for the Black Mizzou alumni community known more simply as #NOIRMIZZOU, Christian wanted to help support businesses owned by Black Mizzou alumni. "I know how much time, effort and energy that I put into my business," Christian says. "The Black community at Mizzou, both undergrads and alumni, is so strong. We really show up for each other."
He looked around the internet to see if someone else had already created a list of businesses founded by Black Mizzou alumni and came up empty-handed. "Those times when you want something to exist and it doesn't exist — that is your tap on the shoulder to do it."
Uplifting Black Mizzou Entrepreneurs and Alumni
In partnership with the Mizzou Black Alumni Network, Christian launched a list of over 115 Black Mizzou alumni-owned businesses. Found online at buyblackmizzou.com, the list reached over 10,000 people in the first week it was published. One of those people was Annette Kendall, an assistant teaching professor of entrepreneurship in the Department of Management.
"I was just scrolling through Instagram one day and saw that Derrick had created this list," Kendall recalls. "I just messaged the page and was like: 'Hey, this is so cool. We should do something to highlight these businesses.'" As the director of the Center for Entrepreneurship & Innovation, Kendall hoped to showcase diverse business owners, raise awareness for Black Mizzou-alumni-owned companies, engage students with alumni and present a picture of what is possible for students — and she had the resources to help Christian do that.
Christian not only connected with Kendall's "entrepreneurial spirit," but he also appreciated her interest in partnering together. "When engaging with Black-owned businesses and communities outside of ourselves, a lot of time what people will do is say, 'Hey, can you come in and educate us about what you're doing, for free, and just help us learn about it?' Annette said, 'We have resources. This is a group that we'd love to support. Let's find ways we can collaborate using our resources so that we can build something together.'"
Showcasing Pathways to Entrepreneurship
In April 2021, they launched the #BuyBlackMizzou Meetup, a three-week virtual series featuring a marketplace, an interactive roundtable discussion and a featured interview with Mizzou Black entrepreneurs. Co-hosted by Christian and a current Trulaske student, the webinars showcased five or six Black Mizzou alumni who run their own businesses and tackled topics including diverse representation, removing stigma from the narrative of their industries and celebrating diversity. Hundreds of people participated, and College of Business entrepreneurship students got credit for attending.
"That makes a difference," Christian says. "Not only did it mean that students who wanted to see people of color as entrepreneurs and hear their stories were there, but it incentivized people to come who may not have attended because they thought that they were excluded or didn't see themselves on the panel. But they got so much out of it because it's not necessarily about color. This isn't about separating ourselves. This is an elevation platform that also allows people to see that there's a lot to unite us."
After the events, student attendees reported that they learned about the extra barriers Black entrepreneurs face and how important it is to have a support network, received insights from each panelists' path to becoming a business owner, and gained confidence in their own entrepreneurship journey.
"I am from a very small town, and sometimes with that comes the stereotype that I am probably a redneck or uneducated," said one student attendee. "I learned that I should be excited to get up and show people wrong and embrace where I am from because it makes me who I am."
Another student said: "Daniel Easterly [founder of Eastwood Custom Clothier] said that, 'You learn the most from the people who tell you no.' What I took away from that statement is that I should be more receptive when receiving criticism because that is a chance to learn and grow. Both giving and receiving criticism tend to be uncomfortable for me, but I should not treat criticism as strictly negative. Instead, I should shift my mindset to view criticism as a blessing because it allows myself and others to be better versions of ourselves."
Said another student attendee: "As an individual who has never used the social justice centers, I did not realize the importance of them to other individuals. But, after hearing this group talk, I have found how important the center is for the school and students of all kinds. Every student should have the opportunity to feel safe and at home on campus, and the social justice centers do that for a lot of people."
Impacting the Future
One of the highlights of creating the #BuyBlackMizzou list for Christian has been hearing from people like Kearra Johnson, BFA '20, a graphic designer at a nonprofit in Kansas City, Missouri, who freelances on the side. Johnson submitted her freelance studio, Studio LO, to the list, and an MU professor came across a design on her portfolio website for a deck of playing cards that feature the names and faces of notable Black individuals. Originally created for a class project, the Revolution Card Deck wasn't actually a physical product.
"But when the professor reached out to her directly and said they'd love to buy some, then she had to make it real," Christian says. And she did. She printed 600 decks, which are now sold at three Made in KC stores, and was featured on CNN. "That just goes to show you how we can impact people in the future in ways we don't even know," Christian says. "That really sticks with me — I had a goal. I wanted the list. But it was a turning point in her entrepreneurial journey. Not only did I meet my goal, but helped solve that problem for somebody else."
Moving Forward
Christian and Kendall are planning next steps, which might include hosting virtual office hours where students can get advice from Black alumni entrepreneurs and selling boxes featuring products from some of the Black-owned businesses highlighted at buyblackmizzou.com. For the 2021–22 school year, around 400 gift bags featuring business owners from the #BuyBlackMizzou list have been created to provide for incoming Mizzou Tigers at Camp Trulaske as well as entrepreneurship students returning this fall.
"It's all with the intention of showcasing diverse business owners and raising awareness for them and inspiring a diverse set of students at Mizzou to say, 'Look at them. They're doing this,'" Kendall says.
To submit a Black-owned business to the list, which is updated every Sunday, and discover new businesses to shop with, visit buyblackmizzou.com.