Trade Summit brings exporters, global trade leaders to Mizzou
Image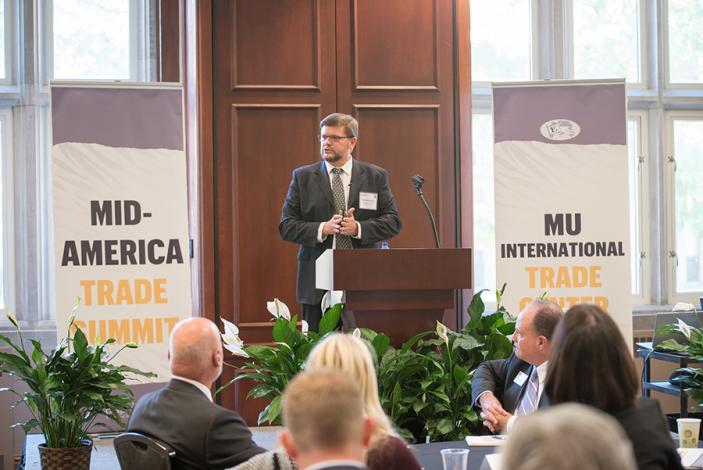 On November 6 & 7, MU's International Trade Center, along with trade assistance partners from across the region, hosted the 2019 Mid-America Trade Summit on the university campus.
The summit brought together top exporters, global trade leaders and trade assistance providers from across Mid-America. Outstanding exporters were invited to share their export stories — highlighting best practices and/or lessons learned that have contributed to their export success.
The summit's fast-paced, high-touch format gave exporters, trade assistance providers and educators direct access to high-level networking and shared-learning opportunities designed to guide export expansion. This was a premier regional event for companies focused on advancing trade and driving business growth.
The keynote address was delivered by Dr. Martin Butler, a senior lecturer at Stellenbosch University Business School in Bellville, South Africa.  His presentation, "At the Intersection of Innovation, Technology and Human Ingenuity…Trade Prospers," shared case studies and innovation applications that foster significant trade developments in Africa. Dr. Butler joined the summit as part of the John Schram Lecture in International Business series.
Panel discussions focused on managing supply chain risk and using trade policy as a competitive advantage, while other sessions drew on the real-life experiences of leaders of a dozen exporting companies.
Trade Summit honorees and guest presenters represented:
4B Components, Ltd. (Illinois)
Double D Mats (Kansas)
Elastec (Illinois)
Hayes Abrasives, Inc. (Illinois)
Kansas Global Trade Services (Kansas)
Kuder, Inc. (Iowa)
Laclede Chain (Missouri)
Link Electronics (Missouri)
Serola Biomechanics, Inc. (Illinois)
Sunnen Products Company (Missouri)
SEV-REND High Performance Packaging (Illinois)
U.S International Foods (Missouri)
U.S. Small Business Administration & EXIM Bank of the United States