Image
Senior finance major Jordan Duenckel takes advantage of remote courses to complete a dream internship in Napa Valley.
By Kelsey Allen
In the middle of July 2020, Jordan Duenckel packed up his Volkswagen Passat, hopped on I-80 and drove nearly 2,000 miles from Columbia to Napa, California. If he could attend classes from anywhere, why not log on from the heart of wine country? A senior food science and finance double major, Duenckel had experimented with making wine at home from Welch's grape juice. An internship at E. & J. Gallo Winery, the largest U.S. winery, would allow him to see how award-winning wines — and successful businesses — are made.
Food for Thought
Until this past summer, Duenckel had spent most of his life in Missouri. Born and raised in Jefferson City, Duenckel attended a Meet Mizzou Day, during which a junior finance student ambassador gave him something to aspire to. "The classwork he talked about was interesting to me," he recalls. "That student-to-student interaction made it easier to see where I could be in a couple years."
Combining a deep passion for food with an appreciation for a great deal — and padded by encouragement from his academic adviser — Duenckel enrolled in both food science and business classes. "I love food. That's my favorite thing ever in the world," he says. "I'm also a value guy. Having those two complementary degrees will be really beneficial."
In a course on food fermentations, Duenckel learned he could make salami at home for much less than the $12 a pound he'd pay for it at the store. Soon, he was making wine and beer in his off-campus apartment, too. His roommates weren't mad about it. "They don't understand the process, but they love to drink and eat," says Duenckel. "One I'm really proud of is a mint chocolate chip stout that tastes just like Thin Mints."
In a finance course with Assistant Teaching Professor Joseph Hegger, BS BA '87, and business law class with Assistant Teaching Professor Sherry Mariea, BA '89, JD '92, Duenckel learned about financial markets, financial decision-making in a corporate environment and the legal aspects of business.
He flexed his new knowledge at the Mizzou Meat Market, a full-service butcher shop where students handle all aspects of the business, from cutlets to customer relations. When COVID arrived in Columbia and classes moved online, Duenckel started working 40 hours a week at the meat processing facility, saving his schoolwork for the evenings and looking for internships in his spare time.
An internship in E. & J. Gallo Winery's Grower Relations Department, which strives to procure the highest quality wine grapes while matching demand for a wide array of wines, sounded like the perfect opportunity. The stunning landscapes and near-perfect weather wouldn't hurt, either.
When in Napa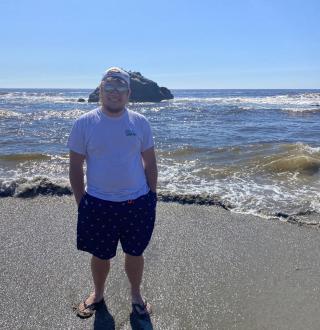 As a grower relations intern, Duenckel spent a lot of time in his Passat driving from vineyard to vineyard talking with local growers, checking the quality of their grapes and maintaining reports to track yield estimation and grape maturity. After an eight-hour day at the winery, he'd head home to watch a prerecorded lecture or post on a discussion board. It was similar to his schedule in Columbia, but "Spoiler alert," he tweeted in July, "Homework in a vintner's paradise with sunny and 75 weather is much worse than homework in Missouri."
Everything changed in late September when the Glass Fire erupted in Napa Valley. By the time the fire was contained nearly a month later, it had burned over 67,484 acres; destroyed 1,555 structures; and damaged at least 26 wine and vineyard properties. Although most of Gallo's vineyards were not directly impacted, the heavy smoke was a hazard to agriculture workers and it spoiled some grapes. "There was fire burning on each side of the mountain, and it was smoky the entire time," Duenckel says.
But the internship continued with Duenckel supporting many different areas of the team during his nearly four-month internship. He helped negotiate contracts, perform pest and disease scouting, and assisted with harvest scheduling and delivery coordination. "It was really valuable to see all the parts of the business work together," he says.
Duenckel arrived back in Columbia a week before Thanksgiving: "Now when they talk about something in my classes, I can say, 'Oh, this is how it really works.' It helps coming back to the classes," he says.
The Intersection of Business and Food
Duenckel may be in his final semester as an undergraduate, but it's not his last semester at Mizzou. In the fall, he'll be attending the MU School of Law. His current aspiration is to serve as food regulatory counsel for a food industry company.
"Everything in most companies comes back to the bottom line, so being able to understand management practices and financial practices, especially if I'm working with securities and contracts — my business education will have been immensely helpful for that," he says.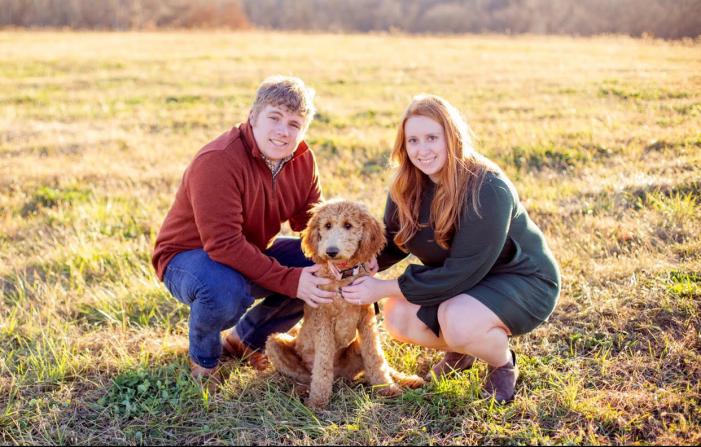 For now, he's still making wine and beer for his roommates and his fiancée, Jensen Peel, BS '20. "If you've ever wanted to know what an unripe Chardonnay grape tastes like," he wrote on Twitter, "I'll save you a trip: A green apple Warhead is nearly identical."