Spreading her roots: 2016 Trulaske grad travels world coordinating popular music festivals, events
Image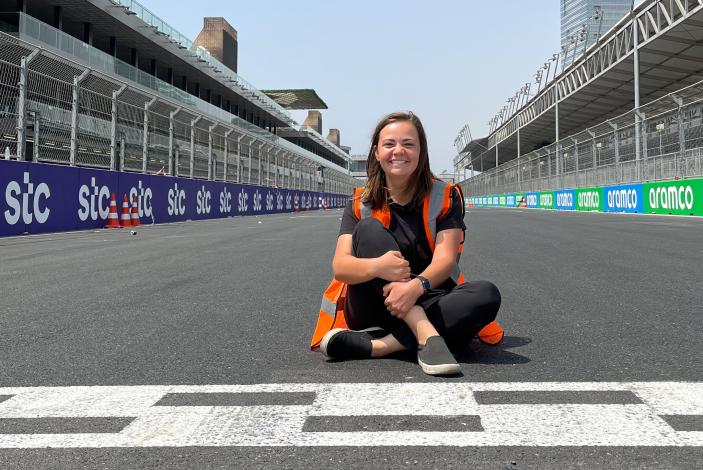 By Maria Yore
Speaking on Zoom from the other side of the world, Allison Fitts, BS BA '16, took a break from her busy schedule one day in early March to relive her college experience and career success to date. She was in Jeddah, Saudi Arabia, working as the associate director of a concert attached to the Formula One Race at the Saudi Arabian Grand Prix.
It's a project she got involved with about a year and a half ago, coming out of the peak of the pandemic. At the time, events across the world were slow. Since then, there has been a boom in festivals and tours as people get back to the lives, and fun, they experienced pre-COVID. And Fitts has been part of that boom.
"I'm getting to see the world," she said. "My passport is pretty new and it's already almost full."
Saudi Arabia isn't unfamiliar to Fitts. She's been there before, working on at least two events in the Middle East each year.
Traveling the world and making stops in major cities is all part of Fitts' day-to-day job. In addition to Saudi Arabia, Fitts has traveled all over North America, Europe, New Zealand and Australia. She's worked for major festivals such as Bonnaroo, Kaaboo, Rolling Loud Miami, Tortuga and the North Coast Music Festival. She has also worked for other major events like Wanderlust and the Super Bowl last year in Los Angeles.
"I helped run this party for all NFL team owners who were in town, and Drake performed," she said. "There are the big festivals and tours, but then there's the little one-off experiences, too. They're definitely bucket list-worthy."
Fitts has traveled the world touring with popular music artists like deadmau5, Slander and, most recently, rapper and songwriter Kendrick Lamar, with whom she will tour again this year for six months straight. Her official title is typically touring production coordinator. On her last tour, that meant handling all the logistics, trucking, bussing and hotel reservations for more than 100 people every single day. She calls it a funny balance of routine, because while their schedule for a concert set-up and tear-down is pretty consistent from city to city, there are always variables that come up to make each stop a little different.
 "There's certainly routine, but at the same time, you are in a new city, you are working with new people at those venues. Or maybe there's a snowstorm and it's going to impact our route to the next city and we're going to be late loading in at the next venue," she explained. "For how much routine there is, there's so much that's unexpected. We might be in a place where English isn't the first language, or U.S. dollars aren't the currency. There are just a lot of different variables that make it unique every day."
A Mizzou Tiger early on
Fitts was born and raised in Kansas City. The daughter of two University of Missouri alumni, James Fitts, BS Acc '87, and Sara Fitts, BS Acc '88, she started attending Tiger games and Homecoming festivities at a very young age. But even though she grew up cheering on the black and gold, Fitts said she had never planned to officially become a Tiger herself. 
"Because my parents had gone to Mizzou, it was the last thing I wanted to do," she said. "I applied to lots of different places all over the country. Then ultimately, I toured Mizzou and said, 'Oh wait, I do want to go here.' I ended up at Mizzou."
What Fitts did know before applying to colleges was that she wanted to get her degree in business and had always envisioned her career in marketing, specifically nonprofit management. But that all changed during the summer after high school graduation when she attended her very first music festival in her hometown of Kansas City. She had such a good time and fell in love with the environment so much that she decided right then and there that she wanted to find a career that would allow her to some way, somehow, be a part of the show.
"I truly had the best time in a way where I was like, I love this so much I want to do something with this," she said. "I don't just want to just go to a concert, I want to be a part of this somehow."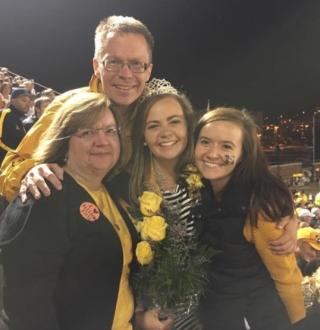 Fitts started attending Mizzou in the fall of 2012 as a business major with an emphasis in marketing. She was also accepted to the Cornell Leadership Program (CLP), where she instantly got involved and flourished with other, like-minded peers.
"CLP does a good job of pulling together an interesting mix of people who are ambitious in different ways. The friends I still have from that program are doing all sorts of different things and we're living in different parts of the country," she said. "It was a cool way to bring together like-minded people of ambition and a desire to effect change or excel in their industry, but still come from different perspectives."
CLP was also a catalyst in steering Fitts and classmate Gabriel Riekhof to work with two others their senior year to form their own business on campus called Threadbare. The thrift shop was formed with help from the Missouri Student Unions' Entrepreneurial Program, which funds students' entrepreneurial ventures in a risk-free, high-traffic environment. The store was successful and allowed Fitts to form skills and relationships she carries with her today.
"We basically received money from the university to start a business for our senior year. That was a great opportunity and a formative thing at Mizzou," she said. "[Gabriel] and I are still good friends to this day."
That's not the only thing Fitts became known for on campus. As a member of Kappa Delta Sorority, she was elected as the president of Mizzou's Panhellenic Association for the 2014-2015 school year. And as a senior, Fitts was voted Homecoming Queen. The humble, formal royal was happy to share about her experience, but didn't bring it up herself. "Oh my gosh! I always forget about it. My friends will joke about it and say, 'Ohhhh homecoming queen.' It's funny," she said. "It was a really fun thing to be a part of, especially that whole month leading up to it. There's a lot associated with it. And I think winning and having my parents be there, having gone to Homecoming since I was truly four years old, was just really special."
Growing her music festival "roots"
It was also as a student at Mizzou very early on that her career in the music and festival industry truly began.
"After my first semester, I literally just walked into the Blue Note with my resume and said, 'I don't know exactly what, but I want to see what working in the music industry is all about. Do you have internships or part-time jobs?'"
The Blue Note is a popular music venue in downtown Columbia, known to draw in upcoming and well-known artists alike. Taking a chance paid off for Fitts. She started working at the venue just one week after she applied and continued working there throughout her entire college career.
"I did anything you could ever imagine there. I did the box office, tickets sales, I sold merchandise," she said. "I did anything I could to learn. It was a great opportunity to really have hands-on experience."
Little did she know at the time, that job would lead to even bigger roles in her college town, including at a relatively small but popular music festival in the region, at the time known as Roots N Blues N BBQ (now known as Treeline Music Fest). Fitts recalls the festival's organizers finding themselves in a pinch just one week before the festival and asking her to sell all the artists' merchandise: No small task for her first-ever festival job.
"I'm grateful for it because I've had many festival jobs since then," she said. "Both former owners [of the Blue Note], Richard King and Matt Gerding, were definitely supportive of me and I'm appreciative of that."
Down time: What's that?
These days, Fitts doesn't sit still for long. If she's not traveling for work, she's traveling for leisure with friends and family. And she also makes time to check in with Mizzou and her former teachers, including Mary Beth Marrs, the director of CLP and an associate teaching professor.
"Sometimes she'll Zoom in to my classes to talk about her experience. She can't come in person because she's heaven knows where," said Marrs. "She's a worker bee. She is super interesting and has a great story."
Marrs recalled some of the events and experiences Fitts has shared with her over the years, including a New Year's Eve party with Justin Bieber and a large event in the Caribbean with Tom Petty. "I remember her telling me, I'm driving around with Tom Petty," Marrs recalled. "She's just real calm, nonchalantly dropping these names."
"Most of the artists I've worked for, they just keep to themselves. They're regular people just like the rest of us," said Fitts. "Every artist I've ever worked with has been really great and I'm lucky for that because I know it's not always the case."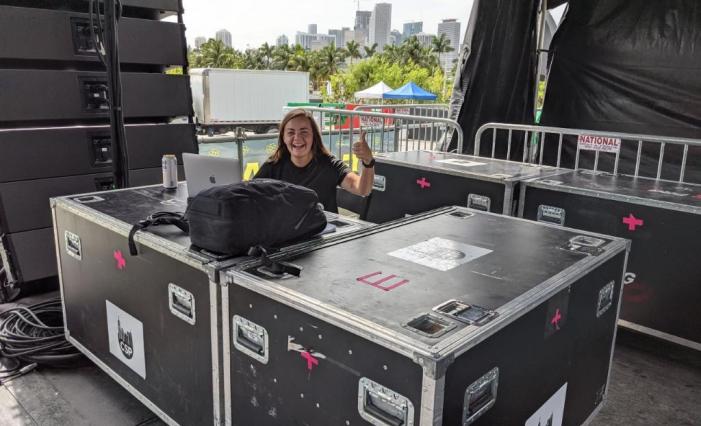 As a freelance worker, Fitts is an independent contractor. That means she's not tied to any company longer than her current contract requires. It also means she jumps from job to job and often doesn't know what she'll be doing the next year. 
"It can be something unstable or unpredictable, but there are a lot of benefits, too," she explained. "For me, it's the ability to always be able to pivot if you want, but at the same time, if you find a role you like doing, you can keep doing that. And I've gotten to the point now where I'm still freelance, but ultimately when I'm working, it's the same one or two jobs every year. And when I'm touring, it's the same two or three artists every year."
And these days, that's just how she likes it. Not only does she get to pick and choose the jobs and people she'll be working with, she enjoys the flexibility of planning her own schedule, month-to-month and year-to-year. Having worked in the music industry for more than 10 years already, Fitts says her days of wanting prestige and new titles are long gone.
 "I'm grateful for all really cool opportunities I've had, but ultimately those aren't the things that are making me commit to the jobs now," she said. "It's the team. It's how the job fits in my overall year of work-life balance and the projects that I am actually passionate about, not just their titles."
And she seems to have made a name for herself, rarely having any trouble finding work when and where she wants. For that, she credits hard work and a little bit of luck.
"People want to keep working with people they like, they know and they can trust," she said. "Ultimately it's just doing good work when you have the opportunity to showcase it and people will want to keep hiring you."
Advice for others
As a business major herself, Fitts says there are very clear, and sometimes stereotypical, paths conveniently laid out at the university level to help students achieve success. She says there are plenty more opportunities through organizations and events to help make the connections necessary to get you to your goal quicker. She used her parents, both accountants, as an example.
"If you're an accountant, you do a four-year program, you get your master's degree, you take the CPA exam and then you can apply to one of the big four firms," she said. "There's a formula you can follow and be successful."
But there are plenty of other, often very competitive careers, like hers, where the path is less obvious. While people may not know how to do what it is they want to do or know the entry point or progression to get there, Fitts believes you can still find success. All it takes is being true to yourself and your passion, putting in the work and showing you can do the job.  
"Just because there is not a clear one, two, three step plan doesn't mean it's not a viable career that you can pursue," she said. "It just takes a little extra digging and a little extra networking, research and real-world experience of trying things to get there. But it does not mean it can't be done."
And for anyone wanting to get into the music and event industry? She has much of the same advice.
"The hardest part is getting that first job. That's the good news and the bad news, because it can be disheartening, especially when you're trying to find a job coming out of college or right after," she said. "But the positive side of that, because that's the hardest part, is once you find your first gig or first role in the industry, all you have to do is do a good job. And that becomes your resume."
While she'll always love the music and festival life, Fitts admits she doesn't see herself living her current lifestyle forever. Her home base these days is in Denver. That's where she moved shortly after graduating from Mizzou in 2016.  But even she admits a home base is hard to define with a career that keeps her on the road, and in the sky, nearly two-thirds of every year.
"I think a goal for me in ten years is really to be working on the same stuff, but maybe on a more managerial level where I'm planning all these advanced events and then someone else is executing them," she said. "I don't think I'll always want to be gone eight months out of the year."
Until then, Fitts heads back on tour again this summer with Kendrick Lamar, with concerts and festivals planned all over the U.S and the world, including Europe and Japan.