SEC leadership program to provide fresh perspectives, connections for Trulaske management department chair
Image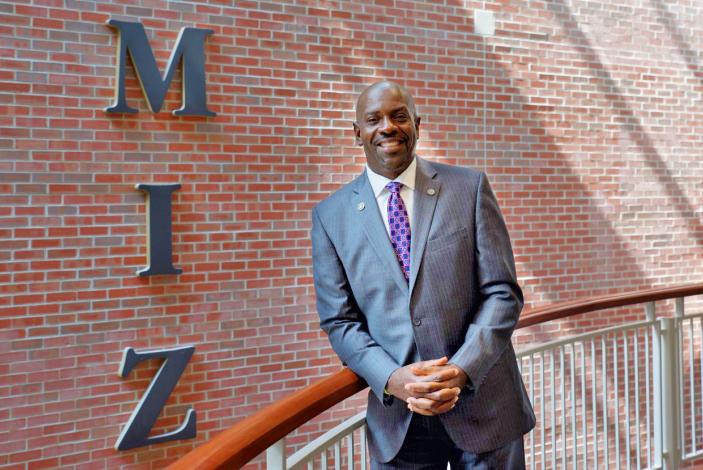 By Stephen Schmidt
Like the supply chains he researches, land-grant universities are complex systems in their own right, so when the opportunity came to take part in the SEC Academic Leadership Development Program, it was a quick yes from Anthony Ross.
Ross joined the faculty at the Trulaske College of Business in August 2019 as the Leggett & Platt Missouri Distinguished Professor of Supply Chain Management. A little more than a year later, he was named chair of the Department of Management in September 2020 — giving him a new leadership role in his new academic community.
"I've been fortunate to be asked to engage within Trulaske in many ways since I arrived, and it's really sharpened my view of how Trulaske operates, what's in our portfolio of offerings, and how we are connecting with other Colleges on campus," said Ross, whose resume includes serving on the faculties at land-grant institutions such as Texas A&M University and Michigan State University.
"The SEC ALDP represents an opportunity for me now to deepen my own professional connections with campus-wide colleagues involved in the behind-the-scenes structures, processes and interconnections at the University of Missouri. Seeing things through the lens of other colleagues and key decision makers at Mizzou and other SEC universities appeals to me."
This fall, Ross will become just the third Trulaske professor — former faculty members Stephen Ferris (2013-14) and Rhonda Reger (2017-18) being the others — to take part in the ALDP as a fellow for Mizzou since the Tigers joined the SEC in 2012. Ross is one of four fellows from Missouri under the guidance of Senior Vice Provost Matt Martens. The others are Jamie Arndt (Department of Psychological Sciences, College of Arts & Sciences), Lynda Kraxberger (School of Journalism) and Enid Schatz (Department of Public Health, School of Health Professions).
Through the program, delegations from all 14 members of the Southeastern Conference meet to provide synergistic support and fresh perspectives on how to handle operations more effectively and efficiently on large counterpart campuses. The ALDP consists of three main components: a development program at the university level for its own fellows, two three-day workshops held at two designated campuses for all fellows and a competitive fellowship geared toward providing administrative growth opportunities for former fellows.
The University of Georgia is scheduled to play host to the workshop in the fall, followed by the University of South Carolina in the spring.
Building a framework
Ross was initially asked by Dean Ajay Vinzé to apply to the program last year, before it was temporarily suspended due to the COVID-19 pandemic.
"Anthony is uniquely situated to take the interactions with our SEC colleagues and bring them here to Trulaske in a meaningful way," said Ajay Vinzé, dean of the Trulaske College of Business. "Despite his short time in our college, he has made a significant impact as a member of our Management Department and our leadership team. He brings a confident, thoughtful, common-sense approach to the pursuit of our goals in the college."
Ross had spent nine years at the University of Wisconsin-Milwaukee re-imagining and building up the supply chain program there, when he came across Dean Vinzé and his vision for how Trulaske could become an active member on the leading edge of higher education among its peer schools, instead of being reactionary.
"The school was in a renaissance and undergoing some changes to be positioned on the forefront of an evolving higher education model within the Southeastern Conference as a business school," Ross said.
"Higher education — at least here at Mizzou — is moving to a model where we're putting students in more control, and giving them more freedom to build their degree around their passions and interests, because in reality, no matter what undergraduate degree you earn  when you enter the workforce, hiring companies are going to teach you how they do things anyway. We're just putting together the foundation for graduates to be critical thinkers and naturally curious."
One example of laying that core foundation of critical thinking, Ross noted, is that Trulaske's supply chain certificate curriculum is now being offered jointly with the Industrial & Manufacturing Systems Engineering Department at the MU College of Engineering, at both the undergraduate and graduate levels.
"We have students in engineering and in business who are sitting in many of our classrooms together," Ross said. "Now when we do group projects, we have these integrated student teams that have diverse perspectives and diverse orientations on the same problem. That makes for a great learning environment." 
Ross added, hiring companies see additional value from these cross-functional experiences. Moreover, he hopes to be inspired to find new pathways for the student-centric learning model at Trulaske through the insight of his counterparts at peer school through the ALDP.