Image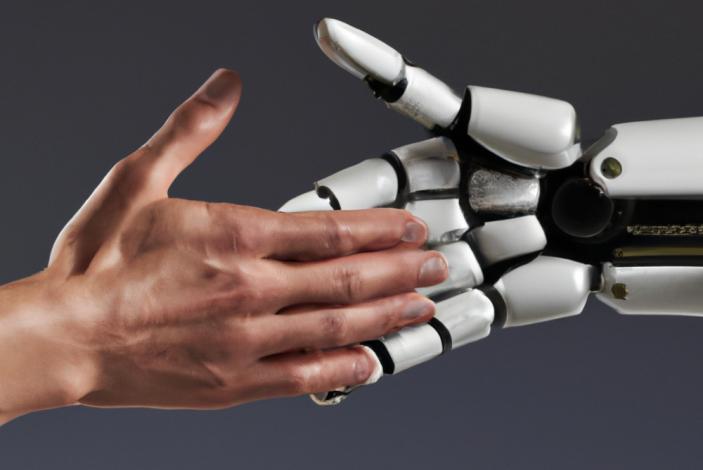 This image was generated by OpenAI's Dall-E 2, an AI program developed to generate digital images from natural language descriptions, using the prompt "a close-up, photorealistic picture of a human hand shaking a robot hand."  
Strategy scholars are unanimous: Firms must understand their competition. But technological changes in the age of digital transformation—artificial intelligence, blockchain, etc., reshaping firm operations—are beginning to rearrange who 'really' competes with whom. Consider two contrasting examples of Microsoft's gaming business and Amazon's enterprise cloud business. 
First, since the introduction of Xbox, Microsoft was competing head-to-head with Sony (PlayStation) and, to a lesser extent, with Nintendo (Wii). However, the "platforms" upon which games and developers interact are shifting from physical consoles and games to online services hosted by Microsoft, Alphabet (parent of Google), and Amazon (acquired Twitch). As a result, Microsoft's EVP of gaming, Phil Spencer, has reframed their "main" competitors as Amazon and Google.  
Second, Amazon's former rival in online book selling, Barnes & Noble, usually imitated Amazon's launches within two years (Barnesandnoble.com followed Amazon.com; Nook followed Kindle, etc.). But when Amazon entered the enterprise software business with its Amazon Web Services (AWS) cloud computing suite, the leading enterprise software firms were either unaware or unmotivated to act quickly in response to AWS. This led Founder/CEO Jeff Bezos to conclude: "We faced no like-minded competition for seven years. It's unbelievable."  
While Microsoft demonstrated strategic foresight in updating its competitive perceptions, the competitors of Amazon did not. And while Microsoft is now well positioned for the next era of gaming, Amazon's enterprise software competitors had to watch AWS take the lead in enterprise cloud computing (later entered by Microsoft and Google, too). Motivated by these contrasting examples of strategic foresight vs. myopia under technological change, I wanted to know:  What if strategic leaders think in analog terms about digital competition? What if some firms change their view of key rivals while others don't? What then are the consequences of updating such competitive perceptions too slowly or narrowly?
To move beyond anecdotes and address these questions empirically, I proposed a series of studies in a submission to the Strategic Management Society's (SMS) Strategy Research Foundation (SRF) Research in Strategic Management (RSM) Program grant, with the 2021 theme: "Competitive Advantage in the 21st Century."  My proposal for studying the nature and dynamics of competitive relations in digital transformation was one of three awarded SRF funding for the period of 2022-2023. This grant will support the human and algorithmic collection of data and other computational resources to be used in these studies aimed at helping strategic leaders rethink rivalry as technology reshapes competitive landscapes.  
Seeing Tomorrow's Competitors
Most entrepreneurs and strategic leaders know the competitors they face today; however, many dissimilar companies that may seem benign today could emerge as competitors tomorrow. Business history is filled with examples of nonthreatening businesses that unexpectedly usurped market share from companies that were once comfortably at the top. For example, Amazon once was a threat only to bricks-and-mortar bookstores before it branched into selling everything, putting all kinds of traditional retail stores at risk. When it expanded from selling products into cloud computing services, it collided with Microsoft, Google, Salesforce, and IBM. And when Amazon launched delivery services, it began competing with USPS, FedEx, and UPS.
How can everyday entrepreneurs and strategic managers prevent such surprises from happening to them, or how can they predict today which competitors they could surprise tomorrow? This article and video, based on research originally published in the Academy of Management Journal, explain how.
Downing Receives SMS Research Grant
In 2021, Stephen Downing became a Strategy Research Foundation RSM Scholar when his proposal Red In Tooth And Claw? The Nature And Dynamics Of Competitive Relations In Digital Transformation was selected for funding as part of the Strategic Management Society 2021 SRF Research in Strategic Management (RSM) Program.