MU International Trade Center market research interns impress
Image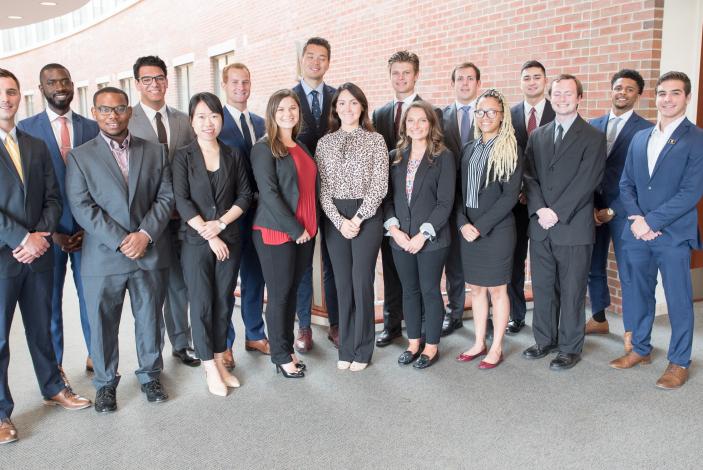 Sixteen Trulaske College of Business undergraduate students interning with the MU International Trade Center presented findings from the semester-long market research projects completed for four Missouri manufacturers. The students completed extensive research to identify and evaluate international markets or industry sectors with sales potential for each of the participating companies. 
Companies working with the ITC this fall included Endovac Animal Health of Columbia, Sunnen Products Co. of St. Louis, The Caravel Group of St. Louis, and SEVO Systems of Eminence, Kansas.  
"When Endovac Animal Health was approached by the MU International Trade Center about doing an in-depth International market sector research report for us, it was an easy decision," said Endovac's CEO and owner, Kevin Sprouse; COO and executive vice president, Steve Knorr; and chief manufacturing officer and vice president of distribution and facilities, Tim Cox. "For a company of our size, trying to tackle a project of this magnitude would be both time and cost prohibitive. The final result, evaluation of six top prospective countries that best fit our business model was spot on.
"We look forward to taking the next step. In fact, we have hired a former student Intern of the MU ITC to join us next semester as we refine our efforts even more."
Pictured above is the Fall 2019 MU ITC internship team: Calvin Racy, Josh Brooks, JaHai George, Dan-Eli De La Torre, Claire Phan, Andrew Herring, Brooke Cornell, David Lilja, Anna Bidding, Nick Rhodes, Ryann Rigsby, Alex Gach, Cheyenne Batchman, Cole Butrynski, Nathan Ryan, James Marshall-Davis and Alex Wier.  Not pictured is Brandon Tietjen-Abner.