Making new connections: Marketing professor earns high honor through research and relationship building
Image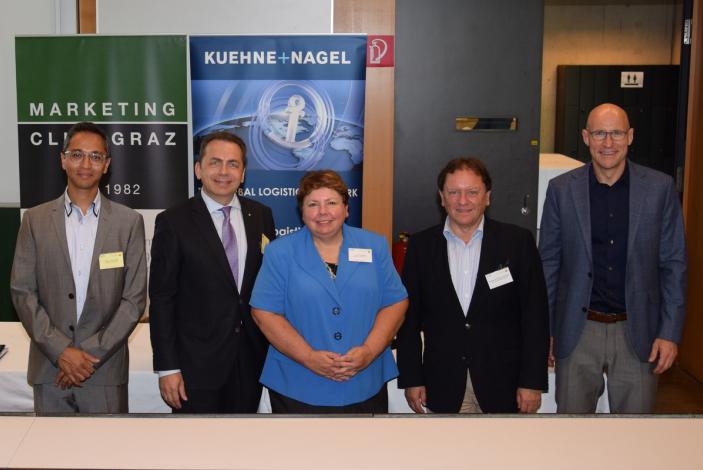 Lisa Scheer (center) poses with a group of colleagues at the Business Market Management-EMAC Conference in 2017 at the University of Graz, in Graz, Austria. From left to right: Vishal Kashyap, University of Graz; Thomas Foscht, University of Graz; Michael Kleinaltenkamp, Freie Universität, Berlin, Germany; and Kenneth Wathne, University of Stavanger, Norway.
By Stephen Schmidt
For a majority of her career, Lisa Scheer, BS BA '81, MBA '82, has made the interpersonal relationships of business-to-business (B2B) marketing one of the focal points of her research as the Emma S. Hibbs Distinguished Professor at the Trulaske College of Business.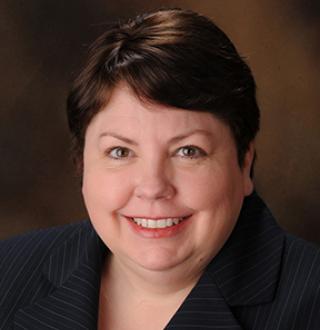 "I call it the P2P [person-to-person] within the B2B: the interpersonal relationships across the firm lines, and how they play a role in the B2B relationship," said Scheer, referring to the arrangement in which one business makes a commercial transaction of any kind with another. "Even now, in an era where we have more electronic interfaces, we still are seeing that the importance of the interpersonal is still there."
The native of New Haven, Missouri, has also used a similar approach when it comes to facilitating networking connections to assist the professional development and careers of doctoral students and junior faculty members at Trulaske and beyond.
The combination of her highly cited research and her willingness to help mentor younger members of the academic community are likely the driving forces behind Scheer being selected as the 2021 Taylor & Francis/Society for Marketing Advances (SMA) Distinguished Scholar, the society's highest honor.
"My reaction was total shock and stupifcation," Scheer said when she found out about her honor.
The award, which only has one recipient per year, was established in 2000. Its first recipient was Philip Kotler, a professor at Northwestern University, known as the "father of modern marketing." Scheer was a student of Kotler's when working on her doctoral degree at Northwestern. Her primary mentor at Northwestern was Lou Stern, who is regarded by many as the father of marketing research on interorganizational relationships and marketing channels.
'A very different approach'
Scheer's academic research on interorganizational relationships, marketing strategies and other related topics has been published in a variety of academic journals and cited in thousands of papers over the years.
Scheer's research has more than 11,000 citations on Google Scholar. Two papers that were published in the Journal of Marketing Research in 1995 that she wrote with other academic colleagues — "The Effects of Perceived Interdependence on Dealer Attitudes" and "The Effects of Supplier Fairness on Vulnerable Resellers" — have more than 2,000 citations each.
"My research often will tackle a topic that seems sort of settled, but take a very different approach to it," Scheer said. "If the research has all been following along this one trail, I'll come across another way and suddenly research will curve that direction — or at least there'll be a fork that will follow this other direction."
Scheer was recently chosen as one of the recipients for the 2021 Outstanding Area Editor Award by the Journal of the Academy of Marketing Science given her timely reviews, the quality of her reviews and her overall helpfulness to authors in her review comments, according to the journal's editors.
"Lisa is well-published in the top academic marketing journals," said Srinath Gopalakrishna, the marketing department chair at Trulaske. "However, her truly impressive academic achievements revolve around her mentoring of our doctoral students. She genuinely cares about their scholarly development and nurtures their growth in the doctoral program at Mizzou, turning them into lifelong contributors to the marketing discipline."
In the mid '90s, Scheer first began bringing doctoral students to conferences that, up to that point, were primarily attended by faculty members. She and her group of students started to gain acclaim for traversing to them in a minivan.
"I wanted our students to be empowered by that experience, by seeing that they could do what these people were doing, and that they could start networking with those people in the discipline," Scheer said. "At that point, there were very few doctoral students other than those who were living right in the area, or could drive to the conferences, because most schools weren't supporting it."
As soon as her students started getting better job placements — and later endowed research positions and prominent leadership roles — other universities began following suit by encouraging doctoral students to attend as well.
Eventually Scheer would be recruited by the Institute for the Study of Business Markets (ISBM) to serve as director of its biennial PhD Camp for the past decade.
Expanding horizons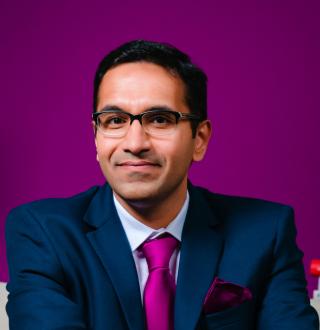 When Hari Sridhar, PhD '09, began his doctoral studies in marketing at Trulaske, Scheer's class was the first he took. He was transitioning from a "techie" — in his words — background, with a bachelor's degree in engineering from his home country of India and a master's degree in engineering management from the Missouri University of Science and Technology in 2004. When he stepped foot into her classroom, his idea of marketing was largely confined to the "minimizing and maximizing things." That quickly changed, said Sridhar, who currently serves as a marketing professor at Texas A&M University.
"Lisa's influence in my development was tremendous," Sridhar said. "Through her guidance, she provided me with a deep understanding of the field of marketing strategy. Her course and lectures covered diverse perspectives and a well-rounded outlook to the field. Lisa taught us to first ask genuine, important, substantive questions — and think deeply as to why they matter."
Sridhar has fond memories of the time that Mizzou played host to the American Marketing Association-Sheth Foundation Doctoral Corsortium in 2008. He remembers how, in spite of being one of the co-chairs of the event, Scheer made sure to introduce him to every person he wanted to meet.
"Lisa was extremely busy coordinating the goings-on, but she knew I was on the job market, and that I would greatly benefit by meeting some of the accomplished faculty at the event," he said.
In addition to her work at conferences, Scheer has also consistently served in a mentor role for doctoral students at other universities, including many overseas. Her extensive interaction with faculty and students in Europe led to her beginning an academic affiliate position in March 2020 at the University of Graz in Austria.
Scheer also set up a series of Zoom sessions with students and alumni to facilitate remote networking opportunities within the Trulaske community in the fall of 2020 when it became apparent that in-person activities were still a ways off from taking place.
If all goes as planned, though, Scheer will receive her award at the annual SMA Conference in early November in Orlando, Florida.
She is looking forward to being in her natural element at an in-person conference, having not been to one since February 2020. What excites her most, though, is witnessing doctoral students and junior faculty make those all-important professional connections — and later possibly research collaborations — with others in their field.
"Attendance at one of those events can really make a difference in the trajectory of a person's career," Scheer said. "It has an impact on people's lives. And what I miss most is that ability. Yes, we can do it virtually, but it's not the same because there is no time for that type of organic networking that occurs."
Just as her research indicates.