Four Trulaske students complete premier AT&T partnership course
Image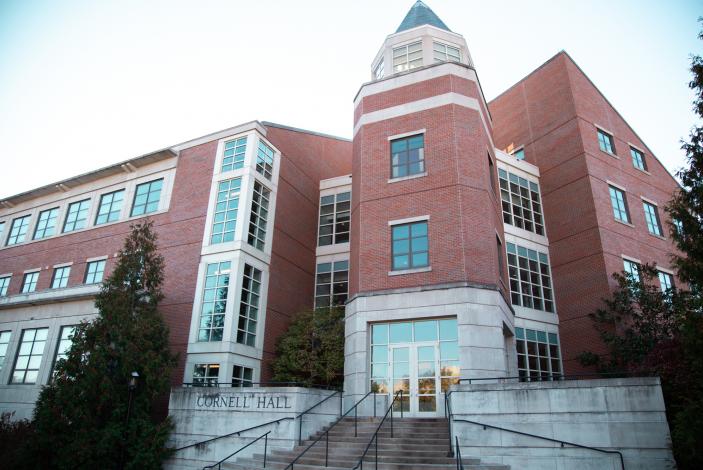 At the beginning of the Spring 2020 semester, four Trulaske College of Business students joined 15 students from colleges across campus for an intensive course spawned from a partnership between Mizzou and AT&T. These students were tasked with researching ways 5G — the fifth generation of technology standard for cellular networks — can be applied to one of four industries: health care, sports, campus safety and higher education.
The course, Connectivity and 5G, was cross-listed across four disciplines offered by Trulaske, the College of Engineering, the School of Journalism and the College of Human Environmental Services. Over the semester, students traveled to Dallas, Texas, where they visited partners with AT&T and the Dallas Cowboys' AT&T Stadium, which was 5G-enhanced last year. Students were divided into teams researching one of the four industrial applications, and each team included a mix of students from various disciplines.
In early May, the students presented their deliverables in a competition among teams for judges from MU and AT&T. This final project presentation session included UM System President Mun Choi, MU Provost Latha Ramchand, MU Vice Provost for Undergraduate Studies Jim Spain and Trulaske Dean Ajay Vinze, along with senior leadership at AT&T. The team presenting on health care was the winning team, and included Trulaske sophomore Matt Gibson, architectural studies senior Abigail Labonte, journalism senior Matt Montemore and computer science junior Alan Wendell.
Gibson said the course was a great opportunity to work with other students across Mizzou and learn more about an upcoming technology.
"This project helped me to understand the technology behind 5G and the possibilities that it holds for the future," he said. "It has opened up a whole new world of opportunities, and I am very excited to learn more. We got a first-hand look at 5G when we visited AT&T in Dallas, and that motivated us to come up with our own applications for the new network."
The health care team found that 5G could increase hospital accessibility, especially to patients in rural areas. They also cited how 5G could be beneficial during the COVID-19 pandemic, when patients might be in dire need of treatment before reaching the nearest hospital.
"[COVID-19] was not at the forefront of our team's mind when we first started looking at solutions for health care within this course. It was a very different environment at the beginning of the semester," Labonte said. "However, it's taken a turn, and it's consumed our health care system over the course of the past few weeks, so it's something that we feel is worth our attention."
Other Trulaske students participating in the class were senior Cayla Davis on the sports team, senior Eric Ruth on the campus safety team and senior Yasmeen Taranissi on the higher education team.
Center for Entrepreneurship and Innovation Director Annette Kendall, one of the Trulaske faculty members teaching the course, said the partnership provided students with a valuable experience that will benefit them beyond graduation.
"Within the AT&T 5G course, our business school majors were relied upon by the team for their accounting, marketing, management, and/or finance knowledge, and this experience seemed to increase their confidence in the value of their contributions," she said. "The diversity of knowledge and skills held within each of the interdisciplinary teams enabled multiple perspectives of the challenge set before them and played a key role in the comprehensiveness of the use cases that were developed by each team."
Other Trulaske faculty teaching the course were Management faculty Anthony Ross and Scott Christianson.
Due to the success of the class, Mizzou and AT&T are developing future collaborations.
"Working with AT&T was a great way to get real-world experience while being an undergraduate student," Gibson said. "I had a lot of fun and I can't wait to see where the partnership of MU and AT&T goes."