A fast study: Trulaske sophomore ascends to apex of professional pickleball
Image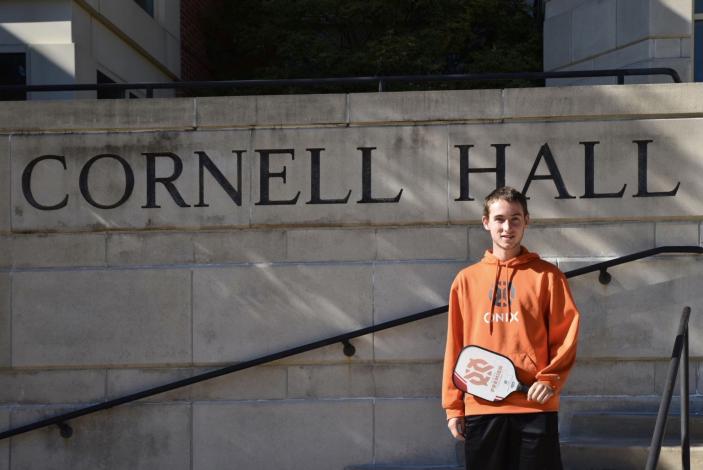 By Stephen Schmidt
For Dylan Frazier, something just clicked. Although he cannot put his finger on the exact moment he fell in love with the sport of pickleball, it happened quickly — like the pace of the sport itself.
In March 2016, Frazier was 14 when he first stepped onto a pickleball court at a nearby rec center while on a trip to Florida to visit his grandfather. Little did he know that he was not too far away from the site of the World Pickleball Championships in Punta Gorda.
"It was just easy to pick up a paddle and play," said Frazier, a sophomore at the Trulaske College of Business majoring in accounting. "It wasn't that hard to learn the game, and find people around my level to play competitively against."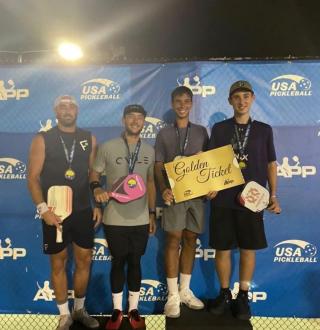 Upon returning from that trip, Frazier, who is from Ashland, Missouri, discovered a thriving pickleball community at Albert-Oakland Park in Columbia. He joined the Show-Me Pickleball Club, founded by Skip Deming, BS Ed '71, M Ed '73, EdSp '94, former superintendent of Columbia Public Schools. Dylan would play in the Show-Me State Games in the summer of 2016 in his first tournament as an amateur on those very courts.
"I played at one of the lowest levels that you can play. I did not do very well, but I really enjoyed competing," he said. "That was the first time I saw some higher-level players play from Missouri."
In January, Frazier played his first professional match. These days, Frazier balances his studies with the travel schedule that comes with being a professional pickleball player who, on average, competes in two national tournaments a month. On those trips, he either travels by himself or with one of his parents, Shawn, BS Acc '90, or Cindy, BS Ed '91, MBA '07,  the latter of whom serves as the associate executive director of the Mizzou Alumni Association.
Rising up the ranks
When Frazier finds time to practice, he can be found either at Albert-Oakland Park or in the backyard of his family's home, where a pickleball court was constructed after the Trulaske student fully embraced the sport. He also finds time to serve as a pickleball and tennis instructor at The Club at Old Hawthorne.
Similar to the arrangement of tennis, Frazier plays in both singles, men's doubles and mixed doubles. In mid-October, Frazier won his first tournament on the Association of Pickleball Professionals (APP) pro tour, winning in men's doubles at the Hilton Head (S.C.) Pickleball Open with his playing partner, JW Johnson.
When the APP player rankings came out following that tournament, Frazier had climbed to no. 4 in the men's cumulative rankings after competing in 10 events in 2021 at the time. It should also be noted that, at 19, he is one of the youngest players on the pro tours — although like Frazier, Johnson is also 19, and the No. 3 ranked player on the circuit.
Mary Beth Marrs, who serves as an associate teaching professor at Trulaske and the director of the Cornell Leadership Program, has known Frazier since he was little, as her daughter, Brooklyn, was classmates with him in the Southern Boone School District.      Brooklyn is currently a sophomore at Trulaske, majoring in international business.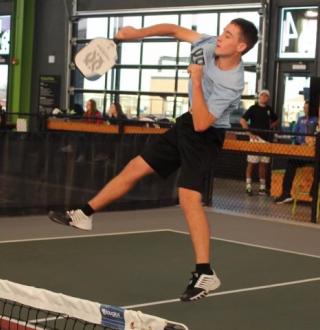 "Whenever people first meet him, he's very unassuming and very humble," Marrs said. "But when they see him play, they understand why he's ranked so highly on the professional pickleball circuit."
Dave Johnson, BS BA '78, the founder of Chicken N Pickle — a growing national chain of pickleball-centered entertainment complexes — was one of those people whom Frazier managed to surprise. Frazier showed up this past summer at the original Chicken N Pickle location in Kansas City, Missouri, during the annual Coaches' Caravan by Mizzou Athletics.
After watching Fraizer play, Dave Johnson offered for Chicken N Pickle to sponsor him. The deal happened, quickly, of course.
From the beginning
Although many people may think of warmer climates when they think of the sport, the origins of pickleball can be traced to the Pacific Northwest — Bainbridge Island, Washington, (near Seattle), to be exact. It was there where a state congressman named Bill Pritchard and a businessman named Bill Bell developed the sport as a way of overcoming boredom for their families in 1965 at Pritchard's home.
The house had a badminton court in the backyard, but when they did not have traditional badminton equipment, they used ping-pong paddles and a WIFFLE ball as substitutes. The players initially volleyed the ball over the net, before deciding to lower the net to more of the height used in tennis when they realized how well the ball bounced on the asphalt surface. Two years later, Pritchard constructed the first permanent pickleball court.
There are two stories about how the sport received its name. The first one is that Pritchard's wife, Joan, came up with the name after using a combination of equipment from other sports reminded her of what is known as the "pickle boat" in the sport of crew where oarsmen are chosen from the leftovers of other boats. The second one? Being named after Pritchard's dog, Pickles, who was known to snag the ball during game action.
One of the things Frazier enjoys the most about the game is the speed of play. Games are played to just 11 points, with the victor winning by two.  Typically, a player has to win two out of three games for a complete match.
"The points are played pretty quickly compared to some other sports where there can be pauses between when the play happens," he said. "In pickleball, you don't really have a whole lot of time between each point."
All ages welcome
Frazier also loves the game's universality when it comes to the age of players — although many might envision the game being played by an older crowd.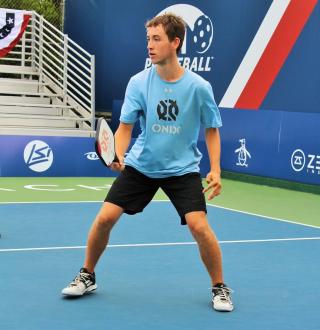 "For the most part, it's dominated by players in their 20s," Frazier said about the highest levels of competition. "There are older players, but, over the years, the average age of pickleball players has definitely dropped."
When it comes to picking up the sport, Frazier mentions three essential qualities to be successful: quick reflexes, a strong mental mindset, and — in spite of its rapidity — patience.
Frazier plans to pursue a traditional accounting job upon graduating from Trulaske in the spring of 2023, but will always be open to the idea of continuing his professional pickleball career.
"That might change in a couple of years because there's a lot of money coming into pickleball," he said of increased prize money, sponsorship and overall increased popularity of the sport.
As Frazier knows, life can happen quickly.