Image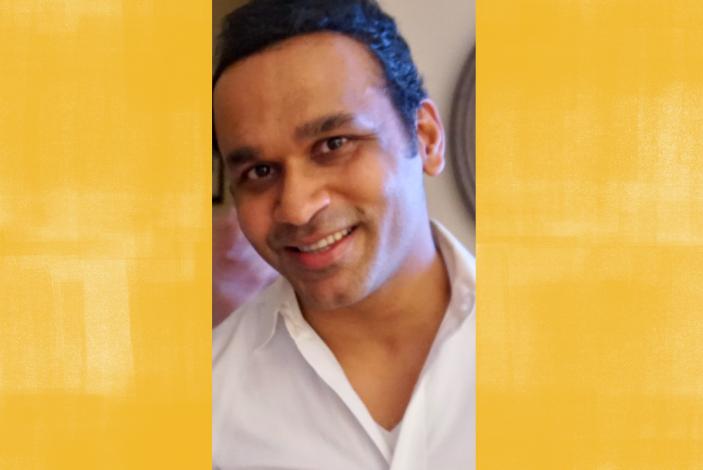 By Kelsey Allen
Asim Samiuddin, MS '04, created a scholarship to help Black female business students who have shown academic improvement in their college career get to Wall Street.
When Asim Samiuddin came home from school with a report card, his parents never asked him about his grades. They were more concerned with whether he tried his best. "They were perfectly OK with mistakes," recalls Samiuddin, who spent his childhood in Aligarh, a small town in the northern part of India. "Successes don't teach you a lot of lessons. Failures do."
So when a family friend who was a visiting scholar at Mizzou suggested Samiuddin come to Columbia to further his education, he was reluctant but willing to take a risk. He knew he'd learn something along the way.
Finding Focus
At Mizzou, Samiuddin studied engineering, created a software called IPAM that managed IP address allocations in large networks, and hung out at Big 12 Bar & Grill and Shakespeare's Pizza. His first job out of college was for a consulting firm hired by the State of Missouri to analyze employment programs and assistance programs.
"I don't know if I had a whole lot of direction in terms of what I wanted to do," he admits.
A trip to visit his older brother in New York City gave him the road map he needed. Samiuddin met his brothers' friends — all Ivy League grads working in the Financial District — who said Wall Street needed more "quants," or problem-solvers with math, physics and engineering backgrounds. They recommended him for a job at Morgan Stanley, and as he was driving from the St. Louis airport back to Columbia, he got a call.
"They asked if I could start next week, and without thinking, I said yes," Samiuddin says.
Career Growth
It didn't take Samiuddin long to learn that he'd made a mistake.
"A great job is one where going to work every day is not a chore, where you enjoy being around people you work with and everyone works toward a greater goal, a bigger purpose," he says. "I just did not have that feeling. I was operating but not evolving."
The 2008 global financial crisis forced evolution. Samiuddin enrolled in a financial mathematics master's program at New York University where he worked with the ultimate risk practitioner — Nassim Taleb. A former financial trader, author of the bestselling books The Black Swan and Antifragile, and a distinguished professor of risk engineering at NYU, Taleb argues that when systems fail, they are actually strengthened against future difficult-to-predict events with severe consequences. It's systems that are insulated from risk that are more vulnerable to catastrophic loss in the face of improbable events.
"I was fascinated by what and how much he taught me," Samiuddin says. (Taleb was impressed with Samiuddin, too, calling him his "best student ever.")
When it came time to find an internship, Samiuddin had a much better idea of the type of company he wanted to work for. He landed at MSD Capital, an investment firm that manages the assets of Michael Dell —  as in Dell Technologies — and his family. Two weeks in, the co-founder of the firm, John Phelan, offered him a job.
"John is a fantastic teacher," says. "He taught me a lot and continues to do so. Watching him genuinely trying to learn new things in a fast-changing world sets an example for the rest of us."
Today, Samiuddin is a principal at MSD Capital and part of its Tactical Investment Group, a cross-disciplinary team that includes people with deep fundamental investing acumen as well as those with advanced quantitative skill sets.
"There's real value to having diversity of thought," he says. "[MSD Portfolio Manager] Rob Platek is the one who really taught me how to value people who think differently from the way I do because bringing radically different thought processes into a team can lead to great things. When we're working toward the same goal but are coming at it with different mindsets, different backgrounds and different tool kits, we get to a better place. We all learn from each other. We evolve together."
"Michael [Dell] has a very simple message on diversity," Samiuddin continues. "'Diversity is power.'"
And Samiuddin wants to contribute to that diversity effort.
Risk/Reward
For those looking for a career in investment banking or hedge funds, it helps to have graduated from an Ivy League school, where investment banks concentrate most of their recruiting efforts.
Samiuddin doesn't like that: "If you find the right people with the right mindset and create the right purpose, the difference between the person who goes to an Ivy League school and the person who goes to Mizzou is nonexistent."
That's why MSD Capital hosts students in the Trulaske College of Business Cornell Leadership Program and University of Missouri Investment Group. He wants Mizzou students to be able to see themselves in New York and interact with the business leaders who can get them there.
"When I talk to kids from the Midwest, sometimes they don't dream big enough because just getting to MU is a big enough of a dream," he says. "But that's just the start. It's important to start visualizing yourself in a building or being that person. When they come here, you can see their wheels start turning."
To help even more Mizzou business school students succeed in school and get to New York while also adding diversity to Wall Street, Samiuddin established the Zakia-Saleem Scholarship. The scholarship is named for his mother, Zakia, who passed away in 2016 after a two-and-half-year battle with ovarian cancer, and his father, Saleem. Starting in fall 2021, an annual scholarship will be awarded to a  student who has shown academic improvement in their college career, with preference given to Black female students.
"When you're young and you're exploring, you should make big mistakes," Samiuddin says. "You should be allowed to fail. I truly feel that the biggest learning I've ever gotten out of my life was through mistakes. Mistakes are a precondition for evolution and innovation. I want to identify people who had a little bit of a rocky start, made mistakes and evolved into better versions of themselves. Once you get in that mindset, evolution never stops. We never stop improving."
This story in the news: New University of Missouri scholarship aims to help Black women get to Wall Street
Make a Gift to the Zakia-Saleem Scholarship today!