Double Album: Career services director unveils different side in pursuit of Nashville-sized music goals
Image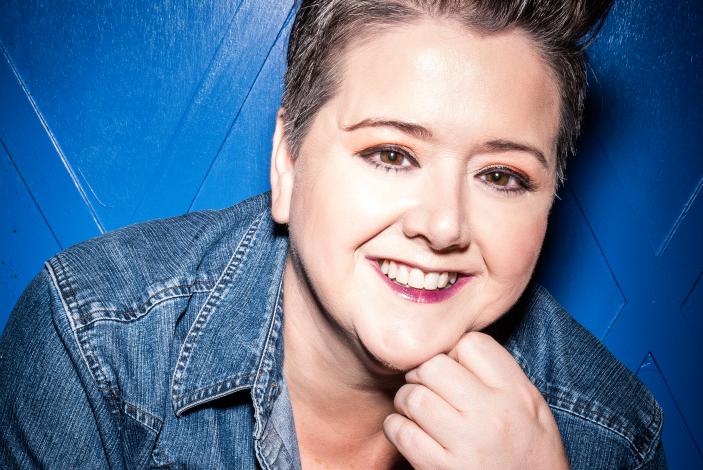 By Stephen Schmidt
If Meredith Shaw BA '99, M Ed '09, is dreaming, please do not wake her up. 
Decades ago before starting her career at the University of Missouri, Shaw worked at a country music radio station in Jefferson City, KATI (94.3 KAT Country), thinking that if she could not go to Nashville, Tennessee, to be a songwriter, that would be the next best thing.
"I think the biggest highlight of my radio career was I got to introduce Merle Haggard at the Silver Bullet," says Shaw of the country icon's performance at the former Columbia venue.
In recent months, Shaw has spent some time in Nashville to pursue her dreams of becoming a nationally known songwriter and performing artist — while still working as the manager of graduate career services and corporate engagement at the Trulaske College of Business.
In addition to recording a song, "Whiskey Situation," earlier in the summer, Shaw spent time working on and recording a handful of other songs in October with a well-known producer, as well as connecting with Mizzou alumni who play critical roles in the largest country music scene on the planet.
And the secret to her newfound success? She is taking the advice she has given Trulaske students on a regular basis when talking about job searching strategies and tactics in the corporate world.
"Everything that's happening in Nashville for me is about networking. It's about getting out there," says Shaw, who has been at Trulaske since 2016. "It's about not being scared to approach people, and when someone says 'I'll make this introduction if you want," saying 'Yes, thank you. That'd be awesome.'
"It's a small circle when you get down here, but you have to get in it."
In a similar sense, she has told students they cannot be afraid of stepping onto a different kind of stage when it comes to navigating their career paths.
"You can't have a great idea and really want something and you're the only one that knows that, sitting at home in your room," Shaw says. "You have to uncomfortably tell people what you're trying to do. You have to be good when you show up, and you have to ask questions and try to learn."
Starting with a song
"This ain't no party… No spring break staycation… This right here's a whiskey situation."
In April, Shaw remembers messaging on Facebook with her friend one night about the possibilities of the COVID-19 pandemic — as the whole country went on lockdown for several weeks. At the time, there was talk of the "new normal" only being a few months long. Shaw did not share the same thoughts.
"'I don't know," she told her friend. "I think we're going stay home longer. I think don't think this is ending. This feels like a whiskey situation. Oh, I'm going to write that down. Hold on."
Shortly thereafter, Shaw started writing down lyrics and strumming her guitar to create the song that would unlock her journey to Nashville.
For Shaw, the sudden isolation that stemmed from COVID-19 allowed her to start playing and writing music again in earnest. It had been a few decades since she was able to find time for such pursuits, such as the many nights she would sit on the deck of her sorority house at Alpha Omicron Pi at Mizzou in the '90s and strum her guitar writing "goofy songs."
As she puts it: "I had done this when I was in my early 20s. And then I had kids and you kind of stop. Your whole life gets put on hold.... I thought I'd have kids and that it would be like the von Trapps in 'The Sound of Music.' I would play guitar, and my children would love it."
Instead, her guitar collected dust in the corner of her home.
Right before the pandemic, Shaw had started to spend time with fellow musicians in the Columbia music scene. Although she would eventually start performing in front of audiences, she started to just surround herself with live music as form of release and as a way to cope with personal challenges. Then, when life went virtual, she went to her notepad.
"I probably should have been finishing my dissertation, but the whole the-world-is-ending thing with a pandemic is not conducive to academic writing," says Shaw, who is in the finishing stages of completing her third degree from Mizzou with a doctorate of education in educational leadership and policy analysis. "It really played into having some space in life to just sit there and create."
Shaw — a native of Gorin, Missouri, in the northeast corner of the state — had known David Browning since her high school days, but had not reached out to the producer and songwriter, who has worked with the likes of Katy Perry and Amy Grant, in quite some time. After Shaw messaged Browning about "Whiskey Situation," he agreed to listen to her home recording. The next day he said that he wanted her to come down to Nashville to record the song, which happened in June.  "Whiskey Situation" is now available on major streaming platforms such as Spotify and iTunes. In addition, she is releasing two more songs, "The Other, Other Woman" and "Drove It Like He Stole It," through Crowd Music on Jan. 5.
"I really went into that first trip, going, 'If this is this is all that ever happens — I get to go to Nashville, and I get to professionally record a song with a Nashville producer — if nothing else happens, that's a dream,'" Shaw says. "That's a giant bucket list. That's more than I ever thought was going to happen at this stage of my life. I was pretty happy thinking I was going to record music in Columbia and play songs for my family and friends there."
Rooted at Mizzou
Shaw has been a staff member in various capacities at Mizzou since 2005. Traditionally, she has kept a separation between her professional life and anything that she would be doing off campus — but this past summer she decided to share the burgeoning country performer side of her through a post on LinkedIn. She immediately received a positive reaction from the Trulaske community.
"I am so impressed and motivated by Meredith for making her dream a reality, and also I just love her voice and talent," says Katie Essing, assistant teaching professor of marketing, who shared Shaw's response on LinkedIn after she read it.
Shaw's bold leaps in the music industry would not be made possible without the support and structure that her position at Trulaske has provided her with over the years.
"My life isn't dependent on this," Shaw says of her music. "I have a great job that I love. I have all the things I need."
Since becoming a member of the Trulaske community, Shaw has made it a point of getting to know the approximately 150 students who sit down with her on a regular basis the best that she can, so that she can understand the ideal job placement situation for each student.
"I really enjoy getting to work with young people as they make that bridge from 'Well, here's what I learned in my classes' to 'Here's what I'm actually going to do in the world,'" Shaw says. "In career services you get to be that bridge between higher ed and the rest of the world."
Ryan Murray, director of graduate programs at Trulaske, says Shaw has an ability to navigate any waters with grace through her calm and collected approach — while always focusing on students' needs and objectives.
"Meredith is able to relate to most any student as she coaches them through their career search and assists in their professional development," Murray says. "What better way to showcase entrepreneurship then recording, 'Whiskey Situation?;' I'm proud of Meredith for chasing her dreams."
Orvil Savery BS '11, MBA '19, works as a senior associate at KPMG's Chicago office. When he was named as one of the recipients of the Mizzou 18 award in 2019, he listed Shaw as his mentor.
Savery says that Shaw has been "a driving force to my success" after first meeting her six years ago.
"Meredith especially was a fundamental and foundational pillar for me getting to where I am now," Savery says. "We spent countless hours discussing my goals and my fears. I talk a lot, and her patience and consideration for me in those moments is directly reflected in my success today."
And given that songwriters write from the heart, his former advisor should have plenty of material for years to come.
"Meredith is one of the most genuine people you could ever meet," he adds. "She has a unique way of pulling out your strengths and highlighting areas you can leverage those strengths for your benefit. That sort of skill set and attention only comes with practice and compassion."