Crosby MBA and graduate certificate are perfect match for small business owner
Image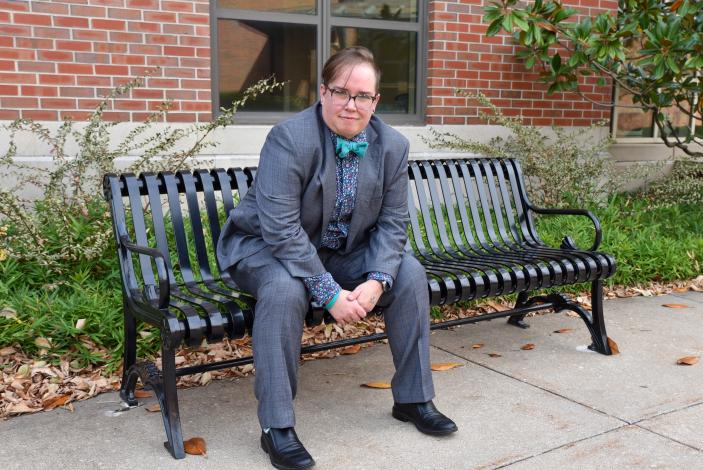 Mason Aid is pursuing a Crosby MBA and a graduate certificate in marketing analytics to help small businesses take advantage of data analytics. 
As a champion for diversity and inclusion, Mason Aid is always looking for new ways to leverage their experience and reach more people with their message.
Now, Aid, who uses the pronouns they and them, is pursuing a Crosby MBA from the Robert J. Trulaske, Sr. College of Business to expand their knowledge with an eye towards better helping small businesses take advantage of data analytics. They're also pursuing a graduate certificate in marketing analytics, which is designed to deepen understanding of big data that inform marketing strategies, tasks and decisions.
A chance to combine an online MBA with a graduate certificate in Aid's area of interest was an opportunity they couldn't pass up.
"It seemed like the perfect marriage of my interests," Aid said. "And it's all so convenient and works with my busy schedule."
Aid, a single parent of a 6-year-old daughter, also works as teaching assistant for two professors at the Trulaske College of Business while putting in part-time hours as a barista at Lakota Coffee Company in Columbia. In the spring, Aid plans to explore a related area of interest -- algorithm bias -- through an independent study with J. Scott Christianson, an associate teaching professor and director of the college's Center for Entrepreneurship and Innovation. Algorithmic bias is the systematic and repeatable errors that create unfair outcomes, such as privileging one arbitrary group of users over others.
"This is a chance to take the technology I'm interested in and the diversity I'm interested in and smooshing them together," Aid said, adding they aren't sure which path they will ultimately follow, but that taking calculated risks has become a powerful tool for moving their life forward. "I'm in a strange transitional space where I don't know what is next, but I know it's going to be awesome."
Their true self
Aid grew up on a farm in northeast Missouri, about 12 miles outside of Shelbyville. And while they enjoyed life on the farm and the support of family, Aid struggled with their identity.
"It was both wonderful and rough to grow up in a rural area," Aid said. "I loved the community, and I was largely supported, especially by my parents. But I knew I didn't fit. I just couldn't figure out why I felt so different."
Consequently, Aid struggled for years with mental health issues and was hospitalized numerous times. It wasn't until they were 19, that Aid came out and overcame years of mental health issues. In 2014, their younger sister and staunch ally died from ovarian cancer, which sparked Aid to become the advocate they are today.
"Coming out saved me," Aid said. "Learning how to accept and love myself was monumental."
Finding their voice
Over the years, Aid has earned an associate degree in psychology from Moberly Area Community College and a bachelor's degree in sociology from Columbia College. They've also worked as a diversity and inclusion coordinator at Veterans United Home Loans and recently started a small business called PlotPoint Insights, which helps small businesses with data analytics, an endeavor Aid hopes to grow with an MBA and graduate certificate.
However, Aid found their heart's calling through their LGBTQ advocacy work, which started by leading PRISM, a LGBTQ teen group in Columbia. Eventually, Aid was giving presentations to high schools and other organizations across the Midwest. Their work with PRISM led to a Catalyst Award through the LGBTQ Center at MU in 2016. Aid was also one of COMO Magazine's 20 under 40 in 2020.
What lies ahead
Looking back, Aid recognizes that their sister's death at 25 was a catalyst for action. They began taking more calculated risks, such as applying to speak at a live-and-in-person TEDxStLouis Innovation event called Beyond Words 2022. Aid, who was selected to audition out of more than 260 applicants, was among the nine featured speakers with a presentation called "Falling Forward: How to recover gracefully when you biff it in inclusion."
Earning a Crosby MBA and graduate certificate from Trulaske is another step toward self-actualizing for Aid who hopes the added knowledge will strengthen their work in diversity and emerging technology.  
"Life is short, even if I live to be 90," Aid said. "And what regrets will I have if I don't take this leap of faith and see what happens? It's challenging, and it's not easy, but I am happier now than I have been in a very long time because I know I'm working toward my goal, not anyone else's. I'm not holding myself back to fit into someone else's box. I'm not pretending anymore."