A better start: Trulaske alumnus finds success in frozen breakfast market
Image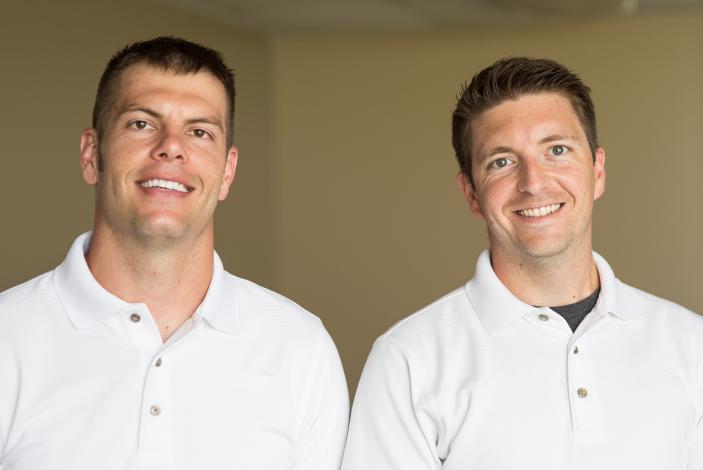 By Stephen Schmidt
Clint Matthews, BS '05, MBA '12, has never been the biggest inspirational quote enthusiast. Look into his locker room when he played for the Missouri Tigers football team, and you probably would not see many words of wisdom taped inside.
Near his work computer, though, he does keep a small card with the quote from Martin Luther King, Jr.: "The true measure of a man is not where he stands in comfort and convenience, but where he stands in times of challenge and controversy."
Since stepping foot on Mizzou's campus as a preferred walk-on in 2000, Matthews has overcome his fair share of challenges, but he has been able to end up on the other side of adverse conditions by realizing that the same grit, discipline and persistence needed on the football field can also prove to be invaluable in the realm of entrepreneurial business ventures as well.
As the co-founder of Start Right Foods, Matthews — and his business partner, Kyle Rood BS BE '11, MS '15, a fellow former Mizzou student-athlete who overcame a series of injuries as a member of the men's cross country team — has watched the company grow from a couple of waffle irons and a rent-a-kitchen in Columbia to its current 1500-square-foot facility in St. Louis. That's where they mass produce high-protein waffle sliders for distribution to consumers throughout the Midwest and beyond in a growing market space of frozen healthy breakfast options.
Before launching Start Right in 2015, Matthews (left in above photo) had been part of two other entrepreneurial ventures in the biomedical device space — both of which sprung from a biodesign collaborative class he was in at Mizzou with Rood (right in above photo) while working on his MBA at the Trulaske College of Business.
When he is not spending time with his wife and three children in their St. Louis area home, Matthews can be found at the factory, which he likens to riding a roller coaster.
"Roller coasters are fun, but they can also be scary. You can also feel like you're going to lose your life at any point. It can be stressful," Matthews said. "There are all these ups and downs and emotions… It's a lot like playing a college sport. You have to be persistent through all that and just keep battling."
'Always know where home is'
Matthews grew up in Ozark, Missouri, as the youngest son of two small business owners. His father ran a construction business, in which he would help out in the summers as early as the age of 9. His mother co-ran a successful door-to-door wallpapering business.
"My parents owned their own businesses and so that was ingrained in me," he said of having the spirit of an entrepreneur.
As an all-district football player at Ozark High School at linebacker position, Matthews had offers from smaller colleges, but he derived no excitement from those opportunities.
"I figured if I was going to play football, let's go big and see what could happen," Matthews said.
The day he left for college, his father pulled him aside.
"He said 'Hey, I just want you to know you always know where home is, no matter what happens,'" Matthews said. "For me, that was pretty awesome, because I could go try anything and take some risk and just give it my all and the worst-case scenario was I get knocked in the dirt — but there's somebody there to pick me up."
And there would be plenty of getting knocked in the dirt. Quite literally.
The staff of head coach Larry Smith initially put the 6-foot-3-inch freshman at defensive end, before placing him on the scout team at tight end — a position he never played in high school. His first blocking assignment in practice came against Justin Smith, the All-American defensive end, who was in his junior year.
Matthews first started to catch the eyes of coaches by constantly answering the bell against the larger, quicker, future National Football League all-pro player.
Eventually, Matthews would be redshirted, before Coach Smith was replaced by Gary Pinkel in 2001, giving Matthews "a clean slate" coming into his second year on the team.
"They didn't care who you were or what your background was," Matthew said. "They said, 'Who can we put on the field to make a difference?' I just worked my butt off. I always worked hard in the weight room and conditioned well."
Matthews would go on to play a critical role in the Tigers' locker room as a four-year letterman in the early days of the tenure of Pinkel, who would go on to become Mizzou's all-time winningest coach before leaving the school in 2015.
Originally thinking he might want to try his hand at being a meteorologist, Matthews went on to earn a degree in atmospheric science, while also earning a business minor.
After finishing his undergraduate studies in 2005, he took a sales job at Boone County Lumber in Columbia — before he felt the urge to go back and earn his MBA through the Crosby program in 2010 to eventually try his hand at the entrepreneurial world.
"I wanted to expand my knowledge base," he said. "And I thought getting an MBA would be a good way to challenge myself and open myself up to new possibilities."
When most of friends bought houses after graduating, Matthews opted to buy a duplex and live on one side and rent out the other — which proved to be a wise decision when the housing market hit rock bottom during the Great Recession. From 2008 to 2013, he would own and maintain five rental properties.
Angels among investments
While pursuing his MBA, Matthews took one elective course, the Allen Angel Capital Education Program, a total of three semesters. Such a schedule is not out of the ordinary, according to the course's instructor, WD Allen, an adjunct professor at Trulaske.
"In a word: drive," Allen said when describing Matthews. "Even when he was in my class, Clint was doing entrepreneurial ventures on the side. He was always there willing to do something, and if it was something that he didn't know anything about, he'd go find out about it."
Allen said that Matthews' ambitions fell in line with those of many students who enroll in the class, which has become highly competitive and inclusive to all Mizzou students as it has picked up popularity over the years.
"It's for anybody who wants to have fun," Allen said.
The class started 11 years ago when two students approached Allen about starting an angel investing club after returning from a Tigers on Wall Street trip and being introduced firsthand to the world of venture capitalists. Allen was told that his commitment level would be minimal, but two weeks later, Allen was putting in 25 hours a week.
"Their enthusiasm was what got me going on it. Essentially at that point, we were entrepreneurs. We had to call ourselves something, because we had no money," Allen said with a chuckle.
Eventually, after reaching out to numerous sources — and receiving a sizable gift from Allen's sister, Pinney, who named the program in honor of their father — the class started to gain significant amounts of money with which to invest. To date, the class has invested in 15 companies — five of which have folded. Allen said this past semester his class researched somewhere in the neighborhood of 100 deals alone.
It is through these dealings that students realize the delicate nature of angel investing, in which the success rate of companies is only around 20 percent. They also sit on several boards of the companies in which they have invested as they take on a "full spectrum" approach — handling everything from evaluating deals to negotiating contracts.
"We learned some lessons, and for me as an educator, that's my job," Allen said. "I don't want to run out of money, but it's important for them to experience things like: What does the company do when it hits a roadblock? What does the company do when it realizes it has to pivot to another product, utilizing the same technology? Those moments are invaluable."
A key collaborator
In 2012, Matthews would become a BioDesign Business Fellow in the MU BioDesign and Innovation Program (MUBIP), under the guidance of Paul Dale, MD, chief of surgical oncology at the MU School of Medicine.
The program was a year-long clinical immersion that would expose him to a wide variety of medical disciplines as he would help identify health care needs, develop technology to address those needs and create business plans to get those technologies to the medical supplies market.
In the program's arrangement, Matthews was paired up with a medical doctor and a biomedical engineer, the latter of whom was Rood, a then-23-year-old who had just finished his bachelor's degree in bioengineering and biomedical engineering and was working on his master's degree in the same field of study.
Matthews and Rood realized quickly that they had the chemistry to work together well beyond the confines of the program — bolstered by the common denominator of their experiences as student-athletes at Mizzou.
"We were kind of different generations from a sports standpoint, but I could tell pretty immediately, I liked his work ethic, and he listened," said Matthews, who is seven years older than Rood. "We didn't necessarily always agree, but if we didn't, we could just sit down and have a conversation and come up with a logical reasoning on where we stood."
Added Rood: "Clint had had work experience, so I was intimidated for the first few days of the fellowship, but as we started getting to know each other, I think his athletic background really lent itself to creating a relationship between us."
After Matthews and Rood ended their time with the MUBIP, they would be part of a team that would attempt to take one of the five products that they worked on in the program to the open market in 2013: Cardioptimus, a specialized heart stent. Ultimately that venture went dark due to a variety of factors, but the experience cemented their ability to work as a team and navigate rough waters.
A year later, the two applied for a St.-Louis-based Arch Grant for another MUBIP creation — an antiseptic used to prep patients for cataract surgeries. After submitting a humorous application video, they were awarded a grant for their startup company, Talariant, allowing Rood, who is from St. Peters, Missouri, to move back to the St. Louis metro area to start the company.
Eventually the two would meet with a consultant from the Food and Drug Administration who told them that to receive approval from the federal agency, their product would have to go down the drug development pathway, instead of a simpler and cheaper approval route, which would multiply all estimates of cost and time by 10 percent. 
A new direction
It was against that background that Matthews approached Rood in the spring of 2015 with a new business proposition: high-protein waffles. At the time, Matthews was still living in Columbia, while Rood was commuting from St. Louis on a weekly basis to complete his master's degree.
Rood, who had planned to work on startup medical devices his entire career, initially thought that his business partner's idea was "ridiculous," but he told himself that he owed Matthews 15 minutes to state his case about the project that would turn into Start Right Foods.
Matthews talked about his research, which led him to realize that there was a growing market for quick, healthy, high-protein breakfast options. Most importantly, Rood could sense his partner's passion for the cause. Coincidentally, Matthews' wife, Belinda (née Wood) BS '05, works as a dietician, specializing in patients who have diabetes. She also was a Mizzou student-athlete, having been a member of the women's swim team from 2001-05.
Eventually, Rood — who describes himself as "pretty risk averse" — tried the waffles that Matthews made using a recipe that he received from a group of MU researchers.
"I tried them. They were pretty good," Rood said. "After doing all the research on the market, and thinking about it more critically, having a startup in the medical device space seemed astronomically impossible, as compared to a food product where you can sell it tomorrow and not wait three years and a million dollars to get approved."
A few months later, Matthews, who had been a longtime customer at the Bank of Missouri, and Rood had been given the green light to hand out samples to bank patrons in the lobby. The response was overwhelmingly positive — including a thumbs up from Coach Pinkel, who had just happened to be running some errands that day.
"We wanted to give this one more go. Neither one of us had a part time job. We went all in," Matthews said. "Kyle and I were literally flipping waffles by hand with three irons, and delivering them into stores in my pickup truck. And through a lot of effort, toil, and good and bad decisions, we've progressed to today."
In the fall of 2017, the duo moved its operations to its current facility in St. Louis, right next to Queeny Park. After going through the struggles of its infancy, the company, Matthews said, is beginning to "hit on all cylinders" by expanding its national footprint — going from the Midwest to an agreement with national store chain Sprouts Farmers Market to offering direct sales on its website starting this summer — and its staff size, having recently hired a chief marketing officer.
The company has also proven to embrace change, going from traditional waffles to three varieties of waffle sliders: sausage and egg, turkey sausage and egg white, and chicken and waffles. It has also recently switched from red to blue packaging, which has also helped it stand out from its competitors in store freezers, Matthews said.
As revenue continues to increase for Start Right Foods each year, so has the amount of money that has been coming from angel investors to ensure its future growth — numbers that are currently right around $1 million, allowing Matthews to put what he learned to use in the Allen Angel Capital Education Program on a weekly basis.
And the heart of that knowledge stems from taking risks.
"Don't be afraid to take a risk," said Matthews, when giving advice to current Tigers with entrepreneurial dreams, "because it could be the best thing you've ever done. You just don't know. It's a little scary, so people don't want to do it, but take that leap, because you never know where it'll go."