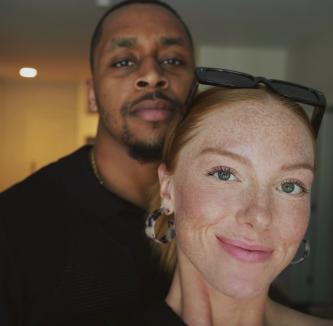 Crosby MBA Class of 2020
Karissa Roman
"Mizzou has affected my life in every way. I ultimately came to Mizzou as a freshman in college to live out my goal of competing at a Division I level in track and field. I found so much more than that when I came to campus."
Current Role/Title:
Digital Content Specialist – Trulaske College of Business
What is something fascinating happening in your industry right now?
Social media is constantly changing. The future of digital marketing is unknown with the emergence of new technology such as ChatGPT and AI. I am still waiting to see how these technologies will affect my workflow in coming semesters, which I am both equally eager and anxious about. I will be looking forward to watching that landscape unfold.
With respect to Trulaske, our presence on Instagram is exciting. Our following is growing, our engagement is increasing and our content is expanding. We are eager to encourage more alumni to engage with us on social media. We know many people graduate and move on to do fun and exciting things with their life, but we often miss out on highlighting those things simply because we are unaware that they are happening. It is our goal to be able to showcase how remarkable our students, faculty, staff and alumni are, each in their own unique ways.
How did you end up in your current position?
I started my Crosby MBA in January of 2019. Shortly after, I was assigned a graduate assistantship position in the Dean's Office to help with their marketing efforts. My role started out as helping complete some organizational tasks, then transitioned to monitoring and creating slides for the atrium screen in Cornell Hall's atrium. Throughout the course of my two years in the program, my responsibilities began to increase, and I required less supervision and oversight for the tasks I was doing. Following graduation in December of 2019, I decided to move to Massachusetts to live with my boyfriend. Casey Baker, the Director of Marketing and Communications here at Trulaske, graciously let me continue working part-time until I decided what my next career move would be. It just so happens that I stayed put. I started working full-time for the college in November of 2021. Since doing so, our team has grown and thus, so have our marketing efforts. I am so grateful for the role I have and all its taught me over the years.
In what ways has your Mizzou education/affiliation impacted your life since graduation? 
Mizzou has affected my life in every way. I ultimately came to Mizzou as a freshman in college to live out my goal of competing at a Division I level in track and field. I found so much more than that when I came to campus. I met great friends and colleagues, met the man I plan to spend the rest of my life with and am now employed by the very institution that awarded me two diplomas.
I came from a small town in Illinois. Mizzou introduced me to so many new people from all walks of life. Mizzou allowed me to open up my mind to new perspectives and showed me that I always want to surround myself with people that see, respect and appreciate those that have grown up differently than I did. I could have easily stayed close to my hometown – in a bubble, but I would be living an entirely different life right now if that were to have been the case.
Why did you choose Mizzou—what makes Mizzou special? Why should someone consider Mizzou?
The high jump coach at Mizzou began recruiting me for high jump as a sophomore in high school. They were the first university to pursue me, and it always felt genuine. The coach at the time, Dan Lefever, was consistent and provided a level of support to my family and I as we navigated my college search. I ultimately chose Mizzou because it felt like home as soon as I stepped on campus during my visit. Columbia was far enough from home, but not too far and big, but not too big. Having a built-in family within the track and field team was just icing on the cake for me. I knew Mizzou was the place for me without a shadow of doubt.
Mizzou is special because of the people and the opportunities. The faculty within the Trulaske College of Business genuinely want to help you succeed and see you do well. The key is putting yourself out there. Ask for help. Ask to be put in contact with someone's network. Attend the career fair. Take advantage of the professional development events. My recommendation would be to get involved. There are times when I think back and wish I would have made more of an effort to be involved on campus in addition to being an athlete, but my schedule sometimes did not allow it. I would have loved to be a part of a Trulaske organization like Student Council and help plan Business Week, study abroad to one of our various programs or even participate in the case competitions through the Crosby MBA Program. Just get involved, even if you don't know how you will manage it. You'll be glad you did. 
Fondest memories while a student or faculty member here?
My fondest memories while being a student at Mizzou are a mix between competing for the Mizzou Track and Field team as well as meeting some of my lifelong friends. I met so many great people throughout my 5.5 years as a student on campus. I was a captain for the track team for three seasons and finished my career as an All-American high jumper. COVID-19 cut my senior season short and though I sometimes wish I could have saw that final season through, I am happy with the impact I left on the team during my time. I achieved personal bests in my sport while encouraging and guiding others to do the same. I took on a leadership role that allowed me to support my teammates on a deeper level. I will forever be cheering on those same teammates – in athletics, academics and life.
In your spare time, what do you like to do? 
I am a very creative person in nature. I am the over-the-top arts and crafts friend. In my free time, I am usually writing cute little cards to send to friends, making custom t-shirts from home, creating any type of art or brainstorming the next gift box I get to make for a loved one. Besides being crafty, I work out all the time. Being active is one of the best things you can do for yourself and the longevity of your life. I am working to be as strong as I have ever been and in the best shape possible. Working out is simply part of my routine at this point and I wouldn't have it any other way.