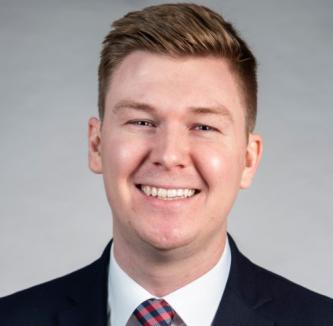 Trulaske Class of 2018 and Crosby MBA Class of 2020
Grant Fry
"I am where I am today because of the connections and exposure Mizzou provided."
Current Role/Title:
Assistant VP; Senior Business Control Specialist at Bank of America
What is something fascinating happening in your industry right now?
Banking, in general, is always capturing headlines across the globe. It touches everything financial/business related so you can always find something going on that is of great interest. One thing that stands out to me is the topic of inflation. It is something that affects everyone no matter their age. I could relate in college when eggs were cheap and affordable to eat. Now, not so cheap. It will be interesting what the leaders in place do to combat this.
How did you end up in your current position?
My journey with Bank of America started in the summer of 2018 in Seattle, Washington while I was obtaining my undergrad at Mizzou. I was a part of a development program for financial advisors at the bank. I knew that it was a company I always wanted to be a part of due to its diverse set of minds and amazing people. Fast forward two summers later and I had another internship in their MBA Strategy and Management program. This was a result of the relationships I had built in my first internship and the great teammates I had. After a positive experience I was offered a full time position in a two year rotation program in Charlotte, NC where Bank of America is headquartered. That program allowed me to hone many skills I learned in internships and at Mizzou. I have been able to work on long term projects in fields like Digital Marketing, Virtual Banking, LMI Strategy -- a wide exposure. I just completed the program and am now with my new permanent team in Client Protection. I am looking forward to this new chapter and to continue to grow in my professional career!
In what ways has your Mizzou education/affiliation impacted your life since graduation? 
It is truly difficult to put into words how Mizzou has impacted my life since graduation. I am so lucky to not only have completed undergrad but, my MBA there as well. The friends and memories will be with me for the rest of my life. I grew up in a small town where the opportunities seemed limited at times. Once I was at Mizzou I had the tools to determine what my path was going to be -- without limits. I am where I am today because of the connections and exposure Mizzou provided. Whether it was a career fair conversation, a networking opportunity, or a conference recommendation Mizzou provided numerous options for me. 
Why did you choose Mizzou—what makes Mizzou special? Why should someone consider Mizzou?
My journey with Mizzou started as a Freshman in high school at a Mizzou summer basketball camp held in Columbia. I had never been on a college campus and it was love at first sight. From that point forward, I knew I wanted to attend Mizzou. It just seemed like the perfect fit for me. Everyone from the admissions staff to professors were down to earth and nice people. I felt like I was home in a way. I think anyone should consider Mizzou if they feel like they want to have a home away from home forever. Once a Tiger always a Tiger.
Fondest memories while a student or faculty member here?
The list goes forever but, I would have to say meeting each of the friends I made. These people will truly be in my life forever and I remember meeting them all in unique and different ways. Whether it was meeting them for the first time in the halls of Trulaske, being downtown running into them at a bar, or while at a sporting event cheering for the teams we loved, I clearly remember those exact moments.
In your spare time, what do you like to do? 
I am a bit of a "jack of all trades master of none." I love to do so many things. As I am getting older it seems the time to do them is dwindling, though. I love to exercise by running long distances, listening to live music as much as possible, watching the latest TV shows, listening to sports/fantasy football podcasts, watching new movies, playing video games with friends, and traveling to places I have never been. Pretty usual but, believe it or not, very time consuming!