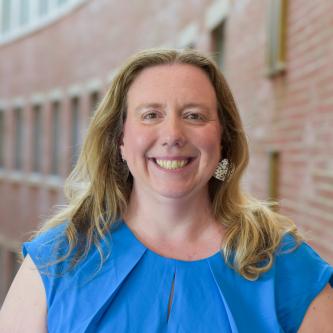 Advising, Undergraduate Dean's Office
Beth Holt
TRiO Academic Advisor
Office
104 Cornell Hall & M122 Student Success Center
Hours
Monday's and Friday's - M122 Student Success Center - 8:00 a.m. - 5:00 p.m.
Tuesday's, Wednesday's, and Thursday's - 104 Cornell Hall - 7:30 a.m. - 4:30 p.m.
Bethany Holt is the TRiO Academic Advisor at the Trulaske College of Business.  She is a graduate of Southeast Missouri State University in Cape Girardeau, and received her master's degree from Mizzou. 
Beth taught for several years in secondary education before moving to Columbia to pursue her master's degree. She previously worked at Columbia College for many years, assisting students with transfer credits and the graduation process in her role.  As an academic advisor, Beth works with students participating in the TRIO program, both helping with planning their academic careers and connecting them with any other resources they may need.
In her free time, Beth can be found reading, spending time with friends playing games, and arguing with her shih tzu, Maisie (who almost always wins). 
Education
Bachelors of Science in Secondary Education with an emphasis in Spanish K-12; Master's in Educational Policy and Leadership Analysis with an emphasis in Student Affairs Administration