Well-traveled: Trulaske alumna finds purpose in aiding overseas
Image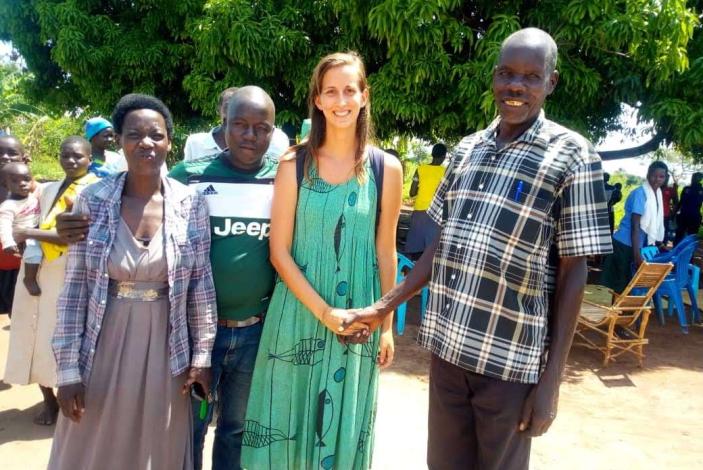 By Stephen Schmidt
This wasn't a scene from a movie, although it might have felt that way to Haley Block BS BA, BA' 16.
In the middle of May of 2017, Block received an email from the Peace Corps. She had 24 hours to make the most significant decision of her life: Go to Uganda as a volunteer with a start date of June 1 or come up with another plan.
"There was no other option," Block said. "It's either don't join the Peace Corps or go to Uganda. And I had to respond quickly because I knew they would give it to someone else."
It had only been a couple of weeks since she had received news that severe flooding had canceled her initial assignment in Peru two weeks before she was scheduled to leave.
She had left her position as a project management consultant at the Boom Lab in St. Louis, ready for an opportunity that gave her the ability to travel internationally and do something that she felt would make a difference in the lives of others. This was her moment.
"I had just sold my mattress when they called me," said Block, who is bilingual in Spanish as well after earning a Spanish degree from the College of Arts and Sciences.
Cue the music coming to a screeching halt.
Her assigned title in Peru would have been agribusiness adviser — the same title that she was given in the offer to go to Uganda. That was important to her, given that she wanted to be put in a role where she could use the skills that she had amassed at Trulaske.
After researching Uganda as best as she could with her mother's help, she decided to accept the offer.
"I was like, 'You know what? This is going to challenge you even further. And this is going to be something that you're going to grow through,'" Block said about the inner dialogue accompanying her decision. "Because it was in the right sector, I decided that this was worth the challenge, and I'd go for it."
She currently serves as a humanitarian field operations officer for the U.S. Agency for International Development (USAID) in its Bureau for Humanitarian Assistance. Block is part of a large team that responds to international humanitarian disasters by providing supplies, water, food and shelter.
Although she is currently working remotely from a small town in Northern California, she was scheduled this summer to travel to Poland (to help with humanitarian efforts in Ukraine following the Russian invasion) and Ethiopia (in the wake of civil war in the country's northern Tigray Region).
"Haley is energetic and passionate about solving world problems," said Gay Albright, associate dean of academic programs and director of global initiatives at Trulaske. "She is sure of her path, articulate, curious to learn new things and interested in connecting to non-traditional business careers."
Before joining USAID, Block served as an operations associate based out of Washington, D.C., for Chemonics, a private international development company, after the COVID pandemic forced her to return stateside.
'Shared energy'
Block has been to around 20 countries since beginning her travels, but the people of Uganda may have made the most profound impact of all the people she has met along the way.
"I couldn't have ever imagined how positive and how amazing that experience was," she said.
After training in the capital city of Kampala in the summer of 2017, Block was assigned by the Peace Corps to help farmers with their banking needs in a small town called Loro.
Given that her father has owned and operated a landscaping company for decades in her home city of Dallas, and she had a business degree from Trulaske, Block thought she would have a jumpstart in being able to help address the farmers' needs.
"I thought so, but no. I learned a lot when I got there," she said with a chuckle.
That included a language called Lango that was only spoken in that particular part of the country. In fact, there are close to 50 languages spoken in Uganda. English, though, is still a primary language due to the British colonization of the area in the 1890s.
Six months after arriving in Uganda, Block expanded beyond her Peace Corps role and became the director of programs for the Foundation for Inclusive Community Help in late 2018. Through the non-governmental organization (NGO), Block was able to help address major issues within the social structure of the communities she served, such as women's empowerment and gender equality — with the overall mission of helping young women either stay in school or start their own businesses.
Those two topics provided the bedrock of a bakery that she helped establish by the name of Karacel, which translated from Lango means "all together." Founded in March 2018, the bakery provided an outlet for approximately 30 women in the village to earn living wages by making various forms of cakes, including a popular dense, protein-packed snack cake made of soy flour that would keep the surrounding farmers full for long periods.
"We created a bakery because this is something women could do culturally, and we were able to pay them a good living wage that made a huge difference in their lives," Block said. "It's a lot more than they can make on their own. And then through that, we also did sessions and programs on their own personal and professional development."
Although the COVID pandemic eventually shut down the bakery, Block still keeps up with those she worked with at the foundation.
"What made the Uganda experience what it was was that I met incredible people I could work with and implement programs that actually did make a difference," Block said. "And we collaborated, and I could see that their passion was mine, and we had that same, shared energy."
'Get out and go beyond'
When Block first visited Columbia as a high school student, she felt drawn to the Mizzou campus.
"It looked like what I imagined college should look like," she said.
At the time, Block had her sights set on seeing the world through the lens of a photojournalist via the School of Journalism, but eventually, her career path took a different direction as she realized how versatile a degree from Trulaske could be.
"I liked photography, but the key thing was I wanted to work abroad, and I wanted to travel, work and interact with different cultures," she said.
The Texas native, who said that Dallas — located in the fourth largest metro area in the country — "was too small," has never wanted to be defined as anything less than an active citizen of the world.
"I think personality-wise, I've always had a bit of an adventure bug and always wanted to get out and go beyond," Block said. "I wanted to see other things and get out there and meet other people. I just like hearing people's stories and learning more about the world."
Aside from family trips to Mexico as a child, she had her first immersive travel experience in her junior year of high school when she studied abroad in San Sebastián in the Basque country of northern Spain.
She returned to Spain while working as an intern in the summer of 2015 at a Madrid-based management consulting firm following her junior year at Trulaske.
The more she traveled, the more Block felt the need not just to sightsee, but to create change for the better in the people's lives along her path. The same spirit of volunteerism propelled her mother, Susan, who served as a manager of a nonprofit health clinic in Dallas for many years before retiring.
"She was always volunteering and doing things for the community. And she has a really big heart," Block said of her mother. "I, too, wanted to do something with my time and my work — something that I felt was going to have an impact and make a difference in people's lives."
'You're your own person'
As someone who has hiked both 300 miles of the Appalachian Trail and Te Araroa Trail (1,864 miles, spanning the entire length of New Zealand), Block encourages all Trulaske students to not be afraid to make their own trails, so to speak, when it comes to their academic choices and, ultimately, their careers. The road is long, but each journey is unique.
Instead of worrying about the standard process of obtaining a degree, she suggests using a different barometer of success: Happiness.
"It feels good to let go of whatever standards you're holding yourself — and everyone else in your class — to and instead just to figure out what's right for you," Block said. "I told myself, 'I'm not going to compare myself to others. And it worked out really well. Because then, I just focused on the skills that I had and what I could do for others using those skills in a way that makes me happy.
"You're your own person. You don't have to be like anyone else. Think about your skills, your strengths or interests and find something that matches that."
And although not everyone may be filled with as much wanderlust as Block, she said that it is important for those starting their careers — traditional or not — to find time to get outside and explore the world around them.
"Have those adventures because you have to live your life," she said, "and not just work your job."