Water.org co-founder visits Trulaske for CEI Innovation Challenge, keynote presentation
Image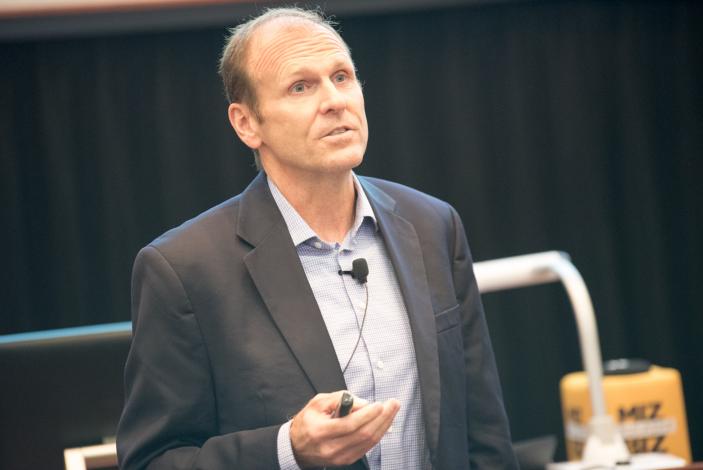 The Trulaske College of Business co-hosted Gary White, co-founder of water.org, a nonprofit developmental aid organization aimed at providing aid to regions of developing countries that do not have access to potable water and sanitation, on Friday, September 20, 2019.
White's visit was co-sponsored by Trulaske and the MU College of Engineering and School of Natural Resources.
On Thursday, September 19, 28 Mizzou students from all sponsoring colleges and the MU College of Arts & Science convened for the MU Center for Entrepreneurship and Innovation's CEI Innovation Challenge at Cornell Hall. During the three-hour event, participants of differing backgrounds were assembled into seven teams and asked to tackle one of three challenges for water.org:
How do we talk about our solutions in a way that inspires grassroots action?
What are the best channels for sharing a new app that would give individuals a way to participate in impact investing
What can individuals do to ensure we have sustainable sources of water?
Teams were then were given an hour to discuss their solutions before presenting to a panel of judges and graded on how well they demonstrated an understanding of the challenge and how well their idea directly addressed the challenge chosen (what is the problem, who is it a problem for and how does that idea directly address the problem).
White returned to Cornell Hall the next day for a keynote presentation and panel discussion about how micro-loans are used in developing countries and to discuss future ideas for funding these micro-loans. Fellow panelists included Trulaske Assistant Professor Joel Andrus, Associate Professor Maria Fidalgo from the College of Engineering and Assistant Professor Robin Rotman from the MU College of Agriculture, Food & Natural Resources.
"It was great to see students from all majors and backgrounds working together to come up with novel solutions to the challenges Gary set them," Annette Kendall, director of the Center for Entrepreneurship and Innovation, said. "They had just over an hour to get to know each other and presented their ideas like they were old friends. Everyone seemed to have a great time and we all saw firsthand the lift in energy, engagement and creativity that arises when you facilitate events for students to learn from other students."
Seabrook Omura contributed to the reporting of this story.