'A warrior for his students:' Marketing professor recalls time spent in classroom
Image
By Stephen Schmidt
The anecdotes are plentiful, colored with vacation destinations — yet during his time as an assistant teaching professor in the Marketing Department of the Trulaske College of Business, Don Meyer, BS Ed '78, made it a point of not divulging too much about his time as an international marketing executive for Anheuser Busch to his students.
For doing so could possibly go against one of the main pillars of his teaching philosophy: being relatable.
During his 25 years with the brewery, Meyer's work projects allowed him to attend numerous Super Bowls, Final Fours, World Series and other major sporting events — as well as interact with famous recording artists such as The Eagles and Rolling Stones.
"It's almost ridiculous, the things that I got to do," Meyer says. "I didn't want the students to think 'Oh, this guy thinks he's so cool.'"
"I always wanted to be approachable, because I think people are intimidated by professors, so I wanted to let them know that I was a regular person… and you may be sitting here right now, taking this class thinking, 'Oh, this is fun and interesting, but I wonder if I'll ever get to do this?' And so I would always try to really leave them with that you-can-do-this message."
Navigating a new schedule
On Aug. 31, Meyer officially joined the ranks of the retired. He is still navigating this new world where "every week is six Saturdays and one Sunday." He and his wife, Kate, have been splitting time between their homes in Columbia and Lake of the Ozarks, where he has been working on restoring old "junk boats," among other pursuits.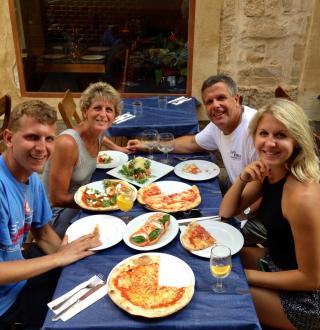 Spending more time with his two adult children, both of whom are accountants, is also on the to-do list. His daughter, Jennifer, MAcc '19, was a recipient of the Elijah Watt Sells Award for scoring a cumulative average score above 95.50 across all four sections of the CPA Exam, one of three Trulaske students to earn that award last year. She works as a CPA for Plante Moran in the Denver metro area. His son, Andrew, works for Deloitte at its St. Louis location, but will be moving to the Cincinnati office later this fall.  
"It's kind of funny that I was a marketing guy and ended up with two accounting kids," Meyer says with a laugh.
Meyer's list of teaching awards is long — highlighted by winning a William T. Kemper Fellowship for Teaching Excellence in 2019 — in spite the relative brevity of his time as a full-time professor at Trulaske, having started in 2014 after serving as an adjunct professor since 2011.
"I think students like the fact that I've worked in industry," Meyer says. "And I think it didn't hurt that I worked for a beer company. It was pretty relatable product."
He had worked as the chief marketing officer and vice president of marketing and communication for the St. Louis Regional Chamber and Growth Association from 2009 to 2011 before that. When he left Anheuser Busch, he had been serving as the director for international marketing for Asia, Europe, North America and South America. 
When Meyer was awarded the Kemper, Andrew Green, BS BA '18, said that his former professor was the most considerate he had encountered at Mizzou because of the time he took to connect with students to better understand their career aspirations.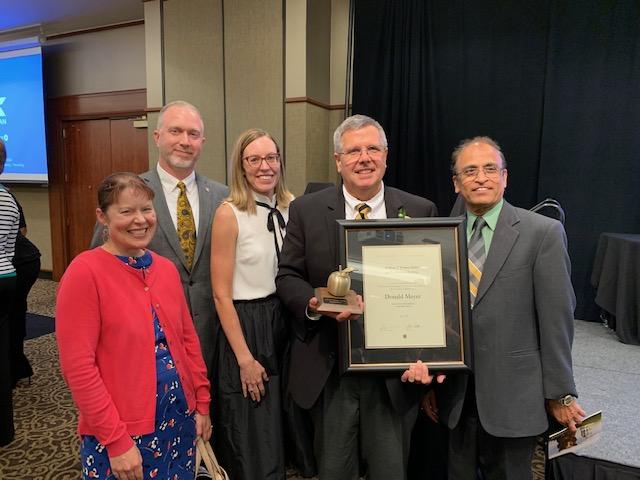 "Meyer is a warrior for his students, their interests and their futures," says Green, who works as the sales manager of Front Row Motorsports in the heart of National Association for Stock Car Auto Racing (NASCAR) in Mooresville, N.C. "He is approachable not only because of his availability and humility, but also because of his authenticity."
Meyer's relationship with Trulaske began in the mid-'90s when he was asked to start working with the school's students on various projects and serve as a liaison between the two parties. He quickly grew to love his quarterly day trips from St. Louis to Columbia. As a senior brand manager at the time, he would bring some of the materials of a campaign that was about to launch and share it with them.
Throughout his time as a teacher, it was Meyer's aspiration to always be one of the top three classes that a student took during his or her time in Columbia — after reflecting on his own experiences as a student.
"There were three classes that really left a mark on me," he says. "Let's say you take 40 classes at Mizzou. If I can be in the top three, that's the 94th percentile, which is an A, so maybe I'll make it. Maybe I won't, but... I would hate for this to be over with and have a student say, that wasn't a very good class or the guy didn't care."
A whole new world
Meyer grew up in St. Charles, Missouri, at a time when the city was experiencing a population surge. To combat the larger number of students (and before the creation of a new high school), students at St. Charles High School were broken up into two groups: Meyer had the 6:30 a.m. to 12:30 p.m. time slot.
"I'm not a morning person, so I got off to a bad start in high school," he says.
Meyer felt lost for a majority of his time in high school, until he came across an organization during his junior year that would be, in his words, "unequivocally a big ol' turning point:" Distributive Education Clubs of America, more commonly known as DECA. He was first encouraged to join the group by faculty advisor Sheryl Cheves, M Ed '72.
In DECA, he found a world of possibilities, one where he could learn the art of marketing, campaigning, networking and public speaking. He would be elected as a national officer, allowing him to travel across the country as ambassador heading into his first year at Mizzou. His travels included a trip to the White House to visit then-Vice President Gerald Ford in the summer of 1974, about a month before the resignation of Richard Nixon from the presidency.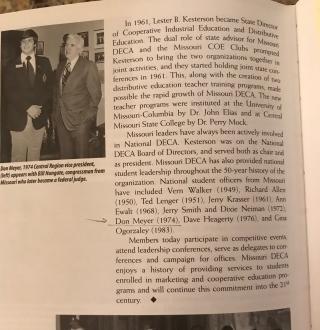 "He has always been somebody who thinks outside the box," Cheves says. "I think Don loves a challenge, whatever you set in front of him."
Cheves recalls the time that she asked her students to decorate the bus they were going to take to the state competition. The future major brand manager asked to take on the task. Instead of adorning it with standard paper rolls or cardboard signs, he decided to construct a massive canvas banner with the outline of Missouri drawn to perfection with the aid of a projector. Inside the outline, a mule's head smiled. When they arrived, the one of the state competition administrators took the sign because he wanted to replicate it for signage for future conventions.
"It was just so far and above what the expectation of putting something on the outside of the bus," says Cheves, who would later nominate Meyer for the DECA Hall of Fame upon its establishment in 1996 to celebrate the organization's 50th anniversary. 
After working for 28 years for St. Charles schools, Cheves and her husband bought a lake house on the Lake of the Ozarks. As luck would have it several years later, Meyer would later buy a lot and build a house down the street, allowing them to be neighbors for about 20 years.
Cheves and her husband moved to South Florida in 2014, but she still keeps up with Meyer.
"You don't ever want someone like Don to get away," she says. "He's humble, very loyal and cares deeply for people."