Trulaske's 11th Business Academy draws minority scholars from around the country
Image
The Trulaske College of Business held its annual Trulaske Business Academy June 24-30. Now in its 11th year, the academy focuses on bringing the college and business school experience to pre-college students from underrepresented minority populations and from all over the country.
Rising junior Cameron Clark is from Chicago and is participating with a program through his high school's charter network, called Summer of a Lifetime, that enables minority scholars to participate in university programs.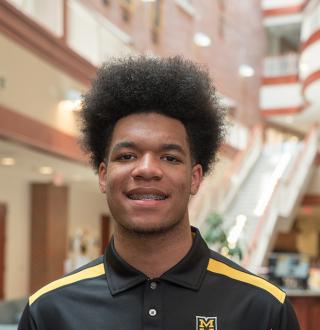 "I was one of the lucky ones who got to attend a university outside of Illinois," Cameron said, adding that he chose Mizzou based on the reputation of the Trulaske College of Business and the possibility that he would attend Mizzou.
Rising senior Jesus Galvan traveled to mid-Missouri from Immokalee, Fla., a small town along the state's southern gulf border. He became familiar with the program after a visit to his high school from one of Trulaske's undergraduate recruiters, Dan Nicewarner, and through a program called the Guadalupe Center. The Guadalupe Center / Mizzou connection was made through supporters Roger and Sandy Vasey who are dedicated to helping students find paths to success through education.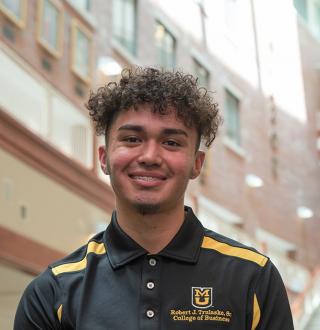 "They hooked me on the idea that you can complete an internship and get a job even before you graduate," Jesus said.
As an in-state student, rising junior Rebecca Kerby, who goes by her last name, "Kerby" as her moniker, is already familiar with Mizzou. Excited at the prospect of attending a program curated specifically for minorities, she also cited her family influence for sparking her interest in the business field.
"My dad does a lot of marketing and consulting, and sometimes he asks for my opinion on what he's working on," said Kerby. "At my high school, there's a lot of marketing courses, and I've really liked them."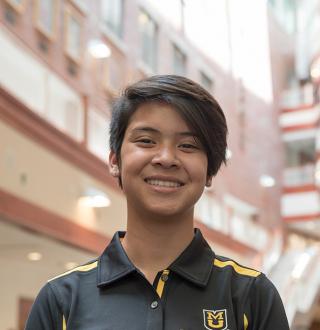 Cameron and Jesus also cited their families for driving them to succeed.
"My mom is a senior financial analyst, and that's had a big impact on my life," Cameron, who's currently planning on pursuing a degree in finance, said.
"My family is also a big influence on me. They always pushed me toward education," added Jesus, who's planning to major in sports management.
For this year's scholars, the takeaway is not only a greater familiarity with college life, but also a better sense of direction toward a college decision. All three said they enjoyed making new friends, networking and learning more about Mizzou and Trulaske.
"I'm excited to meet people from so many different ethnic backgrounds," Cameron said. "I'm here to network and get a really good idea of what to expect when choosing a place to major in business."
"Mizzou is so diverse," Kerby said. "It's something you can tell is part of the campus."