Trulaske team finishes fourth at 2018 SEC Regional Tax Challenge
Image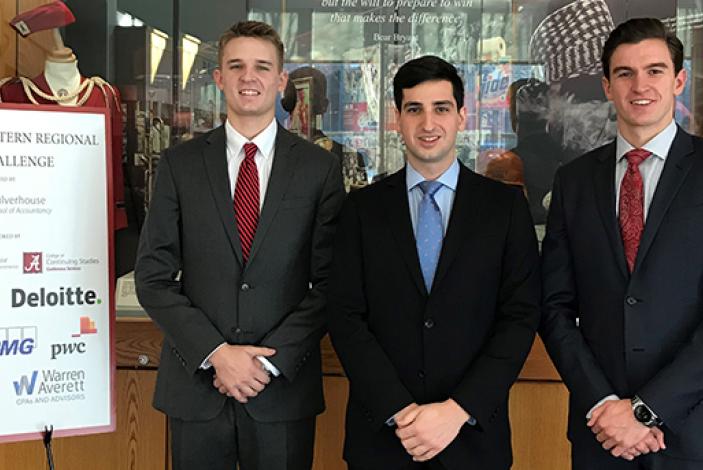 A team of Accountancy students from the Trulaske College of Business placed fourth in the second annual Southeastern Regional Tax Challenge. Clayton Voss, Thomas Geisinger and Gregory O'Brien competed against 18 teams comprised of accounting and law students from 12 other SEC schools. Their impressive analysis and presentation earned them a spot among the top four.
Vairam Arunachalam, Director of the School of Accountancy, remarked that "Our student team did an outstanding job in the Southeastern Regional Tax Challenge.  They demonstrated excellent technical knowledge and outstanding interpersonal skills, a unique combination that affirms the high quality and well-rounded nature of our Mizzou accountancy/business students."
The Culverhouse School of Accountancy at the University of Alabama hosted this year's competition, which took place on Feb. 9 and 10. Each team gave a 30-minute presentation about a case involving a corporate tax issue. The teams received the details of the case in advance and conducted research in order to craft a solution to the problem. The presentations were judged by high-level certified public accountants and attorneys who specialize in tax.
This case competition was developed and inaugurated at the University of Missouri, a joint effort between the School of Accountancy and the School of Law. The event now rotates annually across schools in the SEC conference.