Trulaske College of Business professor awarded 2019 Kemper Fellowship for Teaching Excellence
Image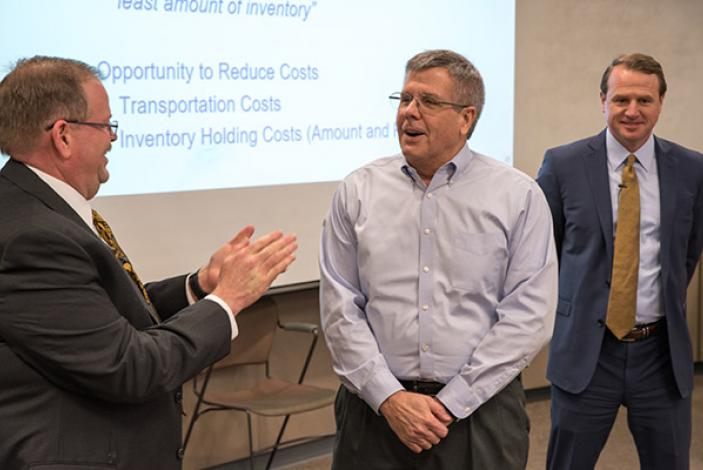 COLUMBIA, Mo. – Today, University of Missouri Chancellor Alexander Cartwright and Steve Sowers, Commerce Bank President & CEO of the Central & Eastern Missouri Region, awarded one of the 2019 William T. Kemper Fellowships for Teaching Excellence to Donald Meyer, assistant teaching professor of marketing in the Trulaske College of Business.
Cartwright, Sowers and the Trulaske College of Business Dean Vinzé along with a group of professors, administrators and staff surprised Meyer by honoring him with the fellowship, which includes a $10,000 check. Kemper Fellowships are awarded to five outstanding teachers at the University of Missouri each year.
This year is the 29th anniversary of the William T. Kemper Fellowships for Teaching Excellence, which were established in 1991 with a $500,000 gift. Kemper, a 1926 MU graduate, was a well-known civic leader in Kansas City until his death in 1989. His 52-year career in banking included top positions at banks in Missouri, Kansas and Oklahoma. Commerce Bank manages the trust fund.
Meyer has a long history with the Trulaske College of Business. He began his relationship with Trulaske as a member of the Marketing Advisory Board and then transitioned into teaching with the marketing department in 2011.
Marketing department chair, Srinath Gopalakrishna says that as a full-time teaching professor, Meyer maintains one of the heaviest teaching loads within the marketing department, including teaching the foundational marketing management class, Retail Marketing and Integrated Marketing Communications. He also consistently receives some of the highest marks from student evaluations in the college, a truly extraordinary achievement considering his teaching load and the breadth of classes he teaches.
"Don builds a culture in the classroom that quite literally creates a stronger community of students," says Renee Schibb, a former student. "He exemplifies everything a professor should be and all of the values for which university stands."
Meyer's wealth of practical business experience is what colleagues and students believe set him apart as a teacher. "Meyer was able to bring marketing concepts to life through sharing events and experiences that took place throughout his career," says Sarah Kiehl, a former student. "He got his start in sales with Ozark Air Lines, followed by an impressive 25 years in marketing with Anheuser-Busch InBev. Meyer did not merely rely on his own experiences to build on classroom topics, but also utilized his network to bring in amazing guest speakers and diversify the exposure that his students received."
Meyer has a well-demonstrated commitment to experiential learning and professional development for his students, making his marketing classes popular with both business and non-business students alike. He has played a major role in chairing and reinvigorating the Making Me Marketable professional development conference since 2016. Additionally, he has spearheaded the Target Case Competition, which he incorporates into the Retail Marketing course. MU is one of 30 universities that continues to be invited to participate in the competition annually.
Meyer has contributed to student mission of Trulaske's Center for Sales and Customer Development (CSCD). Specifically, he has led students in the nationwide State Farm Sales and Marketing Case Competition, bringing home top-ranked finishes for CSCD's student teams over the past four years.
"During our sales competition, I spend a considerable amount of time with the students and professors," says Bill Roundtree, a Mizzou alumnus and Vice-President of Sales for State Farm Insurance. "I witnessed the coaching and counseling Meyer provides his students. He engages with each of them from the time they arrive on Thursday evening all the way through to the awards banquet Friday evening. This level of personal engagement is rare when compared with the student-professor interactions of other schools."
Meyer also serves as a faculty advisor for various MU organizations on campus, including the Delta Sigma Pi Professional Business Fraternity, and the women's synchronized ice skating team. He has served as a Business Week faculty participant, College of Business International Week professional development seminar speaker and College of Business Diverse Student Association case competition judge, among many other contributions.
Dean Ajay Vinze feels "he is a conscientious, dedicated teacher who contributes significantly and in multiple ways to the professional growth of our students, the reputation of the Trulaske College of Business and the Marketing Department's external visibility."
Meyer received his bachelor's of science in education from the University of Missouri and an MBA from the University of Missouri-St. Louis. He is the recipient of numerous awards, including the MU Center for Sales and Customer Development Faculty Legacy Award, the Shelter Insurance Company Teaching Excellence Award in Marketing and a Special Citation of Merit from the Trulaske College of Business.