Trulaske celebrates more than 250 Fall 2019 graduates
Image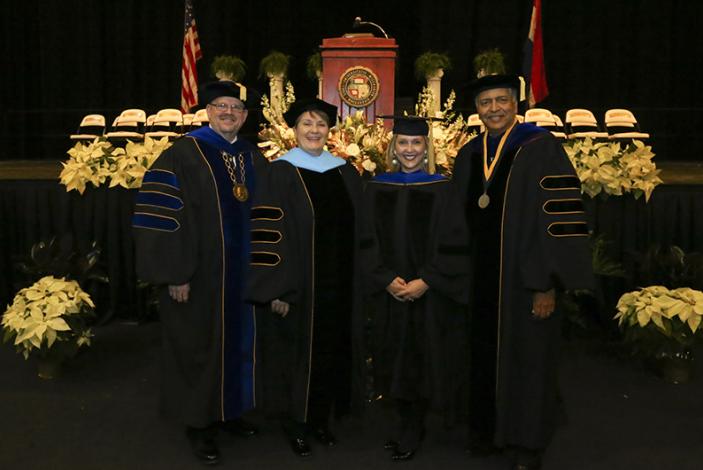 Friends and family gathered to celebrate more than 250 students from the Trulaske College of Business who graduated this semester, including 134 undergraduates who walked at the Fall 2019 commencement ceremony December 14, 2019, at the Hearnes Center on the MU campus.
This semester's graduates included 177 undergraduates received a bachelor of science in business administration.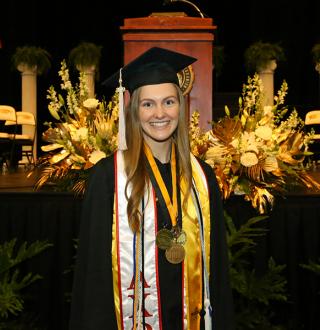 Marketing graduate Jordyn Eskijian was this year's senior speaker.
"Every moment we live is training for a future moment," she encouraged her fellow graduates. "Purposefully, diligently and relentlessly, we train because we want to be as prepared as we can be for anything that gets thrown at us… My hope is that we will all become exactly who we've been created to be."
Forty-five students earned a graduate degree from Trulaske. Twenty-seven students completed the 150-hour bachelor of science in accountancy/master of accountancy program. Ten students completed their MBA through the Crosby MBA program, and two doctoral students successfully defended their dissertations.
Trulaske's online programs matriculated 22 of this semester's graduates. Sixteen of the undergraduate degrees awarded were to students in the online BS BA program. One student completed the online master of accountancy, and five completed the online master of science in finance.
The graduate student commencement was held on December 13, 2019, also in the Hearnes Center.
Mizzou business alumna Tricia Zimmer Ferguson (BS BA '03) was this year's undergraduate convocation speaker. She currently is the owner and president of Kaldi's Coffee Roasting Company, who opened a café inside Cornell Hall this year.
She asked graduates to think about how the decisions they make affect their lives in the long term, instead of the short term, and offered advice on how those thoughts could be turned into success.
"Start with thinking about where you want to go, personally and professionally, over the next year, and how you can use that time to set yourself up for the next 20," Zimmer Ferguson said. "Then, every week, over the next year, make sure you have your priorities written out, and define what are the most important things for you to accomplish to stay on track."
"Daily habits create long-term success," she added. "Success doesn't come from what you do occasionally, it comes from what you do consistently."
Pictured above are (left to right) Mizzou Chancellor Alexander Cartwright, Trulaske Associate Dean of Undergraduate Programs Gay Albright, commencement speaker Tricia Zimmer Ferguson, and Trulaske Dean Ajay Vinze.