Trulaske Business Academy brings high school students to Mizzou
Image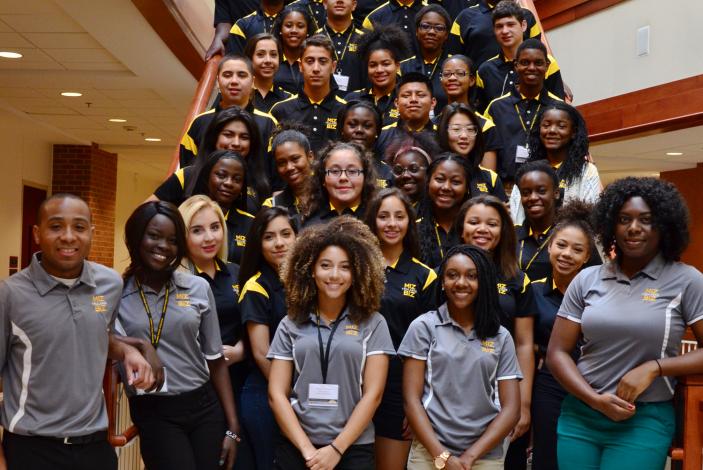 [July 12-July 17, 2015] Students from across Missouri and the nation came together in Cornell Hall this summer to learn about studying business, to meet new friends and to get to know Mizzou. The Trulaske Business Academy, started in 2008 as part of the Trulaske College of Business Diversity & Inclusion initiative, introduces high-achieving students from under-represented minority groups to business through workshops, guest speakers and networking events.
This year, students learned about virtual reality in business as guest speaker Sarah Hill of Veteran's United demonstrated Google Cardboard. They took on a Case Study with the company to begin learning how to work through current issues in business as a team. Students also learned about leadership and professionalism in classes taught by staff from Business Career Services.
"The Trulaske Business Academy is an excellent way for high school students to learn firsthand how we prepare our college students for their careers," said Daryl Smith, assistant teaching professor of management and director of diversity and inclusion at the Trulaske College of Business.
For nearly a week, students reside on campus in dorms and dine in Mizzou's dining halls to experience campus life.
"We showcase Mizzou throughout the week so students learn more about our campus and more about themselves and what they want out of college," said Dan Nicewarner, event coordinator and the college's coordinator for recruitment and retention.
Professors in each of the Trulaske College of Business academic departments – accountancy, finance, management and marketing – host information sessions with the students to introduce them to their respective fields.
"I had never heard of Mizzou before," said Hennessy Cardenas, a high school senior from Chicago. "I came here and I decided I really like Mizzou. I fit in and I really see myself going here."
Alexander Mateo, a student from Immokalee High School in Florida, summarized the week with this analogy: "The Trulaske Business Academy is like a roller coaster. You start the week climbing up from the bottom, making new friends and learning about business and Mizzou, at the top, you realize all you've learned and you come down the other side. At the bottom, you appreciate that the whole experience has changed your life. It's unforgettable."