Trulaske alumna wins competition for NFT idea, plans implementation
Image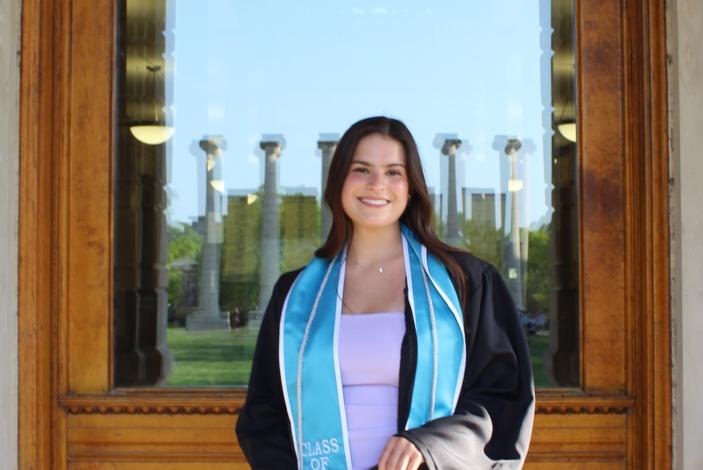 By Stephen Schmidt
Grace Casey, BS BA '22, would never label herself as a "techie" when it comes to computers, yet the moment she stumbled across the realm of non-fungible tokens (NFTs) and related blockchain technologies, she discovered a "rabbit hole" that she has been happily exploring ever since.
Casey graduated from the University of Missouri this past May. Before she did, though, she won $5,000 in seed money courtesy of a VentureWell Faculty Grant after winning the recent installment of the WINVENT program through an NFT proposal. 
WINVENT is supported through a faculty grant and was established to increase the number of women entrepreneurs starting up tech companies.
Now, Casey is working on taking her winning idea — selling 500 NFTs under the collective title of Gertrude that will allow purchasers special opportunities for a cosmetics company she plans to launch — and using the prize money to build it from the ground up in a digital landscape that she described as the newest version of the "wild, wild west."
"Everyone's trying to figure it out," Casey said. "You get to make your own road map, which I've always enjoyed."
That road map includes several elements that the competition's judges said distinguished itself by going above and beyond the basic components of an NFT.
Once a buyer purchases one NFT for $250, that person can verify, authenticate and track all of the ingredients that go into the cosmetic product that the NFT represents.
For example, someone with an NFT representing a face cleanser could look up its ingredients and see the exact location of the farm from which an ingredient originates — such as the papaya used in papaya extract that can be found in the cleanser.
"That is the biggest selling point for this," Casey said. "People will know exactly what they're getting in their products, what they're putting on their skin and what it does for them."
In addition, those 500 customers who buy the NFTs of the company will be able to enjoy exclusive free products or retail offers not provided to the general public. The NFTs would also grant access to participate in a system similar to a co-op, in which NFT holders would receive revenue sharing.
"I think the future will be heavily based on putting the power back into the consumers' hands and listening to the community," Casey said, "and brands have to be aware of that. Or else they're not going to be a brand anymore."
Casey hopes that her company will one day have a brick-and-mortar sustainability-focused store where customers can refill their cosmetic bottles to cut down on packaging and its resulting accumulation of waste.
In the here and now, she is continuing to build the NFTs themselves — using the artwork and stylings of Columbia-based artist Michael Wolf as inspiration for the collection of NFTs.
In recent times, blockchain and NFTs have primarily been associated with news headlines for how much they are bought and sold, said Associate Teaching Professor J. Scott Christianson,  who recently was named the director of the CEI. He served as one of the judges.
"Really, what we should think about is the underlying technology," Christianson said. "Grace's project goes beyond the hype into a productive application of this technology. And it really allows us to see where this technology can be applied and where it can be useful."
In June, Casey started working remotely in her native Chicago metro area as a business development representative for CircleUp, a San Francisco-based firm that invests in small and emerging brands. Her primary role is to sell software by the name of Helio, which can be used to determine potential successful investments — or lack thereof — through various data points and other analytics that provide insight into possible competitors and other market trends.
"It has been eye-opening," Casey said of her time with CircleUp. "I'm learning so much. I'm excited to be in the startup world because that's where my interest is."
Into the big 'Sea'
Casey first became interested in NFTs and blockchain in the spring of 2021 through her father, Chris, who runs a logistics company in the Chicagoland area. He told her about reading a story featuring someone who had paid $500,000 for a particular NFT.
Shortly thereafter, the daughter/father combo opened an account on OpenSea — the self-proclaimed "first and largest marketplace for NFTs," according to its website. As an experiment, they decided to submit a photo taken from Grace's phone and sell it for the smallest unit of Ethereum, or ETH.
Most NFTs happen to be part of the Ethereum blockchain. Like well-known counterparts such as Bitcoin and Dogecoin, Ethereum is a form of cryptocurrency. Its blockchain, though, unlike those other two, keeps tabs on the buyers and sellers of NFTs — and allows the ability to authenticate the supply chain of a particular product.
"It never sold, but it was a good first experience with NFTs and figuring out what they are," Casey said.
She said part of the appeal of NFTs was their accessibility to the average person compared to other digital worlds that involve knowing multiple coding languages.
"That was something that was cool to me. That's why I got so into it because I am not computer-based at all," Casey said. "I could not code to save my life, but when I learned about NFTs, I realized this was such a great opportunity."
Consuming v. creating
In February, her interest in NFTs heightened after she attended the annual Techstars Columbia Startup Weekend.
The event was held at EquipmentShare, a Columbia-based construction equipment rental company that sprouted from an earlier iteration of Startup Weekend.
The event marked Casey's first venture into the mindset of an entrepreneur and cultivating startups. She was part of a group of students that were given 48 hours to think up and present an idea to a panel of judges.
Casey attended at the recommendation of Christianson, who had her in two of his business processes and technology classes — as well as a project management class in the spring of 2022.
"She's very intellectually curious. She listens and tries to learn from anybody and everybody she meets," Christianson said of his former student.
Christianson, who teaches the basics of blockchain in one of his business processes classes, hopes that more students at Trulaske will take a similar path to that of Casey's.
"They are digital natives at consuming things, but they're not native at creating things," Christianson said of students. "It often takes a little bit of a push."
"It's a source of frustration for me because they often think, 'Oh, I can't do that because I'm not a technical person. I'm not getting a computer science degree.' That's been something I really pushed students on is, it's often more about your communication skills and ability to manage things."
Casey encourages Trulaske students to take full advantage of their student status when it comes to networking and navigating the changing atmosphere of the business world. For you never know, she said, what doors will open if you have enough courage to knock.
"Anybody will help a student," she said. "Get involved and do anything. Use your resources. Try things you never thought you would…. And you'll find what you're passionate about."