Top exporters gather virtually at the 2020 Mid-America Trade Summit
Image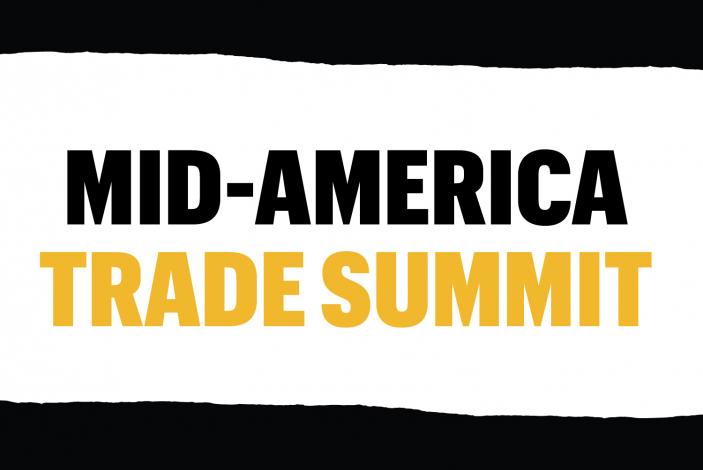 International Trade Center hosts annual summit
On November 10-12, 2020, the University of Missouri International Trade Center, along with trade assistance partners from across the region, hosted the 2020 Mid-America Trade Summit. Embracing the times, this year's Trade Summit was delivered virtually (via Zoom), providing registrants with the flexibility to join any/all of the event sessions live and also providing them with the flexibility to access recordings of all sessions post-event.
The 2020 Trade Summit brought together 100 top exporters, global trade leaders and trade assistance providers from across Mid-America. Feedback from summit attendees regarding the convenience of connecting virtually, along with the value of content delivered and networking opportunities afforded, was extremely positive.
Featured presenters at the 2020 summit included:
Stuart Ravens, chief analyst with GlobalData, sharing key economic insights and COVID-related impacts on key industry sectors across the world.

Emma Schermer-Tamir, owner/operator of Marketing by Emma, highlighting the importance of online business and sharing practical tips on how to make a business stand out from the crowd.

Leroy Lowe, international consultant and immediate past-president of NASBITE International, sharing tips on developing effective marketing strategies in a COVID-19 environment.

Caitlin Murphy, CEO of Gateway Logistics, sharing experiences and expertise on how companies can mitigate future disruptions, reduce unforeseen costs and regain confidence in their global shipping operations moving forward.
Twenty-one Outstanding Exporter honorees from seven states across the Mid-America region were recognized for their export successes.  Honorees included:
Ag World International Corp (Illinois)

Allen Engineering Corporation (Arkansas)

Champion Laboratories, Inc. (Illinois)

Dazor Lighting Technology. LLC (Missouri)

ECOJOHN (Arkansas)

Global Aviation Technologies, LLC (Kansas)

Grasshopper Company (Kansas)

InnovaPrep (Missouri)

IVS (International Veterinary Supplies), Inc. (Iowa)

MotorParts Nation (Missouri)

Oscarware Inc. (Kentucky)

Pacific Supply Co. (Missouri)

PT Coupling (Oklahoma)

Pyramid Foods (Missouri)

Sawyer Manufacturing Company (Oklahoma)

SEVO Systems (Kansas)

Stauder Technologies (Missouri)

Two Rivers Fisheries, Inc. (Kentucky)

Vortex Surgical (Missouri)

WW Cedar (Missouri)
The University of Missouri International Trade Center began in 2014 as a collaboration between the Trulaske College of Business and the MU Extension Business Development Program. The center's goal is to promote economic development and aid in the international decision-making of Missouri businesses, while providing students, who are tomorrow's business leaders, opportunities for experiential learning.
The International Trade Center utilizes the time and talent of student interns and MU faculty, along with leading market research databases, to conduct customized research to meet the needs of individual businesses. Research outcomes provide information that businesses can use to effectively evaluate global market opportunities in a timely, meaningful and affordable way, allowing these companies to strategically enter new markets and expand in the global marketplace.