A tale of determination: Trulaske alum Brad Bauer inspires community following tragic accident
Image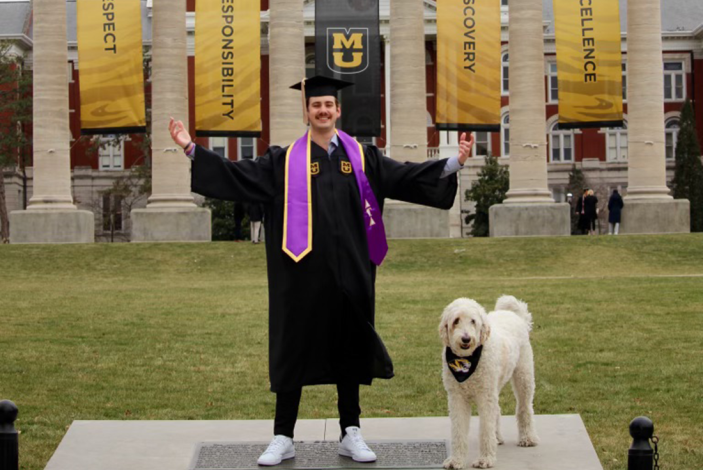 By Elleyna Rudman 
As a talented water polo player and experienced lifeguard, Brad Bauer, BS BA '22, was no stranger to the water.
Unfortunately, it was the water that critically injured him while on a spring break trip in Cancún during his senior year of high school. On the last day of his vacation, Bauer spent hours diving in the ocean despite the turbulent swells. He attempted to tackle a large wave, but tragically broke his neck in the process, resulting in complete paralysis from the shoulders down. After his friends and family pulled him onto the beach and quickly assessed his injuries, Bauer was rushed to the hospital.
He received surgery in Mexico, where he remained for five days before he was flown to Barnes-Jewish Hospital in St. Louis. Bauer received the official diagnosis of C4-C6 Incomplete Quadriplegic. The initial weeks of his recovery were brutal.
Swelling had crept up to the C3 vertebra, which controls the diaphragm. As a result, Bauer could no longer breathe on his own and was on and off ventilators for almost a month. He was awake the whole time.
"It was my own personal hell," Bauer remembered.
Three and a half weeks later, the swelling had gone down enough that the breathing tubes could be removed.
After continuing to recover at Barnes-Jewish, Bauer was eventually transferred to Ranken Jordan, a pediatric rehabilitation hospital, where he underwent intense physical therapy to improve his movement.
It is an understatement to say that he was widely adored at Ranken Jordan. His bright personality and knack for humor found its way into the hearts of staff and fellow patients. Surrounded by infants and toddlers on their own rehabilitation journeys, Bauer was a key source of encouragement for the younger kids, always taking the time to chat and cheer them on.
During the long days of physical therapy, Bauer also built a special relationship with the Certified Nursing Assistants (CNAs). The CNAs worked with him every day during his recovery, and according to Bauer, they did it with smiles on their faces.
After 98 days in the hospital, he was finally released, and just three months after his accident, Bauer walked across the stage at his high school graduation. His water polo coach presented him with his diploma in front of a standing ovation.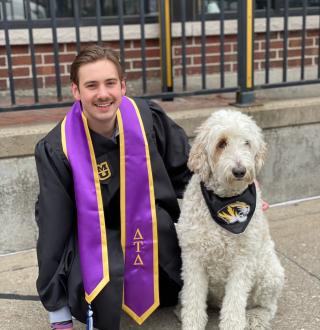 The following fall, after deferring his entry into college for a year to focus on physical therapy, Bauer and his family adopted a puppy they named MO. Bauer and MO have been inseparable for five years, and the labradoodle has become an integral part of Bauer's recovery.
"He's my best friend, my right-hand man," Bauer said.
When Bauer left for his sophomore year at Mizzou, MO joined him. The pair adored spending their college days together. MO's gentle and sweet personality made him widely loved at Mizzou. The curly-haired pup was invited everywhere, especially to tailgates, where he would excitedly greet family and friends before sneaking a hot dog when no one was looking.
During his time at Mizzou, Bauer pursued a degree in business with an emphasis in finance and real estate. In his opinion, one of the most helpful classes of his college career was Business Administration 4500, a course that requires students to complete an internship. Through his work as a strategic planning and analysis intern at Hussmann, Bauer learned what a 40-hour work week in corporate America really looks like. Working as an intern supplied Bauer with real-world experience and valuable skills that helped boost his resume while providing learning opportunities outside of a traditional classroom setting.
Aside from his studies, Bauer significantly impacted Mizzou's campus through his involvement in student organizations. In the Delta Tau Delta fraternity, he was recognized for his kind and caring nature. He was always available to lend a listening ear and offer a helping hand to those in need. With his compassionate and laid-back demeanor, he became a trusted confidant to many within the house.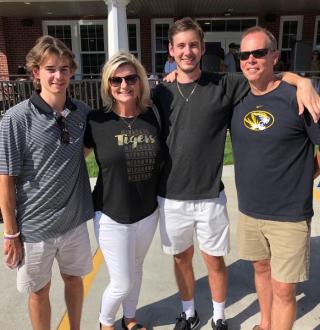 Bauer also worked with Rockin' Against Multiple Sclerosis (RAMS), a philanthropic organization at Mizzou that works to raise money for the MS Institute of Central Missouri. Bauer's commitment to the cause helped raise thousands of dollars for patients living with MS. These funds go to various projects such as ramps, grab bars and cooling vests, all of which work to better the lives of patients battling multiple sclerosis.
After graduating in December, Bauer moved back to St. Louis and is working on getting his real estate license and taking the Series 65 exam, a qualification that will allow him to become an investment advisor representative. With hopes of buying an RV, Bauer also wishes to travel across the country with MO while documenting their adventures on social media.
Brad Bauer's story is one of resilience and determination. A story of making the most of the cards you're dealt and finding the good in even the scariest parts of life.
"Life is all about perspective, always looking at the bright side," Bauer said.
Bauer's perseverance and optimistic outlook on life continue to exhibit what it means to be a Mizzou Tiger. Wise beyond his years but a kid at heart, Bauer has made an unforgettable impact on his community and everyone around him.