MU Freshman Rebecca Price Becomes Trulaske's First Stamps Scholar
Image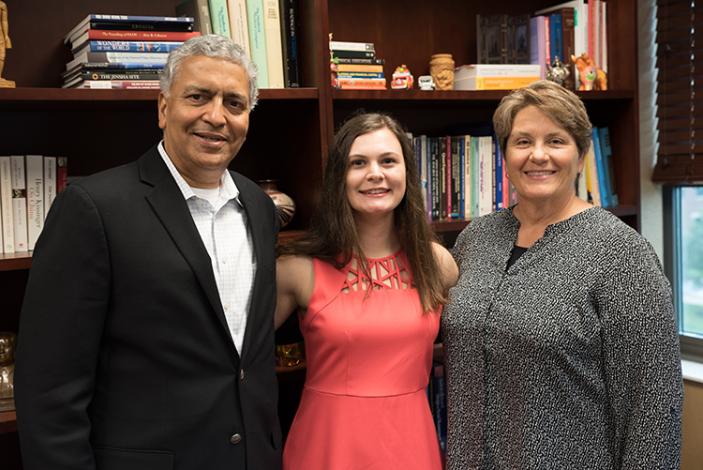 The Trulaske College of Business is home to one of the five outstanding freshmen in the Stamps Scholars program this year. Rebecca Price, a freshman from Germantown, Tennessee, received a four-year, full scholarship from the Stamps Scholars program, which is a partnership between the University of Missouri and the Stamps Family Charitable Foundation, Inc.
Language captivated Rebecca at an early age. Her uncle is an international businessperson and he occasionally spoke Mandarin around Rebecca, which inspired her to start learning when she was just five years old. With years of practice, Rebecca is now nearly fluent in Mandarin and hopes to soon pick up Spanish and Portuguese.
"I want to do business internationally so that I can experience all the different cultures in the world and use language as a connector in business," Rebecca said.
Rebecca plans to use these impressive language skills on study abroad trips throughout her time at the Trulaske College of Business. As a part of her Stamps scholarship, Rebecca received a $16,000 academic and leadership development fund that she can use toward such study abroad trips, research, conferences and other learning opportunities.
The Stamps Scholars program will also provide Rebecca with a dedicated mentor, extensive site visits, alumni networking, travel-study experiences, and attendance at the biennial Stamps Scholars National Convention in Atlanta, Georgia. Though she arrived on campus just two months ago, Rebecca has already joined the International Business Association, volunteered during Step Forward Day, participated in Camp Trulaske, and started Mandarin lessons at the Confucius Institute.
The MU Honors College joined the Stamps Scholars program in 2016 and the ongoing relationship has had a lasting and positive impact on the MU campus and Honors communities. Stamps Scholars like Rebecca enroll in the Honors College all four years and work toward completion of the Honors Certificate. For more information about the Stamps Scholars program, visit the MU Honors College website.
Story by Micheala Sosby, Trulaske MBA student