More than 270 Trulaske graduates celebrate December commencement
Image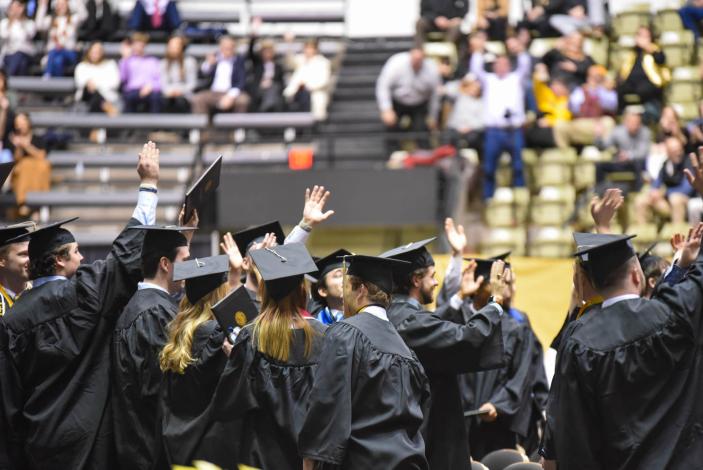 The Trulaske College of Business held its December 2022 graduation ceremony for students receiving a bachelor of science in business administration on Friday, December 16, at the Hearnes Center. Students receiving master's degrees from the college were recognized during the MU Graduate School ceremony on Saturday in the same location. In total, the graduating class included over 270 students.
The commencement speaker was Greg Maday, BS BA '86, chairman, chief executive and co-founder of SpecChem and co-owner of Sporting KC. Maday also serves on the Trulaske Advisory Development Board and received a Citation of Merit from Trulaske in 2019. During his address, Maday stressed the importance of making good decisions and being proactive. "The decisions you make today determine the opportunities you have tomorrow."
Maday also discussed the challenges and stresses of the COVID-19 pandemic and how the graduating class has overcome them through hard work and determination. "You worked hard, you decided to go college, you decided to pick Mizzou, you decided to enter the business school. And through hard work and good decisions, you will receive diplomas tonight that will launch you on your career."
Each year, the Trulaske Student Council holds interviews with the graduating seniors who have applied for the chance to speak at the commencement ceremony. Of these applicants, only one is chosen for the special honor. Johnathan Kimble, BS Acc, M Acc '22, was selected to speak at the Dec. 16 ceremony. He was a member of Vasey Academy and the Cornell Leadership Program, and served as president of Trulaske Student Council and as an ambassador for the college.
"It is important for everyone to express gratitude because whether you know it or not, there have been people who helped us to get to this joyous occasion," said Kimble, who graduated with his bachelor's and master's of accountancy degrees through Trulaske's 150-hour accountancy program. Kimble emphasized the importance of thanking those who have helped the graduates along the way and encouraged his classmates to take a moment to think of someone who has made a difference in their lives, big or small.
Curator Robin Wenneker, BS BA '91, conferred the degrees for the class, and Interim Dean Chris Robert gave the closing remarks.
"The path to success will look different for each of you – and you should forge your own way, based on your own unique passions, goals and talents. But no matter where you go, or what you do, you will have your Mizzou degree in hand and the Trulaske faculty and staff cheering you on," said Robert.
Congratulations to Trulaske's newest alumni!
Learn More
Graduate School (Master's) Commencement Video