Management professor, family serving up endless Sipz to Columbia
Image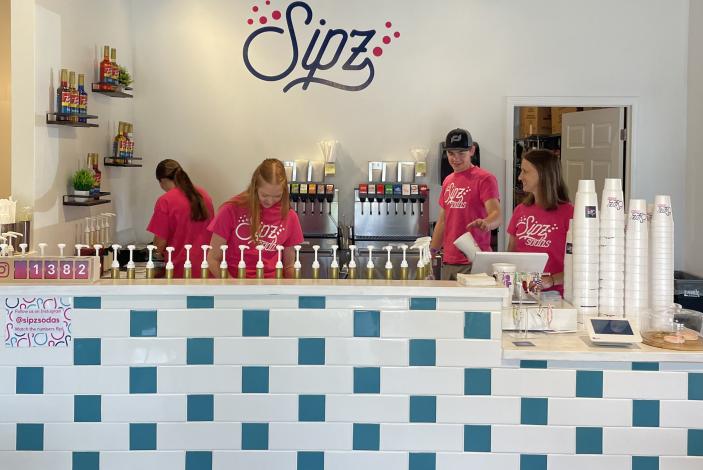 by Maria Yore
When he's not teaching or caught up in his research, Trulaske Assistant Professor of Management Joel Andrus spends his time these days at the new soda fountain in Columbia, Sipz. But it's not just any soda fountain – it's  the brand new business Andrus created and opened with his wife, Brenda.
The couple and their six children, aged 11 to 21, relocated from Southern Utah to Columbia in 2018 when Andrus was hired at the University of Missouri. At the time, neither Sipz nor its name had been developed, but its concept was one he had dreams of bringing to life since grad school.   
"I just talked a lot about it. I've always wanted to start a business and show my kids what that's like," he said. "When we moved here, I had been looking at places and driving by. I had been watching this location. It came open in November and that's when we jumped on."
And with their kids getting older, Brenda, a stay-at-home mom for the past 20-plus years, was on board, eager to try something new.
"I ran a home. I count that as running a business," she said with a grin. "I figured this was a good way to break out. I've learned a lot for sure!"
With a location in Columbia secured, the Andrus family got to work. From the name to logos and designs, color scheme and drink offerings, everyone in the Andrus family played a part in getting the business up and running.  
"It was a long six months. We did a lot of work. We did almost everything, including renovations, with our kids to show them what it takes," Joel said. "Our daughter designed all the [wallpaper and logos] and did a great job."
"The kids were involved in the brand and the colors," Brenda added. "We all sat down one night as a family and came up with drink names."
With more than 30 flavors of syrup, in both sugar and sugar-free varieties; sparkling water; sodas; fresh fruit purees; and treats, like cookies and pretzels, Sipz has a sweet option for everyone. 
"We started with some flavors that we knew were good, and then we had some parties at our house where people could come taste test what we created," Brenda said. "But the customers have helped us create flavors as well."
If you like sweet and tangy, a Lemon Twist or Pinky Winky might just be your drink. How about a soda that's rich and creamy? You might like the S'more or the Nay-Nay. And if there's a flavor combo you don't see on the board, no worries. If you think it, Sipz can create it.
"We've had people come in and ask, 'Hey, do you have this flavor?' And we're like, 'No, but we can get it!' Brenda said. "We just got five or six new flavors because people have come in asking for them. Lavender is a new one we just got. We're always open to suggestions."
Sipz officially opened in May and has already had opportunities to serve a variety of customers, including a few happy hours at local businesses. Soon they would like to start hosting birthday parties and offering catering for special events. Eventually they hope to expand with other locations in Columbia. As the new school year approaches, the Andruses are looking forward to serving middle and high school students and providing them with a new place to hang out.
"That's what we wanted it to be. Just a fun place for people to be," Joel said. "We've even opened a few times after hours when our kids have had an event or just for people to come over. It's allowed us to have a bigger impact on the community."
And Joel says it's been fun to put his management background to work, as he helps mentor and train a new generation, including neighbors and friends of the family. The Andruses have even encouraged young entrepreneurs, helping to sell more than 50 homemade bracelets made by one of their neighbor girls.
 "It's been fun to work with our employees and see a different side of them than we normally see," Brenda said.  
"Watching them figure things out has been fun," Joel added. "We've really enjoyed it."
With summer coming to an end and a new semester starting at Mizzou, the Andruses are looking for more help. Mizzou students interested in a part-time job are encouraged to stop by Sipz (124 E. Nifong Blvd, Suite J, in Columbia) or give them a call at 573-864-5863.