Image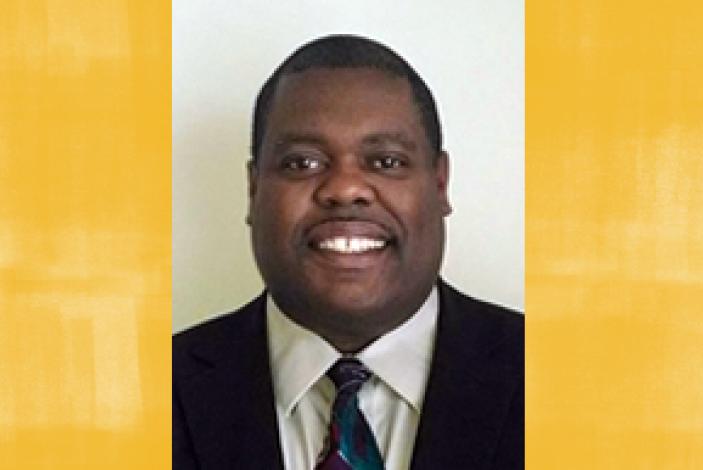 Walter Barnes II, MBA '02, JD '05, never set out to earn five degrees. He was just shooting for the stars.
By Kelsey Allen
Walter Barnes had big dreams from a young age. Growing up in Atlantic Beach, Florida, he set his sights on space. With Battlestar Galactica and Buck Rogers on in the background, Barnes daydreamed about starting a space administration. "My best friend and I wanted to go to school and get all these degrees so we'd have enough expertise to know what we were doing," he says.
In addition to an MBA from the Trulaske College of Business and a Juris Doctor from the School of Law at MU, Barnes also holds a bachelor's in chemical engineering from Florida A&M University and a master's and a doctorate in engineering management from Missouri S&T.
Although he didn't launch his own space agency, Barnes' career has certainly taken flight. As a director in product development for Brewer Science in Rolla, Missouri, Barnes plays a critical role in the development of products that enable the successful fabrication of cutting-edge integrated circuits used in everything from smartphones and tablets to digital cameras and LED lighting. And it's his degrees from Mizzou that helped propel him there.
Engineering a Future
By the time Barnes was 30, he'd worked as a process engineer at two Fortune 500 companies. "I was interested in how things were made and how things worked," says Barnes, who interned at Procter & Gamble as an undergraduate.
After college, he took a job at 3M, first at its Cordova plant on the border of Illinois and Iowa and then at its plant in Columbia. Barnes was in charge of multimillion-dollar processes, directing the manufacture of chemicals for use in adhesive applications — think Scotch Tape and Post-it Notes — in over 20 divisions worldwide. He was also on-call 24 hours a day seven days a week. It wasn't long before he began to wonder if he wanted to be an engineer for the rest of his life.
Some of Barnes' colleagues were getting their MBAs and moving onto managerial positions with greater responsibility. "You can be a manager and still use your technical background?" he recalls realizing. "I wanted that." 3M paid for him to get a master's in engineering management while working full time, and he progressed to becoming a business planner, applying engineering techniques to managerial problems. "But I didn't feel that I had the MBA experience," Barnes says. "I wanted to learn the soft skills and have the opportunity to work in groups and cohorts and build a network of people."
As the developer of new products and processes — and a perpetual learner — Barnes was also interested in intellectual property. Then he discovered Mizzou's dual JD/MBA degree program administered through the Crosby MBA Program and the School of Law.
"They had patent law classes, copyright classes, e-commerce, trademark law. On top of that, I learned there's contract law, torts, personal injury, international law, international business transactions," Barnes says. "You've got the rules of business codified in the law and also ethical behaviors — what's right and what's wrong — and then you've got the MBA where you get those soft skills and the hard skills, the quantitative skills, and you put those together. This is fantastic."
Back to School
In the fall of 2000, Barnes stepped on Mizzou's campus as a full-time student. "I'm thinking: 'Wow, what have I done? You had a salary. You had benefits. Are you making the right decisions? Are you making the right investment here?'" Barnes recalls. "The answer came back, 'Yes.'"
While in the Trulaske MBA program, Barnes was a graduate teaching assistant with the Campus Writing Program, helping students in writing-intensive business and STEM courses. "It was, dare I say, magical," says Barnes, who tutored students in writing everything from research papers to experimental plans. "It felt really good to give them confidence in what they wrote. With my team now, I'm still using some of those techniques, in terms of making them feel comfortable and at ease with telling me their problems or their issues."
Through his internship with accounting firm Arthur Andersen, Barnes gained experience leading an FDA-required computer system validation for an enterprise resource planning system implementation for a $450 million generic pharmaceutical manufacturer. When the accounting firm came under intense scrutiny during the Enron scandal, Barnes secured a dual internship at Monsanto in both their business and law areas. The internships became a job at Monsanto, where Barnes used his engineering background as well as his business and law degrees. He developed a new organizational structure for business in India, performed financial valuation analysis on a multibillion-dollar global portfolio of soybean trait-related products, generated memos for litigation research and reviewed trademark license agreements.
"Anyone can do a break-even analysis if they pay attention," Barnes says. "But how do you actually build a system that works? How do you actually make a product successful?"
Connecting the Dots
That's the question Barnes is answering at Brewer Science, one of the most high-tech companies in the world, where he's charged with moving new products from the research and development (R&D) pipeline into manufacturing.
Some days he's working with bench chemists to scale up materials while achieving consistent quality. Other days he's working on capital expenditures. And recently, he's been talking with the company's corporate attorney — another Mizzou grad, Rebecca Rich, JD '08 — about intellectual property.
"I can talk to the finance folks and understand when they're talking about depreciation. When Deloitte and Touche comes and audits us on our R&D tax credit, I can talk about those things with some facility," Barnes says. "And I can run through what's patentable and what's a trade secret within our business with our corporate attorney. Being able to have that common means of communication and being able to work through those problems is a great thing."