DECA Regional District competition brings alum Garred Oldham back to Trulaske
Image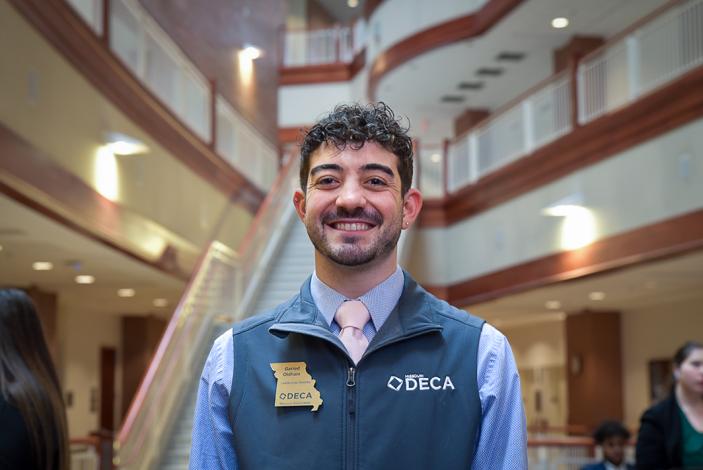 Garred Oldham's return to Trulaske was a full-circle moment, continuing a journey that began in his first year of high school. This spring, as a teacher and DECA sponsor, he accompanied a team of students from Boonslick Technical Education Center in Boonville, Mo., to Cornell Hall for the DECA Regional District Competition
Attending the DECA Regional District competition at Trulaske was a valuable experience for Oldham, BS BA '22, and his students. Although he says his students were unsure and intimidated by the competition initially, Oldham encouraged them to take deep breaths and trust the process. The results were impressive, with 16 out of his 28 students qualifying to move on to the state competition.
"It took me back to my first DECA event during my freshman year of high school," Oldham said. "At first, we were all a little nervous, but I remembered and shared the advice my advisor gave me back then, and I'm extremely proud of the result."
This achievement means even more opportunities for these students to further their professional development and showcase their skills at a higher level. The 16 students who qualified will compete at the DECA State Competition in Kansas City, where they could then earn a ticket to DECA's International Career Development Conference in Orlando, Fla., in April. For Oldham, this was a moment of pride and a testament to the importance of applied learning and promoting competition to enhance the lives of the next generation of student leaders.
Oldham's connection to Trulaske goes beyond his personal experience as a student. As an instructor and DECA sponsor, he draws on his marketing courses at Trulaske to simplify his own class projects and make them manageable for his students' education level. His involvement with the Trulaske Leadership Conference and his experience as a Trulaske ambassador has equipped him with skills and knowledge that he uses in planning conferences and promoting his chapter.
His students' experience at Trulaske was also memorable. They were impressed by the size of the Mizzou campus and the abundance of dining options, and they found that the classroom setup was similar to what they were used to at BTEC, with a "Socratic circle feel." For Oldham, this was an opportunity to expose his students to a university setting and to motivate them to pursue their dreams.
In the end, Oldham's return to Trulaske to compete in the DECA Regional District Competition is a poignant example of the power of applied learning, mentorship and competition in positively influencing student success.
"It was my aspiration in high school to become a high school DECA teacher, and here I am," he said.